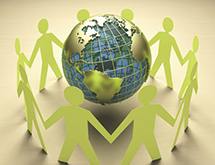 In 2016 the industry face off will continue between providing on-shelf product availability in the most economic and cost effective way while at the same time meeting the increasingly prominent corporate social responsibilities (CSR) of running a modern supply chain business sustainably. In addition, there is an ever-growing backdrop of regulatory demands around traceability and food safety, which cannot be ignored.
The truth is that forward thinking companies are realizing that an efficient, successful, cost effective business can be facilitated by implementing supply chain management processes that positively promote good practice in the environmentally sensitive areas. These include waste reduction, CO2 emissions, carbon footprint, packaging reduction, inventory reduction, transportation, etc.
Before the 10th Annual Sustainable Supply Chain Summit held in November 2015, the Ethical Corporation conducted a survey of its global community to identify key issues and opportunities around sustainability and supply chains. Of the 415 respondents, 24 percent stated that industry collaboration is the single most exciting opportunity, and 30 percent felt that traceability and environmental improvements will be key issues in the coming years. 
Traditional supply chain configurations historically have been designed to improve key performance indicators (KPIs) such as product availability and reduced costs, or to promote favorable financial KPIs such as inventory value, gross margins or return on investment. However, modern supply chain configuration also will need to be designed with additional sustainability KPIs in mind, such as resources consumption (energy, fuel, water, paper), waste, CO2 emissions, packaging usage, or mileage.
Today's modern supply chain operation is big on collaboration with other supply chain partners. This should take the form of information and data sharing as well as sharing resources, such as transportation or warehousing. Additional factors to consider include efficient demand planning, optimized stock levels and thorough traceability processes and procedures.
In such a demanding supply chain environment technology such as enterprise resource planning (ERP) solutions can help organizations to compete and grow, but also help them to meet their desire to operate in an environmentally responsible and sustainable way while striving to be optimized for efficiency and compliant with regulatory demands. 
So, how can information technology and ERP solutions help improve supply chain sustainability? Collaboration with other supply chain partners is key. 
ERP solutions enable the fast and efficient processing of incoming EDI order files. This process can happen overnight, without the need for human intervention. This is essential in an industry that needs to accommodate rapid changes in customer requirements against very short order lead times. Changes needed to raw material supplies or production orders are made automatically to ensure that deliveries can be fulfilled. 
In addition fulfillment rules can add a further element of control by allowing sales orders to be automatically sub-divided across a number of different sources of supply. For example, when a large order for yellow bananas arrives, it can be automatically fulfilled across a number of warehouses that contain ripening facilities, with the balance distributed as direct delivery purchase orders to suitable suppliers. These rules are user configurable and flexible, and provide greater control of the supply chain to maximize on-time-in-full (OTIF) performance. 
ERP solutions can also facilitate the operation of a shared warehousing, shared production facility or 3rd party service provider scenarios, which can span any number of trader/service provider entities and include an organizations own stock. Each entity will only see the transactional data pertinent to the operations it performs.
ERP solutions can provide sophisticated inventory management capabilities. Incoming load manifests can be electronically processed to speed up raw material intake and efficiently facilitate the required quality control checks. Information on every inventory movement is electronically collected and stored in the ERP system using barcode scanning, removing the need for paper-based records and labor-intensive data entry. 
Rules can be set within the ERP system to manage variables such as required storage conditions or consumption criteria for selecting which raw material is used for which orders. This is particularly important for minimizing waste where raw product has a limited shelf life. 
The inventory management processes provided by the ERP solution mean that unused or unsold inventory is easily identified and alternative routes to market for this product can be found, reducing waste.
ERP solutions automatically collect electronic data, which can be shared with supply chain partners and interrogated to inform and drive critical business processes and procedures. Replacing manual paper-based data collection and tracking methods with software specifically designed for the job not only enables a paper-free operation, it also means that information is available virtually instantaneously at every step of the process. In a manual, paperbound process, data is only available to people with access to the physical paperwork. With its electronic equivalent, the information can be shared immediately with the wider workforce and other key partners. This enables strategic business decision-making and, when needed, rapid, pre-emptive action to avert a potential issue, such as a quality problem or order shortage. 
In addition, the data collected can provide the detailed information on produce origins and final destinations essential to perform a comprehensive and timely product recall procedure. 
ERP software also can deliver sustainability benefits for logistics operations. Trailer loads can be dynamically planned ensuring that the use of available cargo space is optimized and that the transportation conditions meet the required specification for variables such as temperature and packaging. Delivery routes can be optimized to ensure that the quickest and most efficient route from A to B is taken, and use can be made of the return journey so that trailers are not running empty. These measures help to reduce the time that food spends in transit, reduces waste from spoilage and reduces the impact of the journey on the environment. 
ERP solutions can accommodate these essential collaborative scenarios with ease and as new technologies, such as cloud computing and wearable technologies, gain prevalence, ERP will become more and more accessible to all sizes of organizations. 
Furthermore, by investing in IT and integrated ERP solutions organizations can realize the successful achievement of supply chain sustainability goals and principles in areas like planning, inventory management, paper reduction, quality, traceability, logistics and many more. In addition, organizations that utilize IT and ERP solutions can achieve a beneficial competitive advantage in the market place, deliver improvements in customer service and boost the efficiency of its operational processes and the individual productivity of its employees.
Leading technology companies have stepped up to collaboratively create powerful whole chain ERP solutions that meet the specific needs of the food industry and its quest for supply chain sustainability. This model must continue to be replicated across industries for globally sustainable supply chains to become a reality of everyday business.