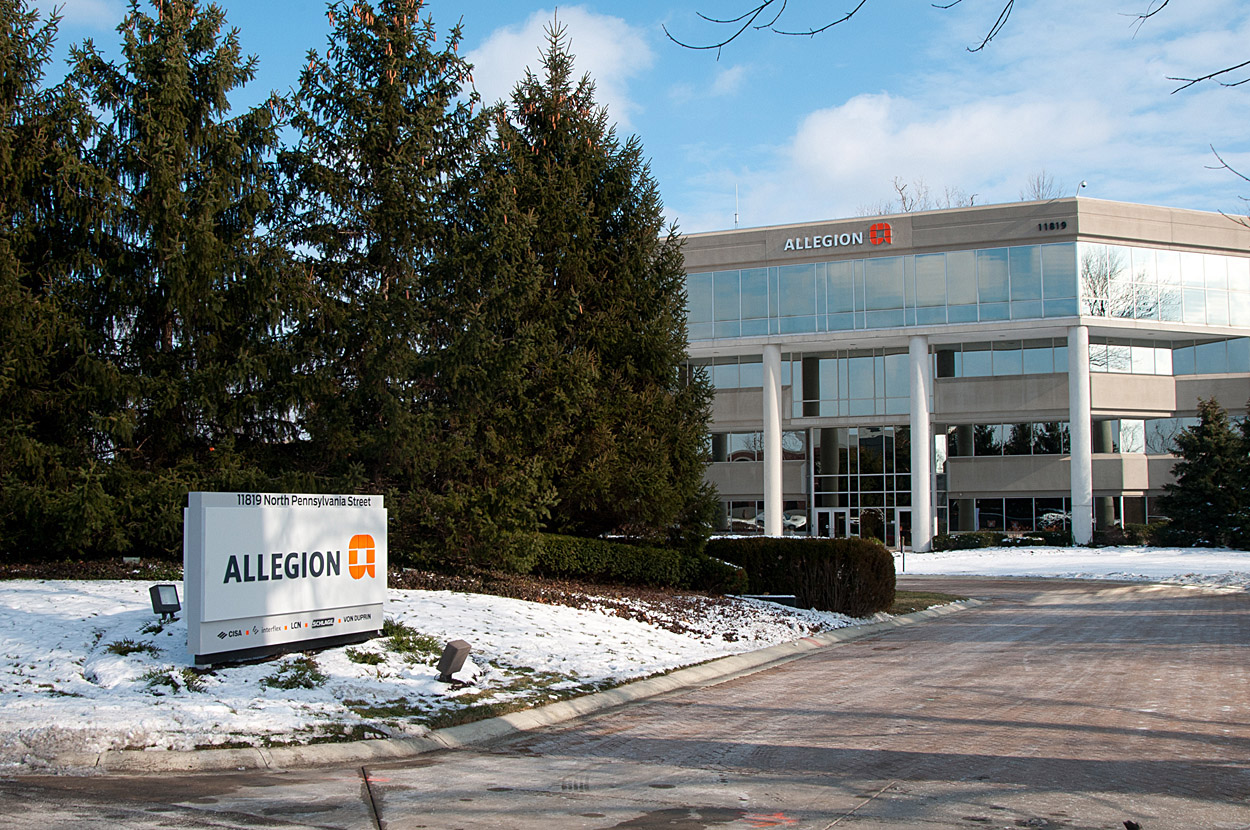 Global security solutions leader Allegion continues to build its supply chain capabilities to support its clients.
By Jim Harris
Allegion believes its supply chain operations should do more than just procure materials and ship products on a timely basis. The global security product and solution provider feels an effective supply chain should also make it easier for its customers and employees to do their jobs.
"If you spend time with your customers or front-line interfacing employees, you quickly gain insight into whether your supply chain is a hindrance to them or a competitive advantage," says Jeff Wood, the company's vice president of global supply management. "If they spend a lot of time talking about late deliveries or what they can't accomplish from a shipping point of view, then supply chain is a hindrance.
"If you can give your front-line employees the ability to be proactive vs. reactive, then you're building an environment where you're true business partners and not a hindrance. That's what we're trying to build and develop as a supply management organization," he adds.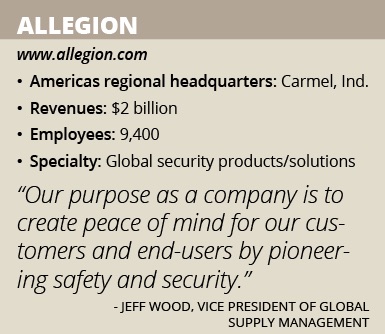 Allegion's supply chain encompasses 20 manufacturing plants worldwide. Its North American operations include a regional headquarters in Carmel, Ind., five manufacturing sites in the United States and three in Mexico. The company's supply chain operations support three distinct channels: project-based commercial sector business, which includes new construction and large retrofits; retail customers; and direct channel partners such as wholesale distributors, who support locksmiths and contractors.
Retail customers are served from a large distribution center in Olathe, Kan. Large national retail accounts are shipped products directly from manufacturing facilities and from the customer's regional distribution center.
"Our role in supply chain is to supply our front office with what they need, when they need it, so their focus is on creating revenue and selling new products, instead of talking about instances where our supply chain failed to deliver," Wood says.
Beyond the Doorway
Allegion specializes in security related to the doorway and adjacent areas for homes, businesses, schools and other institutions. The company's products range from residential and commercial locks, door closer and exit devices, steel doors and frames to access control and workforce productivity systems.
"We work with our various channel partners to bring complete solutions that meet our customers' door opening or security needs," Wood says. "We try to make it easy for our customers to achieve their goals and objectives, whether that's a steel door from our Steelcraft brand or hinges, hydraulic door closures, locks and handles."
In addition to doorway-related products, the company produces bicycle locks under the Kryptonite brand. "Our purpose as a company is to create peace of mind for our customers and end-users by pioneering safety and security," he adds. "That includes portable security."
Allegion recently complemented its portable security portfolio when it acquired AXA Stenman Holding, a residential and portable security provider headquartered in Veenendaal, the Netherlands, with production facilities in the Netherlands, France and Poland. The company manufactures and sells a branded portfolio of bicycle locks and lights as well as window and door hardware.
"We had portable security marketshare in North America that we wanted to expand in Europe – this allows us to do that," Wood says.
On the Pulse
Although mechanical hardware was traditionally the foundation of Allegion's business, the company also recognizes the importance of keeping up with technology. "We sell more electronic locks than anyone else in the industry," Wood notes. "We are a leader when it comes to developing electronic locking devices that can interface with smartphones."
One recent example is a lock bearing the Schlage brand, which dates back more than 90 years, that is being offered as part of Apple's HomeKit. Users can ask Siri – iPhone's patented personal assistant program – to lock or unlock their door remotely. Homeowners using the HomeKit can also view whether their doors are locked or unlocked by using their iPhone, Wood adds.
Two other recent acquisitions will bolster the company's presence in the global electronic lock market. Allegion last year purchased Milre Systek Co., Ltd. a South Korea-based security solutions brand that produces digital door locks. The company also acquired SimonsVoss, a Munich, Germany-based electronic cylinder and lock company.
Allegion's acquisition strategy is leading it to invest in new ERP systems. The company this year began consolidating its systems into the Microsoft Dynamics AX platform. "Our holdings have multiple legacy ERP systems and other platforms in place that are not integrated," Wood notes. "Our customers are used to being able to go online, make an order and have transparency at each step of the process, so we needed to upgrade."
Thought Leaders
Allegion offers its products through its robust sales organization. The company's sales organization includes specification writers who work collaboratively with commercial sector customers and architects. These specification writers help customers adhere to local and national building codes and standards such as Americans With Disabilities Act guidelines.
The company's supply chain operations ensure that commercial building owners and operators can receive the security systems they need with small lead times. "Our commercial customers are becoming more demanding on lead time – they want to complete the building faster," Wood adds. "On the residential side, our customers are used to the Amazon[.com] model of getting what they want tomorrow. Our challenge is in finding a way to reduce lead times from three days to no days."
Allegion believes that establishing strong relationships with its suppliers is critical to its ability to meet that challenge. It does this by taking a supply management, rather than a transactional, approach to its supply chain. "We have been successful in repositioning our organization as a thought leader and business partner as opposed to just being a company that buys things," he adds. Several of the company's suppliers have looked to it for help restructuring costs or bringing new products to market.
Allegion engages multiple manufacturing and supply partners. "When we look at a supplier, we're not just considering cost, we're looking at their ability and strengths around high volume or low volume production as well as their strengths around adapting quickly to changeovers," Wood says.
"There's more value in working with two or three suppliers that have different strengths that align with the business model we're trying to achieve than following a one-size-fits-all philosophy," he adds. "By doing this, we've seen a significant cost savings."
Growth Goals
Allegion was established in late 2013 as a spinoff of the commercial and residential security business of Ingersoll-Rand, a global leader in air conditioning, material-handling and refrigeration products.
"While Allegion is a new name in the security industry, we are not new; for over a century, we have kept people safe and secure with category-leading products," the company says. "From inventing the 'panic release bar' exit device in 1908 to pioneering the first-ever electric-controlled lock, our brands have been innovators for almost as long as people have locked doors. Their entrepreneurial spirit is at the core of who we are."
The spinoff enabled Allegion to become a growth-oriented company. "As an independent Allegion, we are able to unlock our company's true potential," the company adds. "By tapping into that entrepreneurial spirit that has made us the leader in mechanical security, we will continue to drive forward and integrate tomorrow's electronic solutions into everything we do."
Wood says the company continues to refine its relationships with suppliers as well as its overall supply chain operation. "Our first year following the spinoff was about making sure we have contracts and core processes in place," Wood says. "Our second year was more about creating value for Allegion and putting the core basics of procurement in place while recognizing that we don't have the spending leverage of a larger company.
"Our focus now is on creating value through both revenue growth and margin/profitability improvement," he adds. "We want to be a customer of choice to our suppliers – we may not be their largest customer, but we want to be treated that way."