American Casino and Entertainment Properties
Close relationships with vendors ensure that American Casino and Entertainment Properties' casino properties run smoothly.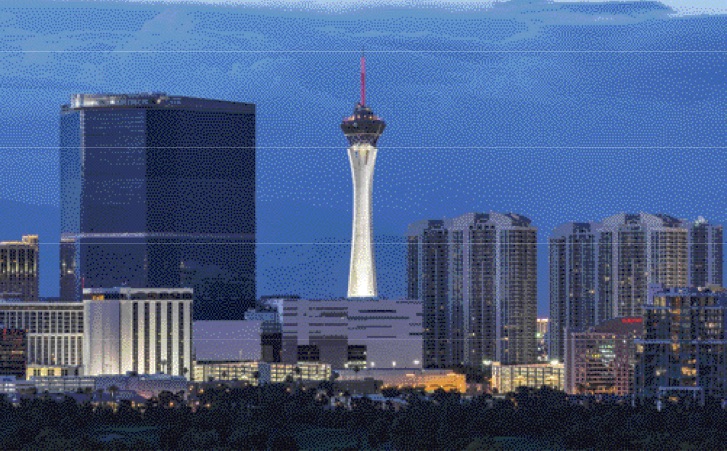 The Las Vegas Strip has no shortage of eye-popping hotels and other attractions, but the Stratosphere Tower literally tops them all. Standing on the northern end of the famed strip, the 1,149-foot-tall structure is the tallest freestanding observation tower in the United States as well as the home to a revolving restaurant and three thrill rides. The tower is the centerpiece of a gaming and hotel complex that includes a 2,427-room hotel, an 80,000-square-foot casino and a 110,000-square-foot retail area.
Keeping the property supplied is no small task for owner American Casino and Entertainment Properties LLC.
The company ensures that the Stratosphere and its other properties are stocked with food, beverages and other hospitality-related items such as soap and shampoo by partnering with several vendors, it says.
American Casino and Entertainment Properties plans its purchasing activities around the needs of its properties by keeping aligned with the hospitality, retail, gaming and other staffs at each site, the company adds.
A Full Experience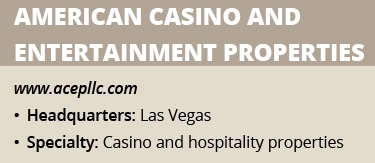 The ultimate goal of the company's supply chain is to guarantee that its guests have the best possible stay and experience at its hotels and casinos. "Our properties target middle-market customers interested in value in their gaming, lodging, dining and entertainment experiences," American Casino and Entertainment Properties says. "A significant amount of our business is generated from drive-in, as well as fly-in, markets. We are committed to providing all guests with a high level of customer service."
In addition to the Stratosphere, the company owns and operates three other properties: Arizona Charlie's Decatur and Arizona Charlie's Boulder, both off-strip Las Vegas properties serving mainly local residents; and the Aquarius Casino Resort, located 90 miles south of Las Vegas in Laughlin, Nev.
Arizona Charlie's Decatur is located in the heavily populated west Las Vegas area and is easily accessible from U.S. Highway 95. The casino contains roughly 55,200 square feet of gaming space including more than 1,160 slot machines, 12 table games, a bingo parlor, a keno lounge, a race and sportsbook and a poker lounge. The property includes 258 hotel rooms and also hosts nightly entertainment.
Arizona Charlie's Boulder is a casino, hotel and RV park in east Las Vegas on the Boulder Highway, accessible from I-515. The property includes 47,500 square feet of gaming as well as 303 hotel rooms. The RV park is one of the largest short-term parks in the area, and offers nightly, weekly and monthly rates as well as services including game and exercise rooms, a swimming pool, a whirlpool, shower and laundry facilities.
The Aquarius Casino Resort is a full-service gaming and entertainment destination and the largest hotel by number of rooms – 1,907 – in Laughlin, the company says. The resort includes 57,070 square feet of gaming space as well as 35,000 square feet of meeting space and seven restaurants. The site's other amenities include indoor entertainment facilities, an outdoor amphitheater and a wedding chapel.
Upgraded Offerings
American Casino and Entertainment Properties regularly updates its offerings to guests. The company's holdings recently became the first in Las Vegas to launch GameAccount Network's Simulated Gaming™ service, which is accessible via the Internet and on mobile apps.
The service, designed specifically for land-based casinos, includes a gaming-as-entertainment website and apps enabled with monetization features including real-time slot tournaments and more than 200 casino slot, table and skill-based games.
"We're delighted to partner with American Casino and Entertainment Properties to bring their local casinos and the major destination casino Stratosphere online nationwide in the United States," GameAccount CEO Dermot Smurfit said in a statement. "We believe simulated gaming is the right opportunity for major land-based Nevada casino operators seeking to extend their business and patron relationship online and take marketshare in the highly competitive Las Vegas gaming market."
The company also recently enhanced its internal operations through its upgrade of InvoTech Systems' Multi-Property Uniform Management System at all of its locations. The Stratosphere was the first of the company's properties to implement the system at the time of its opening in 1996. Today, the system centralizes management of 60,000 uniforms for 5,400 people.
The system lets the company oversee and manage uniform operation across all of its properties and generates custom reports on uniform utilization. The system allows American Casino and Entertainment Properties to transfer garments between properties.