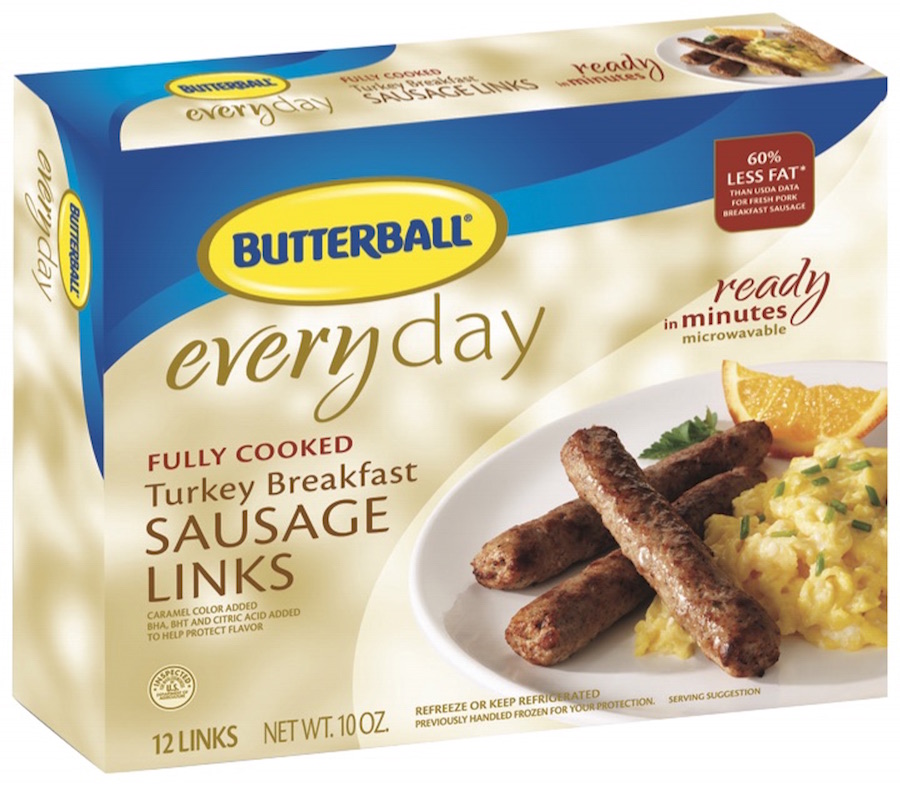 Butterball implements new systems and improves its infrastructure to meet the increasing demands of its customers.
By Janice Hoppe
Butterball is leveraging technology and building its largest regional distribution center to date in the Southeast to meet its customers' demands. "At Butterball we handle it all," Director of Logistics Dan DiGrazio says. "Anything post-production our team takes over and ensures the customer gets our classic products at the right place and at the right time."
Introduced in 1954 – and named for its broad breast and plump, round shape – the Butterball turkey is known as the centerpiece of Thanksgiving in the United States, as well as Americans' turkey of choice year-round. Butterball is the largest vertically integrated turkey producer in the country and accounts for 20 percent of total turkey production in the United States, producing 1 billion pounds of turkey each year.
Butterball has four primary distribution centers located throughout the country and 10 warehouses that support different divisions of the company. For example, Thanksgiving turkeys are on a network all their own. In 2015, the company added a processing plant in Raeford, N.C., to meet the growth of its customers' demand. "That manufacturing facility can do 200 million pounds per year of value-added products," DiGrazio says. "We did the same thing back in 2013 when we added a further processing plant in Montgomery, Ill."
With an operation of this size and a brand that is so well loved by consumers, the supply chain plays an important role in Butterball maintaining its quality reputation. Based just outside Raleigh-Durham in Garner, N.C., Butterball's vision is to be the food brand of choice, "loved and trusted by all who rely on us, to provide reasons to celebrate every day."
Leveraging Technology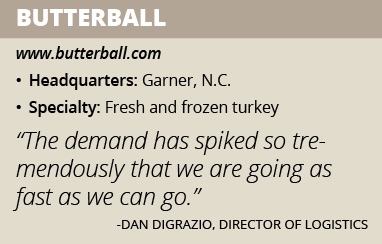 Butterball implemented a lean transportation management system two years ago and fully leverages that tool for its planning and execution needs. "The spend analytics that come out of the system helps us manage our business," DiGrazio notes. "We are driving results through data management by understanding what our costs, patterns and key metrics are, and that lean system has enabled us to do that."
The company has also implemented electronic data interchange (EDI), an electronic communication method that provides standards for exchanging data electronically, in all of its third-party logistics warehouses. "We have carriers today that give us real-time visibility of delivery and order status through EDI," DiGrazio explains. "With a truck that has this technology on board, as the driver updates it or moves through different grids of geofencing, we know where our customers' loads are and can provide real-time information. That's really evolving over the past year and part of our strategy moving into 2016 and beyond."
Butterball's logistics department developed a short-term planning process focused on real-time visibility in inventory, as well as order and delivery status. Its supply and demand planning group utilizes forecasting tools to ensure the company continues to meet demand. "The demand has spiked so tremendously that we are going as fast as we can go," DiGrazio notes. "Consumers are demanding the product and we need to be more flexible in our cross-stock operation."
Cross-stocking allows the company to plan its activities, work and distribution around the real-time reporting of inventory. "So rather than pushing, you are having a pull demand or a rapid flow through the enterprise," DiGrazio explains. "We launched range-free without antibiotics protein, which is really challenging us to be more responsive with more frequent, fresh deliveries. We need to have the ability to cross-stock and distribute faster because customer demand is high for these products."
DiGrazio explains that employing reliable technology and connecting with its third-party logistics partners to set key performance indicators are Butterball's approaches to maintaining a superior supply chain. "It's more than just a static measurement, we take a dynamic look forward," he says. "That's why we select the vendors we select, which are the leaders in building and resources in technology. Technology is a total game-changer and enabler."
Vital Infrastructure
Butterball is building a new regional distribution center in Warsaw, N.C., that will enable it to be more flexible and agile in responding to shorter lead times. The facility will also allow the company to ship more accurately, reducing waste, and allow it to grow. "We needed a footprint to grow in the manufacturing capacity and this is going to be a state-of-the-art distribution center where we can receive, pick and distribute," DiGrazio says.
The company manages a distribution center in the Southeast already, but has outgrown its capacity. The new regional distribution center will be in addition to its current locations, DiGrazio explains. "This is an addition to what we already have as a company," he adds. "We will stratify our products, rebalance and mix our product portfolio so the new distribution center will be a true distribution warehouse. We will be capable of heavy case picking, heavy catch weight and other heavy services to meet the ever-increasing demands and needs of our customers."
The Warsaw-based regional distribution center will be one of three as Butterball currently operates regional facilities in the Northeast and Midwest. "This is our biggest endeavor from a size perspective," DiGrazio adds. "This facility, once constructed, will be about 250,000 square feet under one roof and we will have 20,000 pallet positions."
Butterball's distribution center will have the latest CO2 refrigeration system, which is environmentally friendly. It will also increase the company's sustainability effort by reducing the amount of transfer activity, meaning fewer trucks on the road and a reduced emission and carbon footprint. "At Butterball, there is an environmental component to who we are and I think it's important to note that we are stewards of the land and resources," DiGrazio says.
Butterball is engineering a more flexible and responsive network, which is the intent with building its new regional distribution center. "In addition to it being a facility that is modern, flexible and agile, it is also constructed with technology that will enable cross-stocking and mixing product portfolios that the customer is demanding."
Driving Excellence
Moving forward, Butterball plans to continue leveraging technology to meet its customers' increasing demands. The company is looking at onboarding network modeling tools that will help it understand its current network and run what-if scenarios to optimize its network.
Butterball is working with Ann Arbor, Mich.-based LLamasoft, a software provider that helps large organizations design and improve their supply chain network operations. It plans to implement the software in fourth-quarter 2016.
The company will also focus on standardizing its warehouse management system to integrate all of its locations. "We have grown by the acquisition of three companies, all with separate warehouse management systems, and this year we are underway to standardize our system," DiGrazio says. "Reporting, the flow of information and communicating that information to customers as they need it is difficult to do now, so we are standardizing that platform for 2016 and beyond. We've got a number of things going on this year."