Northgate Gonzalez Markets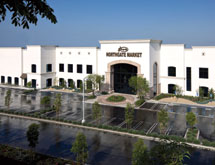 As the Latino population in the United States continues to skyrocket, Northgate Gonzalez Markets grows alongside it. Beginning in 1980, as a single family owned and operated store in Anaheim, Calif., the company now boasts 36 locations – some as large as 50,000 square feet – in three counties in Southern California.
Northgate Gonzalez Markets' story of family ownership and dedication to community even caught the eye of Michelle Obama. The first lady spoke at the site of one of Northgate's newest locations in Inglewood, Calif., after the company earned the first loan given by the California Fresh Works Fund, which finances grocery businesses willing to open in regions typically known as "underserved."
With the Northgate Gonzalez Market concept firmly seeded in the Latino communities of Southern California, the Gonzalez family is determined to keep the company's vision and commitment to the community growing strong.
Director of Distribution Sal Marcianti is leading Northgate Gonzalez Markets' supply chain initiatives as it determines what the next generation of Mexican-Americans want from grocery stores in their communities.
"At Northgate, we understand we have a large loyal customer base that is primarily first- and second-generation Hispanic," Marcianti says. "One of the biggest opportunities for us is to continually challenge ourselves to understand the neighborhoods we serve and stay ahead of consumer demand. "We challenge ourselves every day to provide what our customer wants in a way that is easy, affordable and with unparalleled quality," Marcianti adds.
Growing Efficiently
Marcianti says Northgate Gonzalez Markets intends to grow by three to five stores every year, so it has taken on the challenge of cutting down costs wherever possible to grow as efficiently as possible. Most recently, the company implemented new software systems to manage its distribution center.
"Our legacy system was a homegrown sequel-server handling most of our purchasing and warehousing operations," Marcianti says. "In order to grow and sustain an efficient operation, we needed to add robust, reliable technology."
In October, 2010 the company began operating from its new 375,000-square-foot distribution center. It simultaneously rolled out Microsoft Dynamics AX as its main enterprise system, as well as RedPrairie Warehouse Management System. Today, these new systems are providing reliable workflows that are returning efficiencies and DC labor costs reductions by more than 18 percent versus prior year, Marcianti says.
"It took approximately six months to get adapted to the new facility," he says. "Once we adapted to our new surroundings, we began seeing increases in our through-put and efficiencies."
One area of efficiency that dramatically improved was order-picking throughput. Along with RedPrairie WMS, Northgate implemented Vocollect Voice Picking. The company realized approximately 20 percent gains in its picking productivity as well as a significant reduction in its error rate. Incorrect picks are almost non-existent today, according to Marcianti.
Northgate Gonzalez Markets also recently installed Teletrac, an onboard GPS system which maintains driver's DOT logs and driving records. This system will also help the business make better decisions regarding logistics opportunities for pickups, backhauls and the routing its trucks.
Future Growth
As Northgate Gonzalez Markets continues its aggressive growth, the company is constantly looking at ways to improve and take cost out of the supply chain. For instance, Marcianti says the company intends to aggressively gain control of its inbound freight cost and logistics opportunities.
Northgate also plans on improving its technology platform by implementing a Clarity Advanced buying system. This software will help buyers make better purchasing decisions, help reduce inventory levels and increase inventory turns in its distribution centers.
The grocery stores are continuously expanding their offerings as well. Marcianti says the second generation of Northgate customers is more health-conscious than their predecessors, so the company has partnered with United Natural Foods (also known as UNFI) as a vendor of health foods and vitamins.
Through Northgate's Viva La Salud program, we present our customers fit facts, health awareness information and affordable, healthy choice offerings. Services and products that otherwise would never be offered in Northgate's neighborhoods.
Also, within its stores Northgate operates Prospera, which offers financial service products including check cashing, bill payment, domestic and international money transfers as well as other key services such as insurance, entertainment packages and microloans.
"We've got aggressive growth plans to continue growing the business in underserved areas of the community," Marcianti says. "From a supply chain standpoint, we understand the challenges that we have, and we strive to stay ahead of the competition by planning for the future.
"If we need help in a specific area, we look to the experts within Northgate or to some of our trusted partners to help us achieve our goals," Marcianti says. "We partner with the right professionals to maintain and improve our competitive advantage in the marketplace."­­­