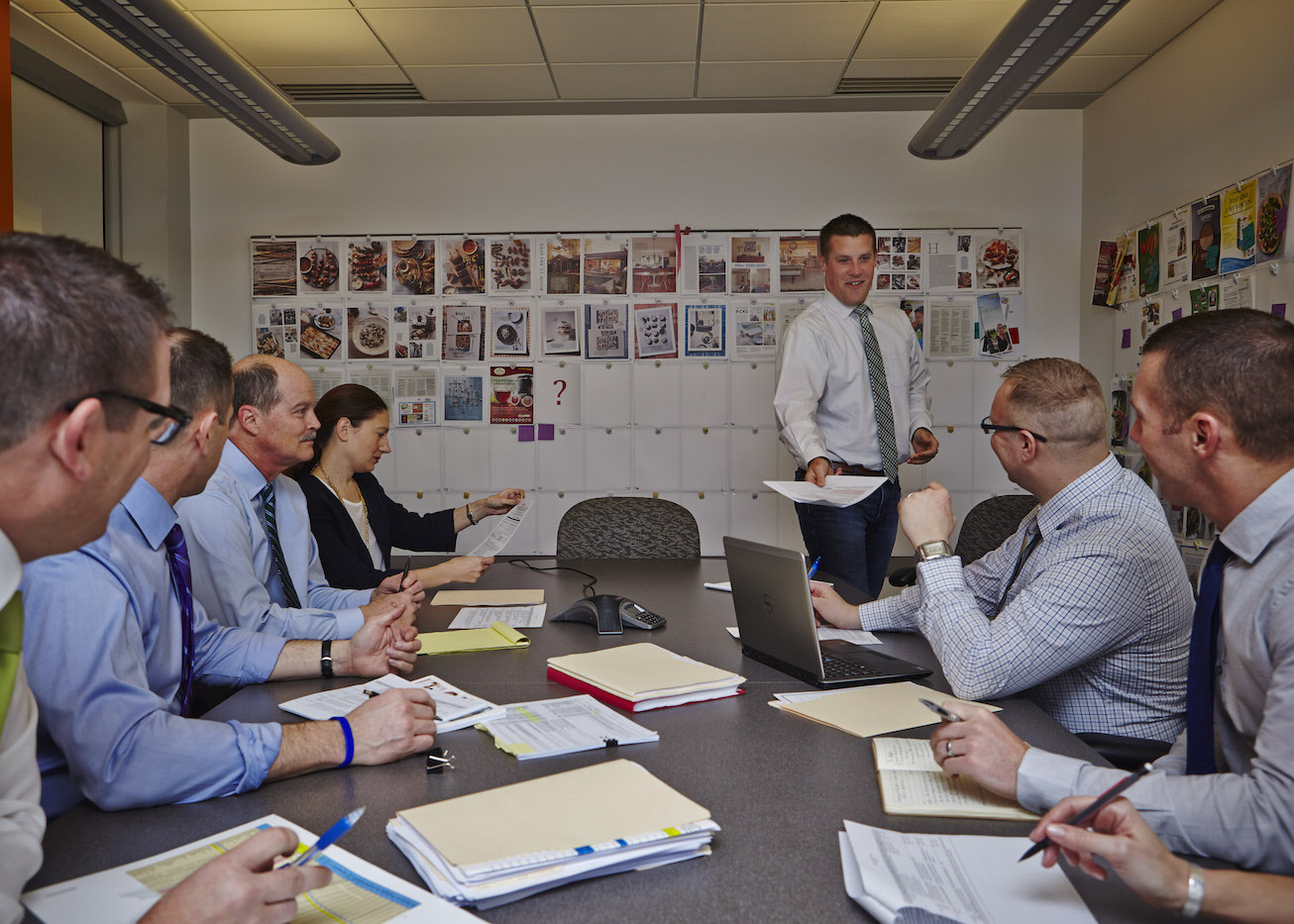 Meredith Corporation is reducing expenses for the company's multiple business units with strategic sourcing.
By Russ Gager
For Meredith Corporation – a publisher of more than 100 consumer magazines and special interest publications, associated websites, broadcast television stations and brand licensing efforts – strategic sourcing is the key to reducing expenses and delivering value. That responsibility was given to Vice President of Strategic Sourcing, Newsstand and Production Operations Chuck Howell seven years after his arrival by Chairman and CEO Steve Lacy.
Before this assignment, Howell helped bring Meredith's 100-million-name consumer marketing database in-house from a previously outsourced environment. As part of that effort, he was primarily responsible for the implementation of the associated customer relationship management software. Ongoing, he managed the care and feeding of the in-house database, Meredith's fulfillment operations, book continuity programs and the consumer marketing departmental financials. During that time, Howell took several long-standing vendor contracts to the market and substantially cut the department's costs.
One Friday evening, Lacy directed Howell to establish a strategic sourcing group and examine the company's contracts, some of which had not been vetted in the market for years. "I remember him saying, 'I don't want to put anyone out of business, I just want to ensure that we have good, market-competitive terms and pricing,'" Howell recalls. "When Steve says to do something, I don't ask 'when?' I do it. The next Monday morning at 8 a.m., I was in a completely different office trying to figure out what in the heck strategic sourcing is, and how my newly-created department can drive shareholder value."
Since then, Howell and his team, comprised of critical-thinking talent from other parts of the organization and external recruits, have mastered strategic sourcing. Meredith has centralized its sourcing operations and continues to realize substantial savings from the center-led strategic sourcing group's efforts. Center-led means that the operational business is very involved in the effort and the decision-making.
Sean Simonis leads the indirect supply chain sourcing efforts supported by Bill Wood, Jeri Beckmann and Alan Schultz. Chuck Goodrich leads the direct categories, supported by Todd Neilsen and Mike Cormeny. During the first year, the team pored over contracts, sourcing work that was up for renewal and finding ways to "open up" contracts that weren't up for renewal.
"Thinking strategically, 'How many vendors do I have across the organization providing similar services? Can I cull it down and drive a volume buy? Where am I single-sourced and how can I develop or create a credible threat to improve my negotiating position? Is there a non-traditional resource for the same goods or service? What about the commodity market, is it tight or loose? Do I need to expand my bevy of suppliers for the request for proposals (RFP) to drive competition or is it strictly a volume play?'" Howell asks.
"We pulled a 15 percent reduction out of a lot of our indirect contracts – not for paper and print – but out of things like office supplies, the print/copy suite, the car fleet, service contracts, some technology maintenance contracts and things like that," Howell remembers. "With the support of Greg Portell and the team at A.T. Kearney, we were successful in saving about $30 million annually in that first year, much of which was garnered by taking categories of spend to the market that hadn't been sourced for a long time. Many of those contracts had evergreen renewals that bumped their rates every year; these are now taboo."
Tactical Sourcing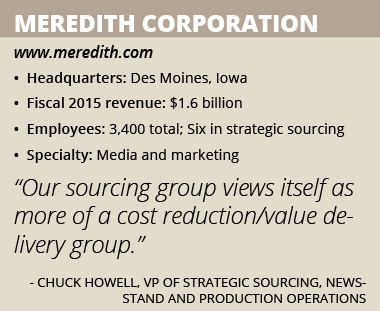 The strategic sourcing group used the same techniques to save money in Meredith's broadcast properties. The closed-captioning and weather services, for example, were initially decentralized. "We have sourced power utilities and helicopter leases as an example, but we do not get involved with the programming sourcing," Howell says. "They've got that down to a science in the broadcast operational business unit." In the second year of its efforts, much of the big savings already had been realized. So the group applied a more tactical view to its strategic sourcing methods.
"Tactical sourcing is more about what's happening in the market, right now," Howell explains. "'How can I leverage that? Is there a disruptor coming with technology, an acquisition or bankruptcy that I can leverage? Did one of my vendors purchase another vendor? What's the assignment language? Can I pry open my contract and try to get better rates or more value?' Meredith has been doing all these acquisitions the last couple of years that offer my team and me more volume and hence more leverage with printers and paper vendors, for example."
The search for cost reductions is ongoing. "Every year, I'm given a target savings based on how many contracts we have coming up for renewal, and where we think there is opportunity to remediate a relationship through contract negotiations, demand management, internal innovation or otherwise," Howell says. "If we can't take it out of the operational forecast or budget, it's not a savings. Our sourcing group views itself as more of a cost reduction/value delivery group."
Meredith continues to grow its print business in a declining industry. "The way we look at it, our work helps to provide capital for the next print, digital or broadcast acquisition which, in turn, provides us with dollar volume leverage, further supporting our sourcing and negotiating efforts," Howell says.
Meredith's reputation for being one of the most cost-efficient media operations has been well-earned. "Steve Lacy has definitely changed our culture," Howell maintains. "People in our company's business units are always very cost-conscious. They all drive to scale more efficiently, and they will welcome us in as just one tool to help make their operations more efficient and to drive cost out of their organization. There are generally no turf problems – we're all shareholders."
The business units welcome the strategic sourcing group's negotiating skills to right-size their vendor contracts, especially in digital, editorial and email deployment. "We want the business owner to maintain the day-to-day relationship with the vendor, so they might not be as inclined to drive cost reduction or threaten to move the business," Howell points out. "Sourcing can come in as an independent third party, or the bad guy, and negotiate hard terms without necessarily worrying about salvaging an ongoing operational relationship."
Cost Reduction Methods
How the strategic sourcing group reduces costs varies among the different business units. "There's cases where you might have three vendors that do the same thing, but we don't have any volume commitment or exclusivity agreements," Howell suggests. "We go in and negotiate everybody to the same rate and drive price compression, which results in a savings, or we might single-source with somebody in the wings or the backup that we're cultivating relationships with."
Negotiating a lower cost per thousand of email deployment for the digital group has recently driven large cost reductions. "This is a case where we were under contract, and in the meantime, technology opened up the market to new competitors, the playing field leveled and we took advantage of it, changing vendors in lock-step with the digital organization," Howell notes.
Another area in which the strategic sourcing group saves money is in managing capital expenditures (capex). "Broadcast generally has the lion's share of capital expenditures – broadcast equipment, electronic news-gathering trucks, cameras, station upgrades and the like," Howell says.
IT servers and related equipment also come out of the capex budget. "We have about a $30 million capex budget," Howell says. "On any capex that crosses the strategic sourcing group's desk, we save about 7 percent off the initial bid. Our IT staff and broadcast engineers are very good at driving a lucrative price point themselves. They generally deliver three quotes with their capex request, but there's always a wisp of doubt in a vendor's mind when subsequently having to deal with a well-entrenched sourcing group. But ultimately, we are responsible for ensuring that our capex policy is followed and that the organization comes in every year below our budget. Meredith's policy is that capex and anything that a particular business unit wants to source, or anything over $20,000, has to come through sourcing."
Paper Savings
Meredith uses several strategies to keep paper costs as low as possible. "Our strategy changes as the market does," Howell notes. "We diversified the supply chain and brought new players onto the field to give us more leverage. We buy several different grades of paper for the magazines, so we brought in smaller secondary and tertiary players that could help keep the big guys honest on price, especially in tight markets." The company also tries to collaborate and right-source by divvying up the volume of requirements to those mills who like to make a certain grade and weight of paper.
Meredith owns its paper, stores it at its printers and tries to keep its safety stock to a minimum. Paper is the company's second largest expense next to postage. "What we're paying the printer for is pressmanship in the service and the ink," Howell says. For a time, Meredith purchased paper jointly with Time Inc. who had volume requirements about twice that of Meredith. But Meredith ended the relationship because while it saw value during the annual paper RFP process, it wasn't as agile during quarterly price negotiations in that it couldn't move volume as readily.
Meredith also economizes on its mailing costs. "Our production operations teams, led by Chad Schumacher, are very aggressive on optimizing our postage rates," Howell says. "We try to leverage our volume to get the deepest discount in the postal channel that we can."
Howell is proud of Meredith's relationship with its vendors. "I don't think there's a year that we missed our cost reduction target," Howell declares. "I would say we've done it all and have still maintained a good working relationship with our suppliers."
That good relationship has extended to Meredith's other departments. "While initially people were apprehensive and a little nervous about letting sourcing into their backyard – they owned their operations so completely – I think people understand now we are just here to help," Howell adds. "So there is a good, symbiotic relationship between our sourcing and business units."
For next year, the strategic sourcing group is examining print volumes. "Right now, we're spending a lot of time for the next fiscal year reviewing our delivery channels and print volumes," Howell says. "So there's the notion of collaborating with our consumer marketing leadership and newsstand department to serve fewer bonus copies into the market. Postage and delivery will be examined for savings, and we're also reviewing our relationships in the newsstand channel. Those are the areas where we are going to drive the most cost reduction next year."
Howell attributes the company's sourcing success to being a cost-conscious organization. "I think Steve Lacy and his team have been able to really align our whole organization around eliminating waste, saving money and delivering a good quality product while driving efficiency in scale," Howell says. "It makes my job from a sourcing perspective easier because everybody is aligned to drive cost out of our organization. Aligned leadership helps drive our success in sourcing."