MillerCoors engages its distributors on multiple levels to streamline its supply chain and benefit its customers.
By Tim O'Connor
Since combining two of the country's premier beer brands in 2008, MillerCoors has strived to be a customer-centric company. "We're all about having customers and consumers view us as their first choice," Chief Integrated Supply Chain Officer Fernando Palacios says. At the same time, MillerCoors wants to be the first choice for its employees, too. Palacios is constantly thinking of ways to better retain, develop and promote the company's internal talent pool of 7,500 workers. "Our people are the forefront of our company."
That approach trickles down to MillerCoors distribution partners as well. Over the past several years, the Chicago-based beer maker has been implementing processes and programs to more efficiently serve and support distributors.
History of Innovation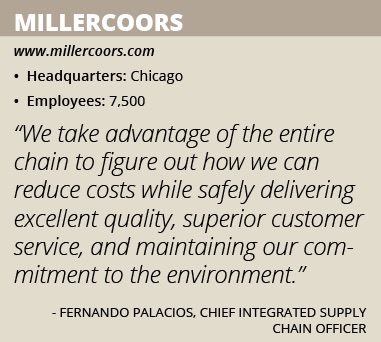 Palacios joined the company in June 2011. As the chief integrated supply (ISC) chain officer, he oversees about 5,000 employees in the ISC, which includes manufacturing, brewing research and development, engineering and procurement. On the supply chain side, Palacios is involved in distribution, transportation and customer service.
During his five years with the company, Palacios has worked to continue the MillerCoors legacy of innovation. The company brewed the first widely successful low-calorie beer, Miller Lite, and introduced the first aluminum recyclable bottles. In 2007, Coors Light introduced cold activated bottles, which indicates when the beer inside reaches optimal drinking temperature. The cold-activated labeling has since expanded to cans. "It's the mantra of the company always being about innovation," Palacios says.
Living up to that mantra of innovation begins by bringing customer-relevant ideas into the market, Palacios says. "It's trying to offer something that provides a benefit to our consumer." Distributors are one of the key ways MillerCoors determines whether a new beer or innovative package resonates with its end-customers, Palacios says, because those distributors are the first to know whether a product is a hit.
MillerCoors relies on its nearly 600 distributor partners to deliver its extensive lineup of beers to retailers, restaurants and consumers. MillerCoors typically keeps less than a day-and-a-half worth of inventory at each of its eight major breweries. "We're as close as you can imagine a food beverage company to being made to order," Palacios says. "What we produce we ship."
Because it relies on partners to distribute the beer, MillerCoors must cultivate strong relationships with each of those distributors to get immediate feedback and learn about trends in the market.
MillerCoors wants to work with distributors who care about its brands and beers as much as it does. That means that every six-pack or case of bottles should be handled with the utmost care to avoid the dented case or scoffed labels that can turn off customers. "If they care about our brands, if they care about our quality, that is a great start to a strong relationship," Palacios says.
Palacios knows distributors expect the same level of dedication from MillerCoors in return. He says the company creates that partnership by providing innovation, trade support and good ideas.
The one distributor MillerCoors does own is Coors Distributing Co. (CDC) in Colorado. The distributor's market area covers most of Denver and the surrounding areas. Palacios says CDC is a way for the company to gain insight into the beer market and the challenges other distributors experience. The company also serves as a test subject for many of MillerCoors' new beverages and packaging technologies, allowing MillerCoors to see how a product performs in real-world conditions and adjust production cycles accordingly. Palacious says that often results in improvements before a product is rolled out to wider distribution channels.
Improving Tools
MillerCoors' relationship with its distributors is facilitated through three main points of contact: day-to-day communication, an advisory council comprised of distributors and the brewer's ordering system. The ordering system is where the company is making the most changes.
For many years, MillerCoors used several homegrown electronic order entry systems to take and fulfill shipments from its distributors. However, those systems lack several features distributors want and don't always sync up properly.
To improve the process, MillerCoors is implementing a single-order entry system capable of global available-to-promise (GATP) information sharing and transparency. MillerCoors rolled out the GATP system to its Elkton, Va., brewery in December and plans to expand it to all its breweries by the end of 2017.
The company also engages its distributors in a more direct way. Palacios says MillerCoors was one of the first brewers to create a product quality supply chain council filled with distributor representatives. The group's role is to relay supply chain concerns to MillerCoors and advise the company of ways it can better support distributors. Membership is rotated every three years and representatives hail from every region of the country.
Insights from the advisory group and Coors Distributing have helped MillerCoors better understand how its products impact the way that distributors operate. Every distributor has a different way of handling product, Palacios says. For some, beer cases are hand picked from the shelf and transported to the truck by forklift. Others have automated case packaging equipment capable of combining as many as 40 different beer packages onto one pallet. "Whatever you can imagine, our distributors have it," Palacios says. MillerCoors must design and test packages in multiple environments to ensure they can coexist with distributors' various systems.
Efficiency is a critical part of the MillerCoors supply chain process. Although a single brewery can produce as many as 800 SKUs, each facility usually has only about a half-day's worth of product in inventory. That creates a heavy reliance on local packaging suppliers to deliver orders just in time to avoid costly supply chain disruptions.
That becomes even more important when considering how MillerCoors views the role of packaging. Creating an attractive design and logo that entice a consumer to pull the brand from the shelf is only part of what makes for innovative packaging.
MillerCoors continually finds ways to reduce the glass and aluminum content in its bottles and cans to fuel the company's growth. In recent years, the company has seen $100 million in cost savings through packaging simplifications, case designs that allow for fuller trucks and commodity hedging programs, according to Palacios. "We take advantage of the entire chain to figure out how we can reduce costs while safely delivering excellent quality, superior customer service and maintaining our commitment to the environment," he adds.
MillerCoors is assisting in that supply chain process by introducing new forecasting tools aimed at helping distributors better understand what products they need for their market. Palacios says the tools will allow distributors to track against the forecast every month, allowing them to concentrate on more niche products such as seasonal beers that may not have the same level of forecasting accuracy.
It's a promising tool for distributors, but it's also one that holds MillerCoors more accountable for production. "Mathematically, you can't run them [the beers] all in a week so you have to be very disciplined about your forecast," Palacios explains. "You have to run when you say you're going to run."
Balancing the needs of the supply chain is an important part of how MillerCoors accomplishes its mission of putting consumers, distributors and employees first. "What's been great for me coming here is the passion for our brands," Palacios says. "We are very committed to our communities, employees and the quality of what we do every day. That's what gets me excited every day."