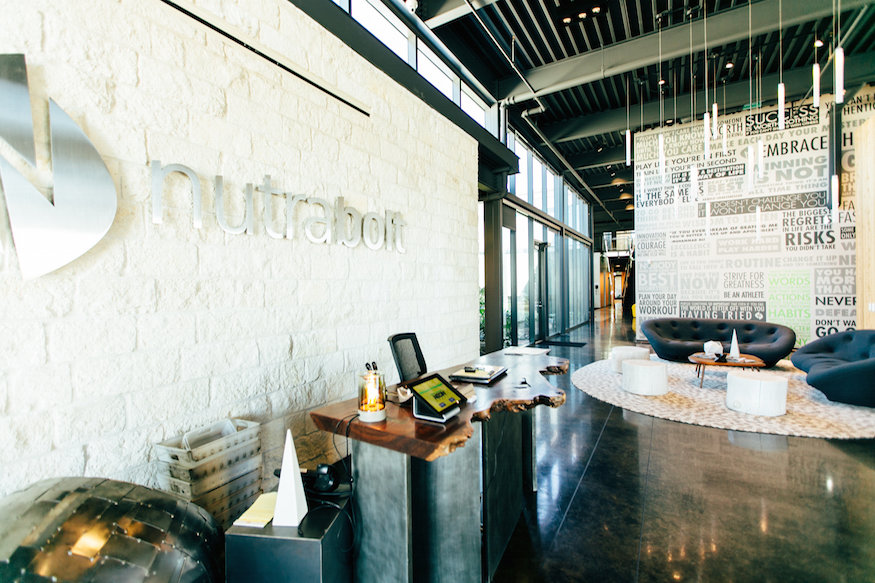 Nutrabolt's executives believe in investing in the supply chain, as well as research and product development efforts.
By Jim Harris
Becoming an elite athlete or bodybuilder requires a great deal of self-discipline. Although top physical condition can only be attained by individual commitment and hard work, the encouragement and guidance of others play a large part in helping people reach their physical peak.
A growing number of athletes and bodybuilders in the United States and beyond look to Nutrabolt's sports nutrition products to enhance their lives. Like its customers who work with coaches, trainers, spotters and others to meet their goals, the company also believes in partnering with others to achieve its top potential.
The Bryan, Texas-based company relies on third-party logistics providers (3PLs) to warehouse its products, and uses freight brokers to handle its shipping. Third-party partners also manufacture Nutrabolt's products.
"We're a brand sales and distribution company, so we're heavily reliant on outsourced supply chain partners, and there's good and bad elements to that," Senior Vice President of Supply Chain Casey Bauer says. "Outsourcing creates a different dynamic in our supply chain operations where those partnerships become crucial to our company. We spend a lot of time talking about how to become closer partners with the people executing our supply chain."
The company regularly works directly with its manufacturing, 3PL and other partners in demand alignment. Nutrabolt recently made a significant investment in its relationship with supply chain partners when it purchased the Logility supply chain planning software platform, which it plans to fully implement in June.
Nutrabolt purchased Logility licenses for use not only internally, but for some of its co-manufacturers as well, which will allow partners to see immediate feedback on supply and demand levels for Nutrabolt's products.
"We want to operate with our partners as one, and this is one of the biggest ways we can create that integration," he adds. "We want to eventually do the same with our 3PL and freight broker partners and make sure we create as much visibility across the supply chain as possible."
The Logility implementation and other process improvements implemented since Bauer joined Nutrabolt in mid-2015 are anticipated to reduce the company's inventory by over 25 percent by the end of the year.
Creating Opportunities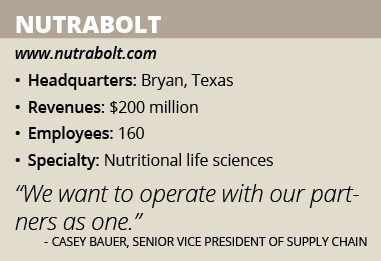 The company was founded in 2002 with the mission "to be the highest achieving and most respected nutritional life sciences company in the world, delivering superior products and service, while creating life-changing opportunities for customers," it says.
Nutrabolt took a large step forward in fulfilling its mission in 2007, when Doss Cunningham became its CEO following his purchase of a majority share in the company from one of its founding partners. Cunningham then brought in President Manish Patel in 2008, who also bought into the business.
After becoming Nutrabolt's owners, Cunningham and Patel set out to grow its revenues from under $10 million to the more than $200 million in sales it sees today, Bauer says.
The pair accomplished this task in part by growing the company's Cellucor brand of nutritional supplements. The brand includes supplement and performance products across several categories including pre-workout, protein, weight loss and post-workout recovery. C-4, the brand's pre-workout product, is a market-leading pre-workout supplement.
Cellucor has grown from being distributed at a regional level to becoming a top-selling brand at national specialty retailer GNC. The company in recent years has developed additional supplement brands: Neon Sport, Royal Sport and Cavalier.
In 2014, the company brought in a new equity partner, MidOcean Partners. MidOcean's minority share investment in the company has helped "take Nutrabolt to the next level" by encouraging it to add to its executive team, Bauer adds.
The efforts of Nutrabolt's owners have helped the company receive a number of accolades including being named "Vendor of the Year" by GNC three times and earning "Pre-workout of the Year" by Bodybuilding.com in late 2013. In addition, the company has been a back-to-back-to-back recipient of the Inc. 5000 distinction, recognizing it as one of the fastest-growing companies in the United States.
Leading-Edge Products
In addition to GNC and other specialty retailers, Nutrabolt's products are available online at Bodybuilding.com, among others. The company is seeing expansion of its brands in big-box and general grocery retailers such as Walmart, Target, Kroger and Costco as well. "Food, drug and mass retailers are recognizing the growth in the sports nutrition space, so we're seeing more customers available to us," Bauer says.
Amazon is also expanding its sports nutrition offerings. "That channel has grown dramatically for us over the past 12 months, and we predict it will continue to grow for us going forward," he adds.
Bauer credits the success and expansion of Nutrabolt's products to the company's extensive research, development and product development efforts. "We have a real understanding of the consumer and what they want, and stay at the cutting-edge of that," Bauer says. "We make sure we have the best products and best clinical data available – when we go out with a new product, we have a compelling story behind it.
"I'm consistently blown away by how the team here understands our consumers and keeps us on the leading-edge of making products customers can get behind."
Nutrabolt's core customers include athletes and bodybuilders who closely study and research sports nutrition. "They believe in it, invest in it and it's a critical part of their lifestyle," Bauer says. "They know what to expect from a product, understand the ingredient profile and know what they are looking for."
The company's move into big-box and other large retailers has seen the expansion of this customer base. "We're really seeing the emergence of people who are into general fitness such as CrossFit, which means we have to come up with unique formulations targeted to those groups."
Nutrabolt's newest products include C4 On The Go, a pre-mixed, 10-ounce version of the C4 product, which is typically available in powdered form. Bottles of the product are being sold at retailers as well as gyms. "This makes the product much more convenient," Bauer says.
The company in April launched a line of protein bars. "We've spent a lot of time developing what we believe to be the ideal protein bar offering," he adds. The line will be available in Target, with other large retailers to follow.
Making a Difference
Nutrabolt maintains close connections not only to customers, manufacturers and 3PLs, but to the community as well. "Community work is an unbelievably critical part of our culture," Bauer says.
The company's community commitment extends to the interior of its headquarters, where a 20-foot wall of inspirational quotes and phrases with the theme of "grow and give back" greets employees and visitors.
Nutrabolt's community efforts focus on organizations and events that make a difference in the lives of children and families. The company partners with local organizations including United Way, Habitat for Humanity and the Brazos Valley Food Bank. Each year, it sponsors a holiday drive, where it provides Christmas presents and a Christmas dinner to families in need. More than 100 families and 300 children are typically assisted annually.
The company tracks its philanthropic efforts in a manner similar to other business metrics such as its order fill rate, with the ultimate goal of continuous improvement. "We push ourselves to continue to grow our touch within the community," Bauer adds. "We're heavily invested in giving back, more so than any place I've seen."