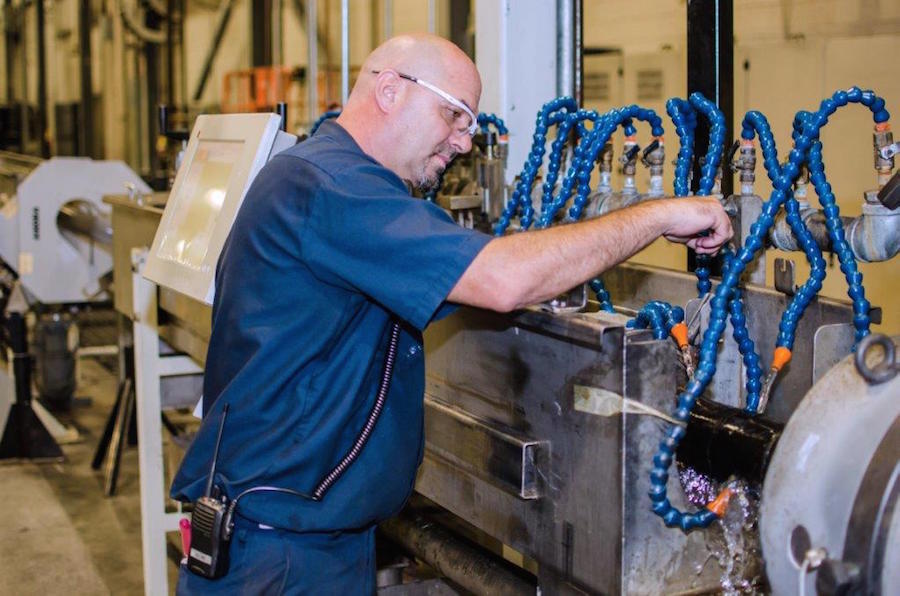 Prysmian Group leverages its expertise in global sourcing while continuing to lead in innovation and growth.
By Janice Hoppe
Prysmian Group has developed a strong global presence as a leader in the energy and telecom cable industry by aligning its organization and managing its supply chain risk. "The change in the organization over the past four years has been dramatic," Vice President of Procurement Brian Schulties says. "We continue to think more globally and must be in a position to leverage our global footprint."
The company manufactures underground and submarine power transmission cables and systems, special cables for applications in many different industrial sectors and medium- and low-voltage cables for the construction and infrastructure industry. For telecommunications, Prysmian manufactures cables and accessories for the voice, video and data transmission industries and offers a range of optical fibers, optical and copper cables and connectivity systems.
The Prysmian Group was formed in 2011 from the merger of Prysmian and Draka. "Prysmian mainly was into energy and telecommunication cable," Schulties explains. "What I mean by 'energy' is utility and EHV (extra high voltage), HV (high-voltage), transmission and MV (medium voltage) and LV (low voltage) power distribution. The acquisition of Draka expanded our business into oil and gas, marine, transit, defense, mining and OEM specialty-type cables. So really it was complementary – Draka did not compete with Prysmian in North America."
A few businesses that Prysmian had in Europe overlapped with Draka's. Prysmian also does business in Central and South America and countries in Europe, the Middle East, Africa and the Asia-Pacific region. The company was a division of Italian tire manufacturer Pirelli until it was purchased in 2005 by investment firm Goldman Sachs. About 60 percent of its business is in Europe, and the Prysmian headquarters is in Milan, Italy.
Global Transformation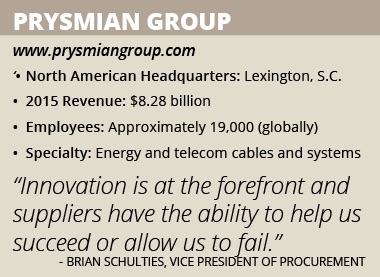 In 2011, Hakan Ozmen moved from Prysmian in Milan to become the president and CEO of North America, which Schulties says was the start of something new for the region.
In early 2012, Prysmian also hired a new CPO, Giancarlo Angelini, and Schulties worked with him to align Prysmian's regional procurement organizations with each other. Schulties worked to leverage the North American organizational structure, which was similar to the then current Milan structure. North America was at the forefront in helping to lead this strategy and assist with the roll out, as necessary, of this process to the rest of the globe. "That really, in my mind, became the transformation point of Prysmian's procurement organization on a global scale," Schulties says. "The other directors and VPs of the regions then aligned all of their organizations on a global scale, using North America and the Milan procurement teams as the examples."
This strategy was implemented during 2012 and 2013, and we started seeing significant global cost reductions the following year. "Today we are tweaking the process more than rolling it out," Schulties adds. "We created visibility and a consistent organizational structure we haven't had before. It's truly amazing; the effort that was put into the change management of the company and it wasn't an easy task to accomplish."
With approximately 19,000 employees in 50 countries, a change in culture of this magnitude required buy-in at the highest level which flowed down throughout the company. "It was a broad task to get the buy-in at all levels, but it created an organization that is fairly flat and consistent from one region to another," Schulties explains. "There's no doubt that transitioning an organization this size on a global basis has inherent risk. You have to build trust throughout the organization that it will create a functional and strategic procurement organization, when it is complete, while continuing to maintain our global strategy of being fast and flexible."
Mitigating Risk
Prysmian sources globally and leverages its expertise throughout the world to manage the procurement of many global commodities. "Certainly cost is important," Schulties says. "We have global commodity leaders for this process and I'm one of them. In addition to my day to day activities in NA, my responsibility as a global commodity leader is to manage flame retardant cross link polyethylene's (FR XLPE) for the automotive plants throughout the world."
Global sourcing presents a number of challenges in regards to working capital, logistics, supply chain and global supply risk. "We talk about global scale and exploit global sourcing, but there are risks that come with that strategy," Schulties adds. "It comes down to the working capital and a resilient supply chain: Do I have the product on time where I won't be shutting down a plant while managing the appropriate quality and inventory levels?"
Focusing on the cost of commodities is important, but after 30 years in procurement, Schulties is aware of the hidden costs associated with sourcing that was often not accounted for in the past. Since 2003, he has been in the wire and cable industry but prior to this, his previous experience was in manufacturing as a Tier 1 supplier to the automotive industry. "During the '80s and '90s, everyone was offshoring due to favorable acquisition cost and mainly focused on China and the Asia Pacific region," he explains. "I believe what was lost during this period was 'what does it truly cost me to buy from these regions of the world?' The invisible cost to get it here or landed cost, the cost of maintaining inventory due to a much longer supply chain, cost of quality, supplier risk, compliance, sustainability, etc. For the most part, today everyone thinks about, and is focused on, the total cost of ownership while trying to create a visible/transparent supply chain. I believe this is the first decade that the total cost of ownership is at the forefront and is something everyone is truly focused on but there is much more to do."
Maintaining long-term and collaborative relationships with its suppliers is a key to Prysmian remaining a leader in innovation. "We can't do it alone," Schulties admits. "On our website, one of the first things you will see is 'linking innovation to global leadership.' We are a global company and if we are going to be successful long term, we must move the bar every year. Innovation is at the forefront and suppliers have the ability to help us succeed or allow us to fail."
Future Investments
Prysmian will continue to invest in its future, and North America is getting a lot of its attention in terms of growth. The company is adding a greenfield plant in Mexico, that will manufacture fiber-optic cables for telecommunications. "This will be the third cable plant in North America supporting that market," Schulties adds. "We are investing significantly in Durango, Mexico, and our expectation is that the plant will be operational by the end of this year."
The company last year expanded its Abbeville, S.C. cable manufacturing plant, further increasing capacity to produce high- and extra high-voltage cables. "There is a lot of investment internally and I think the expectation from the market is that we continue to grow, strengthening our market leadership position," Schulties says. "We've done a good job as a group; not only in expanding profitability of the company and managing the right level of debt, but also maintaining a good balance sheet and generating strong cash flow."
Additionally, Prysmian is committed to providing resources to its employees to ensure they are successful and prepared for the future. Prysmian partners with SDA Bocconi and the University of South Carolina's Darla Moore School of Business for the Regional Leadership Program (RLP) that equips employees with the skills and strategies needed to confidently navigate the complexities of the market.
This initiative provides Prysmian employees with growth opportunities at each stage of their career. It also enhances Prysmian's ability to remain in a class of its own by developing a strong internal network and ensuring employees are focusing on and working toward the same goal.
Prysmian also created the Purchasing Academy in 2012, again partnering with SDA Bocconi, which is discussed each year at the Worldwide Purchasing Leadership Team meeting in Milan. To date; approximately 90 percent of the North American procurement group has received this important training.