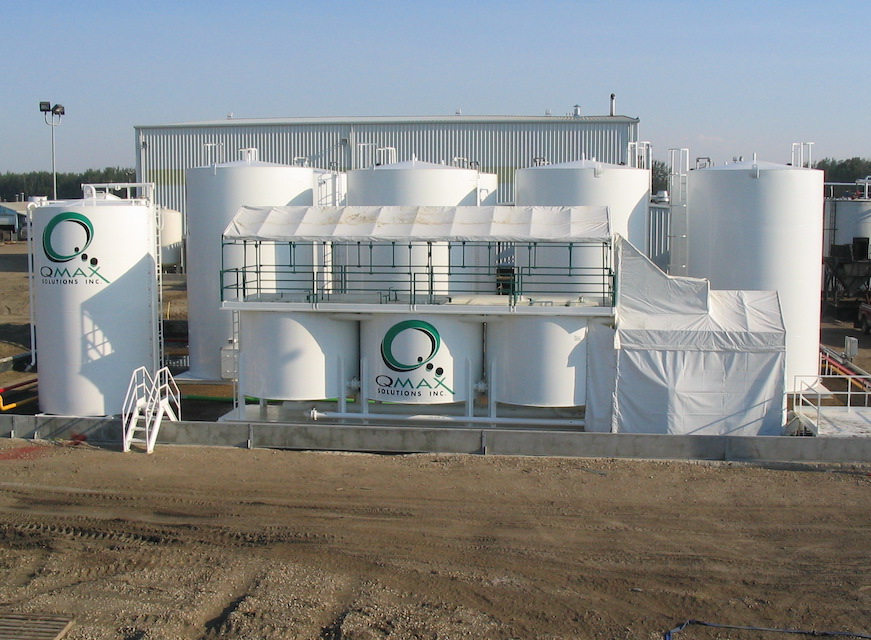 QMax's Supply Chain operations are a crucial part of its success in the oilfield services market.
By Chris Petersen
Most industries face difficulties in down turns, however, no industry in the last 18 months knows that better than the oil and gas industry. A precipitous drop in oil prices has wreaked havoc with the energy market. One of the many companies affected is Houston-based QMax, a provider of drilling and completion fluids, waste management, solids control, transportation, and wellbore cleanup services to the oilfield market.
For more than 20 years, QMax has provided oilfield products and services to customers around the world. Its experience includes managing operations in Canada, India, Kurdistan, Mexico, South America, and the United States. The company has more than 15,000 square feet of laboratory facilities in seven countries, and its culture of rewarding innovation and giving local operations the autonomy to "do what's right" for each individual customer has made it a sought-after oilfield services partner. Unlike many of the companies impacted by the recent drop in oil prices, QMax boasts a strong and continuously improving supply chain that has been able to adapt to the changing conditions in the marketplace and position the company to weather the storm.
Vice President of Supply Chain Veronica Brown is a veteran of the oil and gas market for more than 20 years, having started her career with Halliburton in Mexico City. Since then, she has held numerous positions at Halliburton and BP before joining QMax last year.
QMax supply chain success can be attributed to the total and unwavering support from every function within the company. Brown states, "One of the contributing factors for success is that our CEO and the vice presidents of operations fully understand and appreciate the value that supply chain brings to the organization."
Valued Service
Although supply chain organizations are crucial in every industry, Brown's team is very much involved in the company's day-to-day operations and long-range planning. Her team works hand-in-hand with business development, research and technology, HSE and operations on a daily basis. "We ensure that our supply chain delivers the appropriate products with the lowest cost, the best quality and on time to each of our stakeholders, whether they are internal or external," Brown states.
This is one of the elements that has made QMax successful in its supply chain organization and in general. "Anyone in supply chain will tell you that they want to work for a company that acknowledges the importance of supply chain like QMax does," she says. "We are involved, at the outset, in every critical bid, so that we can provide operations with the latest cost and we can suggest alternatives by working with our suppliers because we have time to react, and more importantly, time to think and plan. This gives our company a real competitive advantage."
Making Adjustments
The close attention and appreciation QMax shows its supply chain organization has been especially valuable as of late, as market conditions remain very unpredictable. "But having the ability to be proactive, rather than reactive, and formulate the appropriate strategy, has helped QMax weather the storm," says Brown.
For example, during the current downturn, the preservation of cash flow became an important focus. Brown says, "Although cash preservation was a key factor, QMax has to balance that priority with uninterrupted customer service at the most effective cost." The solution involves identifying products and commodities in each of the areas QMax serves, and then executing effective strategies, such as leveraging volumes and implementing consignment arrangements in order to achieve the lowest cost and optimum cash flow. This is a primary example of how QMax utilizes its supply chain as a key element of its success.
Another critical factor of QMax's supply chain success is its supplier relationships. Brown says the company believes strong continuous communication is the best way to maintain good relationships with suppliers. QMax engages with them on a regular basis to share forecasts in order to help them optimize their production and inventory levels. With continuing volatility of oil prices, Brown says, QMax needs flexibility to adjust prices as required, and that is only possible with the full cooperation of the company's suppliers.
Continued Success
QMax will continue to devote resources to its supply chain organization because it is critical to its long-term success. The company has introduced category management processes for its primary product spend categories within the last year and has seen great success. Continuing the trend, Brown plans to expand supply chain's focus into indirect spend, such as real estate, travel and IT, as the company continues to grow. The company anticipates establishing strategically placed distribution centers and free trade zones to reduce lead times and cost to its customers in vital regions of the world.
Brown says, the strength of QMax's supply chain organization will help carry it through to new heights of prosperity despite ever-changing market conditions.