Qualcomm's highly complex supply chain operations give it greater flexibility in the fast-paced world of technology.
By Chris Petersen
Qualcomm Technologies Inc., a subsidiary of Qualcomm Incorporated, operates, along with its subsidiaries, substantially all of Qualcomm's products and services businesses, including its semiconductor business, QCT. As the world's largest provider of wireless communication technology, Qualcomm Technologies is all about connectivity. This shows even in the company's supply chain, which brings together a very large network of partner manufacturers and distributors to supply the billions of processors, modems and other components the company delivers each year. Senior Director of Supply Chain, Mark Utter, says the company's success rate in terms of its supply chain is well above the industry average, even though the company depends entirely on third-party providers for manufacturing of its integrated circuit products.
With a network of nearly 70 partner manufacturing sites around the world, having strong organizing principles within the company's headquarters is critical to the company's continued success. Utter says that by concentrating on the company's six core supply chain objectives, it is able to manage its large supplier base and geographical footprint in a way that provides the company with tremendous flexibility and scalability to serve its customers.
Utter has been overseeing QCT's supply chain operations since 2007. Before that, he spent many years in various operational, financial and manufacturing roles with major technology companies including Texas Instruments, Lucent Technologies, Agere Systems, and IBM. Utter and his team are responsible for the end-to-end delivery of every chip and component sold by QCT, which number in the billions. Thanks to the company's strong internal culture and dedication to supply chain excellence, however, Utter says, the company stands as an example to the rest of the industry.
Success Defined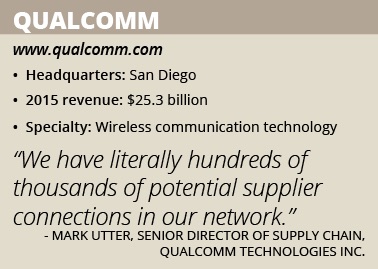 Utter says the company's supply chain metrics put it head and shoulders above most of its competitors, and while the company utilizes a balanced scorecard of metrics, two key measures of its results are: delivery and inventory performance. In terms of delivery to the company's committed date and to customer's requested date, the company has consistently demonstrated the ability to achieve exceptional performance: well ahead of industry benchmarks.
The other side of the supply chain coin is inventory, and there the company is proud to also consistently achieve better results than industry peers. Utter says the fact that the company can deliver its products on time with a smaller average inventory and attain a delivery success rate above industry benchmarks is evidence that the company's supply chain is effective and efficient. "If you look at our results, to me that's pretty strong. Also, we are happy with our results, but not satisfied. We have many initiatives on our roadmap to improve our capability to scale with volume and complexity. Our supply chain evolution is a never ending, continuous improvement journey," he says.
All of that adds up to the company's reputation for being able to deliver for customers better than the rest of the industry can, which Utter says is incredibly valuable for many of the company's high-tech customers. "Sometimes our customers choose us because they say we can do the impossible, which the others guys don't," he says.
Control Tower
The success of the company's supply chain operations is rooted in what Utter describes as the company's six core objectives. He says the company strives to be proactive, fast, flexible, scalable, reliable and cost-effective in everything that it does. Utter says that by every relevant metric, the company is living up to those core objectives, and the company's culture is built around achieving them. "You're doing something right; you're capturing those six objectives and accomplishing them," he says.
The company's strong culture is vital because the company depends on its third-party manufacturers' capacity to deliver on promises. Utter says sourcing all of its integrated circuit products from outside manufacturers makes for a very complex supply chain but also one that provides the company with a great degree of flexibility. "We have literally hundreds of thousands of potential supplier connections in our network," he says.
Utter and his team manage the company's expansive network of manufacturing partners through a control tower approach in which most of the company's planning is done from its headquarters in San Diego, with execution teams close to suppliers, predominantly in Asia. With many of its manufacturing partners located in Asia, Utter says the company is able to achieve its desired goals within a variable cost model that provides significant flexibility and cost-effectiveness.
"The variable cost model is very important, and pretty much everybody in our industry uses it for those reasons," Utter says.
Moving Deeper
As complex as the company's supply chain network is, Utter says the company continues to add to it through strategic acquisitions. As the company integrates these new supply chains into its existing operations, the company is applying some forward thinking initiatives to help it transition smoothly. "They're a challenge for us, but it also creates more opportunities for us," Utter says.
One of the changes the company has implemented recently involves buying some wafers for its components higher up the supply chain, rather than purchasing products in a more finished form, as in the past. "We're basically moving our planning and execution farther upstream, which gives us more control," Utter says.
Utter adds that the company also is working to make better use of business intelligence and data mining to see and influence movement through its supply chain network. "One of the things we're trying to do is to reach deeper into that supply network," he says.
"Overall we are working to utilize our supply chain as a strategic tool as part of an effort to drive operational excellence. The end goal is to provide a positive customer experience and leverage our technology into improved business benefit, he says."
These improvements are certain to help the company make inroads into emerging technology segments, such as smart homes and wearable technology. As the company's volume continues to grow, Utter says, the company is committed to connecting with more segments and serving them the same way it has done throughout its history. "It's continuing to manage more and more complexity," Utter says.