Sanden International (U.S.A.) Inc.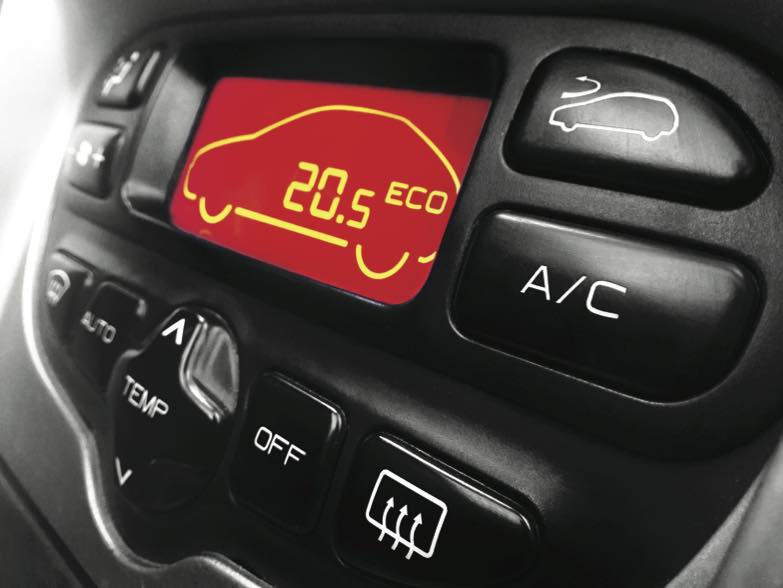 Sanden International (U.S.A.) Inc. implements a new supply chain strategy for a leaner and faster operation.
By Janice Hoppe
Sanden International (U.S.A.) Inc. (SIA) is transitioning to a pull supply chain strategy as its customers continue to minimize their inventory and demand reduced order cycles and lead times. "I think the bigger push in the automotive industry came after the 2009 'Lehman Shock,'" Vice President of Purchasing and Supply Chain Management Jason Augustyn says. "The focus is now on lean inventory levels, and reducing production time and cycle time. That pressure has been very, very strong as we recovered in North America from post-Lehman shock."
SIA specializes in manufacturing automotive air conditioning compressors at its North American headquarters in Wylie, Texas. The company's goal is to be the best at what it does and build the best products for its customers. "Sanden is one of the largest independent air conditioning compressor manufacturers in the world," Augustyn notes.
Sanden International boasts 25 percent of the global marketshare and its main automotive compressor operations are located in Japan, China, France and Poland, in addition to the United States. SIA has two sister manufacturing facilities in Mexico – one that makes components used exclusively at the Texas location and the second that makes casting and machining tools.
"The thing that is unique about us is we are independent and don't have any direct connection with any automotive OEM," Augustyn says. "We are the second-largest globally and the largest regional independent air conditioning compressor manufacturer with an excellent portfolio of global customers. We supply GM, Volkswagen and Nissan, so we have good, strong customers and strong global relationships with each one of them."
Pull Strategy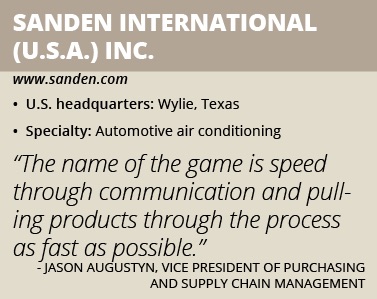 Producing and supplying products to customers within its region is one of the guiding principles at SIA. The company will sometimes need to work with its sister companies around the world to source a product because of a capacity issue or the product is not in the North America portfolio.
The Wylie and two Mexico facilities make up SIA's North America operation. "We think, as part of improving our linkage, communication and ensuring an efficient operation in the region, it's necessary to operate as a regional team," Augustyn explains. "Rather than have three distinct heads of supply chain, for example, my team here in Texas leads all supply chain activity for all three operations. The name of the game is speed through communication and pulling products through the process as fast as possible."
SIA is working to break down its supply chain into smaller units and implement a pull strategy from its customers through to its suppliers. "As the market becomes more competitive and as customers become more efficient, it's necessary to do it that way," Augustyn says. "We are trying to reduce our inventory level and pull material through the entire supply chain network to reduce manufacturing cycle time."
The challenge for SIA is to balance the need to reduce lead-time and cycle time while implementing a pull production system with the opportunities to purchase materials from traditional low-cost countries, such as Asia. "We are not 100 percent implemented, but that is our vision," Augustyn says. "We have made good steps towards it. It remains our philosophy to produce as much in North America for our North American customers efficiently and effectively."
The pull strategy will help SIA reduce by 25 percent the number of days of inventory it holds at any point in time in the next two years. The company began working towards this goal last fiscal year and is on target to achieve it by the end of fiscal year 2017. "Our aim is to make significant improvements in the efficiency of our inventory," Augustyn adds. "I feel comfortable we will achieve it."
By establishing a regional organization in North America, SIA is able to run lean on its inventory. The company can more easily plan to have the right product in the right place in the region. "When you operate three different locations there is waste and overlap between each location," Augustyn explains. "That's what we found. It makes it easier to manage things within the region. To maximize the output or benefit on a regional basis is much better when we have the ability to coordinate between locations."
Understanding the Demands
SIA must understand its customers' requirements and work closely with its suppliers to fully implement the pull strategy. "Everything starts with the customers' needs and requirements," Augustyn says. "We understand that well and are able set up the right capacitation in response."
The company develops and maintains relationships with its customers through its sales and customer service teams. The teams are then able to provide SIA with the information it needs to develop short- and long-term forecasts and increase capacity efficiently over time. SIA also communicates with its customers through electronic order placement. "Automotive companies are using electronic data interchange communication with suppliers to give short-range requirements," Augustyn explains.
SIA customers want less inventory as well as reduced order cycles and lead times. "It's the same things we are doing with our suppliers," Augustyn says. "They want to pull material through the system as efficiently and effectively as they can. Our customers are relentlessly trying to push us in that direction. They want to minimize the inventory they have in their facility and their exposure to any changes in customer demand or production cycle they might have."