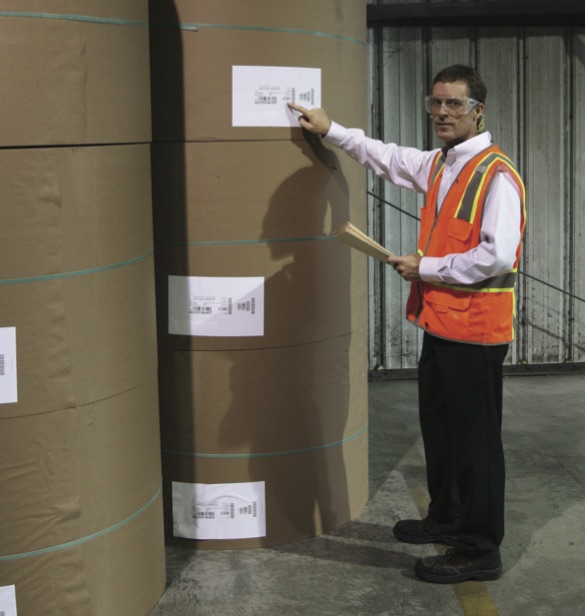 After more than 115 years, Sonoco provides packaging for some of the world's most iconic brands.
By Alan Dorich
If you have ever admired the tall, spiral-wound paper canister that many stacked chips come in, or enjoyed the easy open and reclose features on a variety of snack foods, you have seen the work of Sonoco.
Based in Hartsville, S.C., the company provides consumer packaging, industrial products, protective solutions and display and packaging services for a broad range of clients in a wide range of industries. Sonoco's history dates back to 1899, when it made paper cones to replace wooden cones for winding yarn in the textile industry, Director of Corporate Logistics Tim Myers says, noting that Sonoco has since grown into a $5 billion global packaging company with 330 locations in 35 countries. "We're typically No. 1 or No. 2 in most markets that we serve."
Those markets include the industrial sector, for which it provides protective packaging. For example, "If you think about washing machines, we make the rigid paper corner posts that protect the product and [allow you to] stack units on top of each other," he says. "We've also become very involved in making protective products for the automotive industry, helping them to lightweight vehicles with improved gas mileage, without sacrificing safety. Our products are found in head-rests, side panels and bumpers, just to name a few."
Sonoco also manufactures temperature-assured packaging for the medical and pharmaceutical markets that allows vaccines and other biologics to be shipped safely at an ideal temperature to ensure they maintain their performance characteristics.
On the food products side, "We make a lot of flexible or rigid plastic packaging, using innovative materials and high-quality printing that makes brands look great on a shelf and easy for consumers to use at home," he adds.
"We also make powdered infant formula canisters and plastic containers," he says, noting that these include shampoo bottles and trays for microwavable meals. "Most people are really are surprised at just how many products we make and how many markets we serve. "
A Clear Focus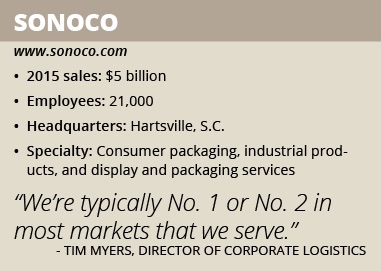 Myers joined Sonoco 23 years ago after finishing graduate school. "I started out at one of our branch plants," he recalls, noting that he stayed with the firm for five years before leaving to join Ernst & Young consulting.
When Myers returned to Sonoco in 2002, he managed the company's logistic technology strategies. "I was promoted several times inside the department," he says. "Now I lead the Logistics department."
Myers credits Sonoco's success to its leadership. "Our executive team has a very clear focus and plainly communicates the goals and objectives throughout the company," he explains. "Our overarching theme is 'People Build Businesses,' and you see that illustrated in [every] decision our executive team makes.
"Our CEO has a saying that there are many ways to run a company, but a great company can only be run one way," Myers says. "He has a one-page plan that outlines the company's mission statement, priorities, principles and capabilities, with six focus areas.
"Every person in the company knows how their job relates to that one-page plan, and if we are doing something that does not support something on that one-page plan, we should stop doing it immediately," he says.
Sonoco's priorities, he adds, include safety. "We have world-class safety performance [among our] workforce of 21,000 people," he says. "There's zero tolerance for anything that's not promoting safety. That's the kind of culture that we have."
A Favored Shipper
Transportation regulations have become stricter, Myers says. "It's uncovering a lot of inefficiency in the market," he says.
Sonoco is working hard to operate within the constraints of the regulations, Myers says. "We have dealt with a lot of changes in the trucking industry over the years," he says, noting that the company looks for ways to make its plants as driver friendly as possible.
"The faster we can get the drivers in and out of our plants, the better," Myers says. "That makes a shipper like Sonoco a favored shipper in the eye of the carrier.
"Trucking companies will not only give us a better rate, they will prioritize our freight," he adds. "It's really about putting on the hat of a carrier and trying to see the world through their eyes. A trucking company is only making money when their wheels are moving."
Becoming No. 1
Sonoco operates with a vertically integrated structure, which allows it to efficiently change its supply chain, Myers says. Its recent initiatives included identifying inefficiencies and streamlining them.
This has made Sonoco "No. 1 in our inventory position relative to a peer group of packaging companies," he says.
By implementing a new inventory replenishment system, the company took a day out of its order process, which allowed its plants to stock less inventory.
"Having that flexibility allows us to have some different transportation and production practices," Myers explains.
"It enables us to better utilize less costly modes of transportation," Myers says. "We can work with the order takers and schedulers to get a little more transit time in the system to take advantage of intermodal shipments versus truckload shipments."
Partners in Logistics
Sonoco utilizes third-party logistics providers, and often works directly with asset-based carriers. "By doing so, you improve the communication between yourself and the guy who has your freight," Myers says. "Most of these carriers have satellite tracking."
These carriers include Landair Inc., with which Sonoco has worked for 20 years. "They are very tightly aligned with Sonoco," he says. "Their systems are well integrated with us. They understand Sonoco's culture and our drive for productivity."
Plans for Growth
Myers is proud of Sonoco's continued evolution.
"We're constantly looking for new markets to get into and new products to develop," he says, noting that it plans to invest in more innovation and growth.