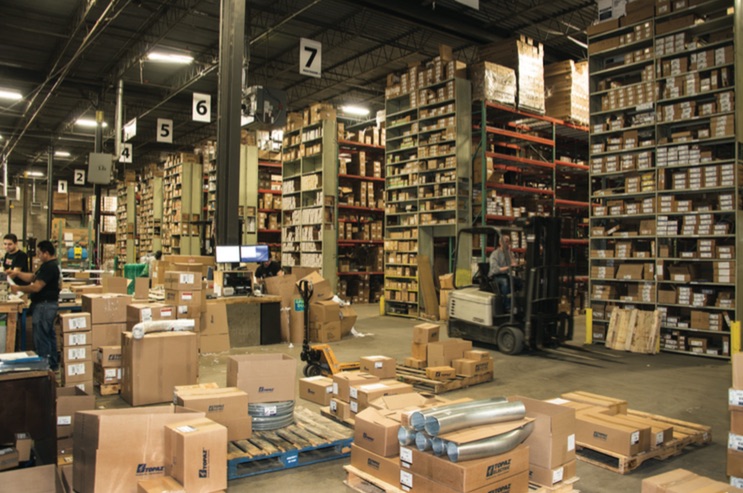 Topaz prepares for growth as it streamlines its supply chain and sets itself apart with a personal touch.
By Alan Dorich
After more than three decades, Topaz Lighting Corp. sets itself apart from competitors with a personal touch, Vice President of Supply Chain and Global Operations Brad Goodfriend says. "Other companies say the customer comes first – [but] at Topaz, we mean it," he states.
"Customer-centricity is part of everything we do," he continues. "When you call Topaz, you get that personalized service akin to a small company, although we continue to grow. We pride ourselves on having developed the reputation of being the easiest company to do business with within our industry."
Holtsville, N.Y.-based Topaz sells a full line of electrical fittings, lamps, ballasts and components, LED fixtures, outdoor LED lighting and exit signs. CEO Tim Gomes started the company in 1985 as an importer and distributor of light bulbs and ballasts.
Over the next few years, it expanded into progressively larger locations. "In 1990, we launched an International division and in 1992, added the Electric division," Goodfriend says. "We have now grown to the point where we operate four distribution centers and 10 strategic stocking locations across the United States."
Topaz, which celebrated its 30-year anniversary last year, sells strictly to electrical distributors, but considers contractors and end-users part of its client base, Goodfriend says. "That our customers require quality products at competitive prices with exceptional customer service goes without saying," he says. "What they expect is a fast turnaround so they can reduce their inventory levels."
Transforming Topaz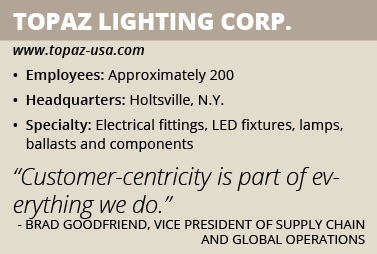 Goodfriend joined Topaz in 2014 with the objective of transforming its supply chain into a best-in-class operation to support its growth goals. Previously, he spent seven years managing the supply chain for one of Canada's leading lighting companies. "Prior to that, I led the supply chain for an international high-tech company," he recalls.
Since arriving at Topaz, Goodfriend has restructured the department, created new roles and expanded its talent base. "We also are investing heavily in technology," he adds. "In November of last year and with the tremendous support of individuals across our company, Topaz implemented a new ERP system."
The company's supply chain department also uses GPS tracking software, dimension scanning equipment, a shipping manifest system and WMS. Topaz is in the process of implementing advanced planning and forecasting software.
Topaz also concentrates on employee training. "I've got a very strong group of managers that oversee each of the disciplines," he states. "Their responsibilities are to assess their teams and develop training plans for each of the individuals."
This will fit in well with Topaz's plan to double in size in the next five years. "To do that, we need the engagement of all our employees towards that goal," Goodfriend says.
Supply Partners
Topaz's steps towards supply chain efficiency also include forming direct relationships with its freight service providers. "In the past, Topaz was exclusively using third-party forwarders for our outbound freight needs," Goodfriend says.
But their daily rate changes and limited awareness of Topaz's products, combined with Topaz's clients' service level needs, "made it clear that our business would benefit from creating direct relationships with key carriers," he explains. Today, Topaz uses a small core of third-party logistics companies that provide a mix of services.
Topaz also has partnered with AR Traffic Consultants Inc., a consulting firm that offers freight pay and audit services. "Through AR Traffic's transportation management expertise and their excellent technical support, we have greatly improved the visibility into and management of our freight spending," he says.
Topaz also has taken a look at its distribution center network. "We recognized early on that our network … needed to be expanded and improved upon if we were to successfully meet our growth goals," Goodfriend says.
The company also partnered with real estate services firm Cushman & Wakefield to help in the site selection of its newly planned centers. "We are about to complete the first stage of this initiative, which was the opening of a new distribution center for the northeastern United States," Goodfriend says.
Topaz's new 75,000-square-foot Philadelphia distribution center will open this spring. "We designed this distribution center with the support of supply chain experts to improve the flow of our distribution operations," Goodfriend says. "This … will be our flagship and the model for all future distribution center expansions."
Well Positioned
Topaz's market is segmented between electrical and lighting products. Each has unique challenges, Goodfriend states. While the electric market is fairly stable, "Our biggest challenge therein resides in the fact that the products are commoditized and we need to stand out from the competition," he says.
Topaz does this through its outstanding customer service, innovation in new products and strong industry reputation. "Of course, having bright, dedicated employees makes this all possible," he says.
On the other side, the shift to LED lighting has brought unique challenges the industry has never before experienced, Goodfriend states. However, "We are well positioned to capitalize on both the declining traditional lighting market as well as the growing LED market.
"Our breadth and depth of product offering and our ability to fulfill orders of all sizes enables us to continue to serve our customers who are still looking for traditional lighting products," he says. "At the same time, we continue to expand our LED product offering."
Exciting Times
In the short time period of transitioning to new technology and business practices, Topaz is already seeing a great improvement within its supply chain. "We certainly have a better understanding of our customer demand, stronger vendor management capabilities, [improved] distribution operations and overall, a better ability to meet our customers' needs and provide the best service in our industry," Goodfriend says.
With transition always comes challenges, and Topaz is addressing these head on. "One of our challenges is limited visibility across our supply chain network, particularly as we are only four months into our new ERP system," he states.
"Fortunately, we have an excellent IT department and numerous projects are in the works to improve our visibility," he says. Another challenge Topaz faces is in the area of demand planning.
With more than 10,000 customers and over 17,000 SKUs, "Getting unified feedback from our customer base is always a challenge, as there is no-one-size-fits-all solution to meet our customers' needs," he says. "We are addressing this challenge with the help of technology, by integrating advanced forecasting and planning software onto our ERP system, and with the introduction of Sales, Inventory, and Operations Planning (SIOP)."
These are exciting times for Topaz, Goodfriend asserts. "We're undergoing a lot of growth and change as a company," he says. "We're making substantial investments and we have high expectations that the foundations we're building today will facilitate the achievement of our future growth goals."