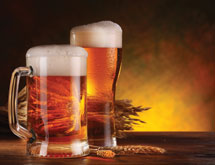 Nothing lasts forever, but legacies live on. Such is the case for Charleston, S.C.'s Pearlstine Distributors, which announced that it was being sold to Southern Eagle Distributing after 147 years of family ownership.
Pearlstine was a longtime local distributor of Anheuser-Busch beers and other brewed drinks in the Charleston area. In fact, the company served seven different counties in South Carolina's Low Country. The deal, announced last November, came about as a result of a family business decision.
Although the sale announcement reportedly was made with some mixed feelings on the parts of Susan Pearlstine and Jan Pearlstine Lipov – two sisters who were the fifth-generation owners of the company – they explained they had made the decision because they believed becoming a part of a larger operation was a growth opportunity for the organization.
Long Legacy
Pearlstine Distributors traced its roots back to 1865 when Isaac Pearlstine opened a general store in Beech Hill in Jasper County. Twenty years later, the Pearlstine family opened a wholesale grocery, hay and grain business.
At the turn of the century, I.M. Pearlstine & Sons went through a period of expansion that saw stores open in Walterboro, Eutawville, Mount Holly, Hampton, Kingstree, Sumter and Florence. Then, in 1918, the organization acquired Farline Supply Co. That company grew to become a distributor for Bevo, which was a beer-flavored soft drink developed by Anheuser-Busch because of the dawning era of Prohibition.
Although Bevo production ceased prior to the end of Prohibition in 1933, Pearlstine kept its relationship with Anheuser-Busch intact. Over the course of the next few decades, the organization saw a branch distribution operation established in Beaufort in 1961, as well as a company move to a facility on Gaynor Avenue in North Charleston in 1970.
The following year, Edwin Pearlstine incorporated the business as Pearlstine Distributors. In 1982, the company formed Palmetto Distributors, which took charge of distribution of wines, snack foods, liquor, mixers and bar supplies for the company until it was sold in 1995. From then on, Pearlstine Distributors' sole focus was on distributing brewed beverages.
Prior to the sale of Palmetto Distributors, Edwin Pearlstine sold the company to Susan Pearlstine and Jan Pearlstine Lipov in 1993. In 2003, a new company headquarters and distribution center opened off Clements Ferry Road. All of this led up to the eventual sale of Pearlstine Distributors to Southern Eagle Distributing late last year.
New Beginnings
Although the longest-running family businesses in the area has changed owners, it hasn't gone away thanks to its new status as a part of the Southern Eagle Distributing family. Much like Pearlstine Distributors, Southern Eagle is a multi-generational family business that says it is committed to its employees, customers and communities. The owner of Southern Eagle is William (Will) J. Dorminy Jr., who announced that his family planned to relocate and set up Southern Eagle's business headquarters in Charleston after the sale.
Southern Eagle can trace its history back to the creation of the Fitzgerald Ice Co. in 1907. Founded by John Henry Dorminy Sr., it was a manufacturer and seller of ice, coal and gas, and it also sold Anheuser-Busch beer. Having icehouses distribute beer was common at the time, because all beer sold back then was draught and required cooling.
After the founding of the organization, Fitzgerald Ice Co. existed as a sole proprietorship by John Henry Dorminy for the 43 years of its operations. Halfway through the 20th century, the company's beer department had one truck and a single part-time employee. But by 1956, the company had been incorporated and John Henry Dorminy Jr. was its president.
Sales increased and the distribution business moved to a new, updated warehouse. By 1970, William (Jim) J. Dorminy was the company's president and general manager. By that time, two other employees had been brought into the fold, the company's fleet consisted of two eight-bay delivery trucks and sales were up to 75,000 cases per year.
By 1980, sales had increased to 380,000 cases and the company moved to a location on Ocilla Highway in Fitzgerald, Ga. Will Dorminy joined the company in 1995. By then, sales were up to 937,000 cases. Since Will became president in 2005, the company has seen the acquisition of a number of additional distributorships and territories. These include Vidalia in December 2007, Savannah and Blackshear in October 2008 and Brunswick in 2010.
Pearlstine Distributors may now do business as Southern Eagle Distributing, but the company's long legacy of success lives on as part of another long-lived company that believes in a focus on employees, customers and community.­­