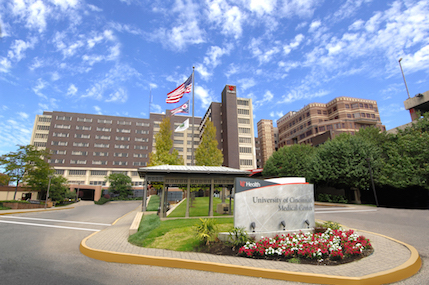 Building an industry-leading supply chain goes hand-in-hand with a commitment to clinical excellence for UC Health.
By Eric Slack
On a mission to serve patients and solve complex medical cases, UC Health has assembled a team of top clinicians and researchers. This allows the organization to provide world-class care to Cincinnati and surrounding communities.
Just as its medical services and facilities are state-of-the-art, UC Health is building a world-class supply chain team that is helping the organization to run as cost effectively and efficiently as possible.
UC Health is Cincinnati's only academic medical center and an integrated system that spans the Tristate region. It has main campuses in Clifton and West Chester, and its overall footprint includes University of Cincinnati Medical Center, West Chester Hospital, Daniel Drake Center for Post-Acute Care, Lindner Center of HOPE, Bridgeway Pointe and the University of Cincinnati Physicians 750-plus physician group.
"As an organization, we are known for treating the sickest of the sick in the area, and we have the only level 1 trauma center in town," Vice President of Supply Chain Robert Wiehe says. "Our purpose as an institution is to advance healing and reduce suffering, providing outstanding and efficient patient centered care and creating innovative advanced specialty services. As part of that, we spend about $515 million on supplies, capital services vs. purchases services and pharmacy. We work with more than 4,200 vendors and have more than 49,000 annual purchase orders with many SKUs in the system."
On the Trail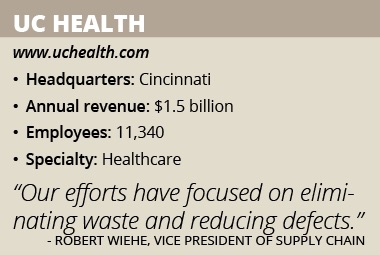 To help the organization improve its supply chain operations, Wiehe came into UC Health about a year ago from outside the healthcare world. With a background in the automotive and consumer goods sectors, he has worked to bring in a mindset focused on lean processes and operational excellence.
"Our efforts have focused on eliminating waste and reducing defects like stock outs, expired products and missing assets," Wiehe says. "Additionally, our efforts around inventory management, standardization and utilization have allowed us to look at total cost. We can't be focused on the cost of goods alone. It needs to be about total cost. If supplies are more expensive up front, do they reduce the total cost of supply, are they easier to use, and do they have less waste?"
Still in the early days of its supply chain transformation, UC Health's goal is to strengthen its C.O.R.E. – cost management, operational excellence, relationships both internal and external, and enterprise-wide perspective. In so doing, UC Health will enhance its ability to make sure the right products are in the right place at the right time at the right cost and in the right quantity.
Previously, UC Health's supply chain functions were outsourced. This was a more tactical and less strategic approach. It didn't allow the organization to get in front of the clinicians to hear their issues and provide global solutions to their problems.
"It was a siloed approach where individual departments were working directly with our vendors," Wiehe says. "We have tried to build those internal relationships first so our departments know what we can deliver and we can understand their needs."
At the same time, UC Health has been working to partner with its vendors by identifying those companies with which it has strong ties and where value can be found for all involved.
Managing Change
Throughout the organization, UC Health has been undergoing a great deal of change over the last few years. Wiehe isn't the only new face in town, as a new CEO, Dr. Richard Lofgren, came on board about two years ago and many new leaders have joined the team. By starting its transformation at the top, UC Health has been creating a vision of what the system should look like.
"I am a firm believer that the most efficient systems produce the best outcomes," Lofgren states. "At UC Health, we're developing a high-functioning, data-driven supply chain that operates in a holistic way across our academic health system so that we can be more efficient and bring the best value."
"We've been making investments in people and in building our culture, and I am fortunate to have been a part of that," Wiehe says. "Our leaders have been very supportive of our supply chain initiatives. We've added a number of key roles and created a process transformation team that will eventually hit all key supply areas in our sites and change the way we are managing supplies."
As the organization considers the trends impacting its operations and the improvement goals it has set for this year and beyond, there are a number of challenges and priorities for UC Health to address. Healthcare is getting more competitive and margins are shrinking for suppliers and providers. Wiehe says that can be positively affected with top line growth and efficient internal operations.
"That is where my team comes in," Wiehe says. "Our impact is felt by leveraging our strategic resources internally and externally to drive out waste, be more efficient and improve. Operational excellence in supply chain through standardized work, strategic partnerships and improved inventory management means we can reinvest in our core values and care mission."
As the supply chain journey continues, UC Health will seek to improve utilization through standardization.
"We must keep communicating internally so our people see what we are doing and can understand the impact," Wiehe says. "What we do helps UC Health improve and reinvest in our academic healthcare system, and our people are truly invested in growing our organization and improving our quality of care. Change management will be important, but we are fortunate to have people here that are ready and willing to be a part of change, and a leadership that is driving change."