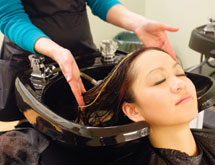 As the largest owner of hair salons in North America, Regis Corp. already has some substantial advantages over its competition. According to Vice President of Logistics Bruce McMahon, one of those is how the company's size benefits its supply chain operations. Whereas smaller salon chains and independents have to handle their purchasing individually, Regis Corp.'s size in the marketplace makes it easy for the company to supply all of its salons directly and through a single order.
Regis Corp. owns and operates approximately 8,000 salons throughout North America, and McMahon says this scale allows Regis Corp. to operate its supply chain with the greatest efficiency possible. Thanks to its state-of-the-art distribution network, the company can supply its salons with the right products at the right time and with one streamlined process. With more than 13,000 SKUs within its inventory, this kind of efficiency is crucial for Regis Corp.
Even though the company already boasts perhaps the most efficient distribution network in the industry, McMahon says Regis Corp. continues to push for improvements. The company plans to open new distribution centers in strategic locations in the United States, and continues to refine the technology it puts to use in its system. As long as the company continues playing to its strengths, Regis Corp. will be an example of operational excellence for the long term, McMahon says.
Bigger is Better
Because Regis Corp. is significantly larger than its next-largest competitors, the company has the luxury of being big enough to bypass the traditional distribution process in which stores order from distributors. "With our distribution infrastructure, we're able to go direct to vendors," McMahon says. "If there's anything that sets us apart, it's that our size allows us to have that distribution structure."
Regis Corp. buys directly from major vendors including Paul Mitchell and L'Oreal, consolidating the orders of nearly 8,000 corporate-owned and franchise Regis salons into a single purchase. "We buy once a week from Paul Mitchell, and there's one invoice," McMahon says.
The company's ability to purchase for all of its salons at the same time makes for a streamlined and cost-effective solution. Transportation costs are lower and the delivery schedule is arranged so that salons only have to receive one delivery at a time. "It is much cheaper to have UPS walk into your salon with two boxes once instead of twice with one box each time," McMahon says.
Careful and Cautious
Although Regis Corp. avoids many of the logistics hassles and headaches most salons have to contend with, there still remain some challenges that it must be careful with, McMahon says. One of the company's biggest challenges is simply juggling an inventory of more than 13,000 SKUs and finding a balance between a broad selection and an efficient throughput.
Also, because the majority of the products it handles are liquids, shipping them to salons is more difficult than with dry goods. UPS handles nearly 95 percent of the shipping for Regis Corp., and McMahon says the two companies have worked together to develop packaging with enhanced integrity. As a result, Regis Corp. has reduced damages caused during shipping by more than 500 percent in recent years.
Another significant challenge is the fact that salons usually want to receive all of their deliveries at the same time. Because the typical shipment size is 10 boxes, McMahon says proper planning is essential. "Anytime you have a retail company that allows you to put your delivery to the stores on a schedule, that schedule becomes critical," he says, adding that Regis Corp. works to maximize trailer fills as trucks are sent out.
Rethinking the Plan
McMahon says Regis Corp. revises its strategic five-year plan every two years to keep up with changes in the industry. As it stands, a major portion of the company's current five-year plan is to add distribution centers in cities such as Chattanooga, Tenn., and Salt Lake City to join its current facility in Minneapolis.
McMahon says Regis Corp. is proud of the technology it utilizes in its distribution center, and continues to investigate new ways to integrate technology into its operations. The company uses a warehouse management system called LogisticsPro that interfaces directly with its inventory system. Combined with warehouse control and execution systems, Regis Corp. can select from a number of options for shipping product depending on the conditions. With the help of UPS's Quantum View system, Regis Corp. can track 99.995 percent of all boxes from the distribution center to the salon.
McMahon says Regis Corp. strives for continuous improvement, and emphasizes the application of lean and Six Sigma principles whenever possible. The company's entire management team has been trained to Six Sigma yellow belt level through the University of Tennessee. Even though Regis Corp. already does so many things right, McMahon says there's always an opportunity to do something better. "At times it's humbling when you look at something you've been doing for many years and then the ah-ha moment arrives when you realize you don't have to do that anymore," he says.­­­