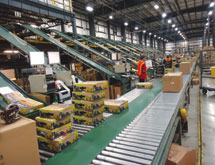 No matter whether a person works on a construction site or as a U.S. Army soldier stationed in harsh conditions, they need a product that provides comfort to their feet. At Rocky Brands Inc., workers strive to make products that fill those needs, Senior Vice President of Product Fulfillment Michael Walker says.
The Nelsonville, Ohio-based company designs and manufactures outdoor, work, western, duty and military footwear products under various brand names. Walker says the company's history goes back to 1932, when the Brooks family started what is now Rocky Brands.
But initially, the firm had a rocky start, requiring the Brooks family to sell it in the late 1950s and buy it back in 1975. What eventually earned the firm notoriety, he notes, was its production of one of the earliest shoes using Goretex and DuPont Cordura during the late 1980s.
 In 2005, Rocky Brands increased its market share considerably when it purchased EJ Footwear LLC, a larger competitor. "It was a highly leveraged purchase," Walker says. "Since that time, we've been able to pay off most of our debt and we have a pretty strong balance sheet right now."
Product Pride
Rocky Brands' five lines of products include its Rocky footwear and clothing, which are made for an active lifestyle. Its Georgia Boot brand offers work boot products for customers in the construction, manufacturing and lumber trades.
Its Durango brand offers cowboy and Western fashion footwear. Finally, Rocky Brands has the license for Mossy Oak Footwear, which offers products for hunting, and the license for MICHELIN Footwear, which utilizes designs similar to the firm's tires. For example, one product "has a design similar to the HydroEdge tire design," Walker says.
Rocky Brands' upcoming products include its Extreme S2V line, which will be geared to consumers who enjoy such activities as hiking and mountain climbing, Walker says, noting that the products will be released later this year. "It is really for that type of high-end, outdoor person."
Another is its healthcare line of slip-resistant shoes for female healthcare workers, 4EurSole, which will be introduced in spring 2013. He notes that the company is proud of its highly innovative design. "We're pretty proud of them and feel real good about [how] they're going to go over in the next year," he says.
The footwear, which is designed for women who work in the fast paced healthcare environment, can be changed into three different types of shoes through some quick alterations. With the adjustment of the shoe's strap or sole, it can be a clog, slip-on or a closed back shoe.
Staying Fresh
Rocky Brands has invested strongly in e-commerce, Walker says. After purchasing EJ Footwear, Rocky Brands took one of the firm's retail divisions and converted it from a brick-and-mortar sales operation into a profitable online business.
With nine separate websites dedicated to sales, "We have changed operations such that 99 and a half percent of our orders get out within 24 hours," he says. While the company is proud of those numbers, Rocky Brands wants to improve, so that products are shipped out five hours after they are ordered.
The company's other initiatives to accelerate its supply chain include changing its shipping schedules to allow FedEx to make pickups at its Nelsonville location three times a day. Rocky Brands also changed its chute sortation systems so that each chute can handle three orders at a time, which tripled what they could do before.
Walker adds that Rocky Brands plans to upgrade its enterprise resource planning system and e-commerce platform. "We have a lot of opportunity to modernize [them]," he says.
Blueprint for Growth
Rocky Brands has contracted with Jacobson, a third-party logistics provider to provide distribution in Kent, Wash. This will allow Rocky Brands to save  money with shipping orders. "Our West coast customers and sales team are real excited about it," he says, noting that Jacobson's facility spans 50,000 square feet.
The location will help Rocky Brands serve customers, who  are more demanding with the rise of e-commerce. "It's a competitive world from a distribution standpoint," he admits. "[But] getting products out more quickly is something we've been able to manage."
Walker says he is excited for the "blueprint for growth" Rocky Brands has created, which also includes growing its product lines. However, "I don't think that's the end for us," he asserts.
Instead, the firm continues to brainstorm and develop ideas about where it could grow. For instance, Walker says, the company is looking at ways it can innovate its products for international customers who have different requirements for footwear. "We're very excited about that," he says.­­­