Enhanced sourcing operations at 3M Canada are playing a big role in its efforts to contribute to 3M's ongoing growth. By Eric Slack
The 3M name is synonymous with innovation. Best known for products such as Scotch tape, sandpaper, Post-it Notes, Filtrete filters and Meguiar's car care products, the organization has impacted the lives of people around the globe. Today, the company's presence extends into industries such as electronics, healthcare, manufacturing and more. In Canada, 3M Canada has been in business since its creation 1951 in Brantford, Ontario. Now, it is headquartered in London, Ontario, and an important piece of the St. Paul, Minnesota-based 3M empire.
"3M Canada employs about 1,800 people across Canada, and I look after strategic sourcing and package engineering with a staff of 30 based in three locations in Ontario," Manager of Strategic Sourcing Jeff van Geel says.
Sourcing Success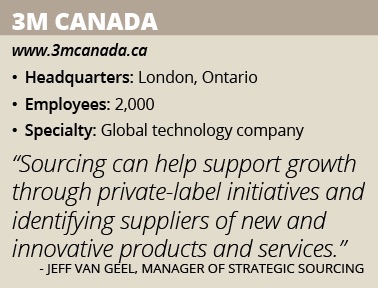 At its core, 3M is a science-based company that produces thousands of products, leading the way in many markets. The company seeks to apply its technologies to devising solutions for real-world customer needs. To maintain its position as a leading global innovator, strategic sourcing is an important part of 3M's pursuit of success. At 3M Canada, several key performance indicators (KPI) require constant attention on a daily basis by van Geel's teams of professionals.
"Those KPIs are safety, availability, service and quality, and price," he says. "By delivering value in these areas, we can support 3M Canada's sales, marketing, supply chain, lab and manufacturing areas."
Some of the ongoing issues that impact 3M Canada's operations are relative to its location. For example, the value of the Canadian dollar can fluctuate greatly. Many of the items the company buys are sourced in U.S. dollars, so those items have increased in cost to 3M Canada. Additionally, the price of oil is very important to many of the items that 3M Canada sources.
Although those may be challenges, they have not stood in the way of 3M Canada's efforts to optimize and enhance its strategic sourcing services to support company operations. The company implemented a new ERP system a couple years ago, and it continues to work with the system and optimize it to the fullest. Implementing the SAP supply chain management software platform was a global initiative throughout the entire 3M footprint. The SAP platform helps make sure that all of 3M's divisions are working together. The SAP platform has helped to improve communication and foster teamwork, while also ensuring that data is more accurate.
"We are also educating and training our internal clients here at 3M Canada," van Geel says. "We utilize lean Six Sigma to enhance our value streams in the services and processes we provide and support. We currently have more than 45 lean Six Sigma projects identified to improve our efficiencies. These projects are led within sourcing, but they expand to include lean Six Sigma, clients and business transformation teams."
People and Partners
Another area that 3M Canada views with a high degree of importance is building strong ties to suppliers. A big believer in building relationships with suppliers, van Geel says 3M Canada needs qualified suppliers who act in safe and sustainable ways to partner with the organization. By maintaining its commitment to suppliers and trying to foster a more collaborative approach, 3M Canada has been able to enhance its supplier relationships.
"We have a global span of control over our suppliers," he says. "We have two main programs with regard to supplier management. One of these is our technology, quality, responsiveness, delivery, cost and sustainability program, which allows us to measure and report on supplier performance."
The other is its Service Quality Supplier Awards. Designed to recognize suppliers for outstanding service to 3M Canada, the company had its second annual awards program scheduled for May 2016.
Additional improvement initiatives have focused on investment into 3M Canada's people. As an organization, van Geel says 3M has been recognized as a leader in people development. "With the ongoing war for talent, people tend to remain at 3M Canada for the balance of their careers," van Geel says.
As the company looks at the various factors that are impacting its operations, van Geel says it will prove to be challenging to attaining its goals in the strategic sourcing arena in 2016. A few of the areas it is working on are e-commerce and sustainability. In e-commerce, the company is enabling more of its suppliers to transact with 3M Canada electronically. As for sustainability, that is a focus throughout all areas of 3M Canada, including social, environmental and economic sustainability.
Additionally, 3M Canada has been building a more global supplier base and buying from all over the world. By understandings risk factors and making sure that it has access to the goods and services it needs, 3M Canada is making sure that its supply chain is as efficient and effective as possible. This is a process that will continue to evolve through 2016 and beyond.
"We need to be more efficient in our sourcing and packaging processes, and we need to support the growth of 3M Canada," van Geel says. "Sourcing can help support growth through private-label initiatives and identifying suppliers of new and innovative products and services."