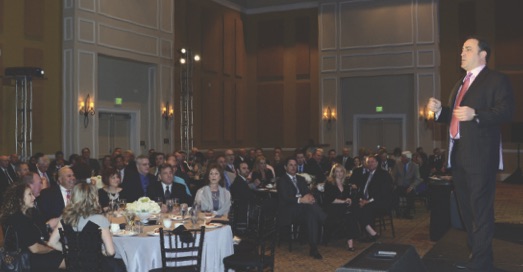 AIT Worldwide Logistics provides full-service transportation management services for clients' shipping needs. By Russ Gager
The mark of true leadership is seeing an opportunity and seizing it. That is what motivated AIT Worldwide Logistics President and CEO Vaughn Moore and his team of Executive Vice Presidents Keith Tholan, Ray Fennelly and Joe Kayser when they executed a leveraged buyout of the company from its co-founders in 2012.
"Sometimes, you just have to take advantage of a great opportunity," Moore says. "There was a threat of an overseas company buying us." The goal of the buyout was to keep AIT a U.S.-owned company and protect jobs. "I didn't want to be owned by someone overseas," Moore explains. "At the time, that was a real threat. We could have lost some jobs to an overseas competitor, and I didn't want to have to go work for someone else.
"I've always wanted to have an opportunity where I could be an entrepreneur and have an impact on people," Moore says. "I had the idea when I went back to get my executive MBA at the Kellogg School of Management at Northwestern University and graduated in 2009. I learned how to do a leveraged buyout, and that was when the light bulb went off to put a plan in front of the founders of the company."
AIT Worldwide Logistics' revenue has grown 50 percent in the four years since the buyout, all from organic growth. "We're very excited to have that sort of result in four years," Moore emphasizes. "That says a lot. We've invested in people and brought on some intellectual capital that has really helped our company and given us new ideas along with what we already had."
No Bias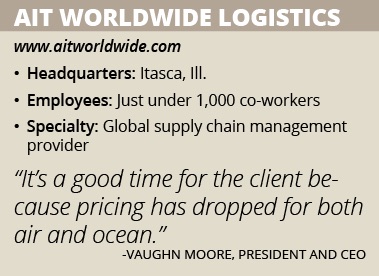 As a non-asset-based, mid-sized supply chain management provider, AIT Worldwide Logistics can recommend logistics solutions to its clients without bias. "We act as a consultant with a client and figure out what is the best-in-class choice to fulfill a need," Moore explains. "That's how we compete with the big multinationals. Being as flexible as we can to partner with the client makes us unique. We're not the only ones that do it, but it allows us to compete with the bigger players."
AIT Worldwide Logistics does not own any trucks, airplanes or ocean vessels that it needs its clients to fill. "We're really agnostic in that respect," Moore declares. "What we do is we're a travel agent for freight. We're getting freight from point A to B with the best low-cost service. We make sure it arrives intact at the lowest cost possible. That's what our clients want, and that's how we really compete."
The company specializes in shipping perishables. "We do a tremendous amount of business in the frozen food spectrum – everything from meats and pastries to ice cream and yogurt," Moore says. "We do $35 million annually in that vertical market. We're also very good at cold chain pharmaceuticals. We have proprietary methods to move that type of product and keep it at a constant temperature."
AIT Worldwide Logistics also provides delivery services for ecommerce. "We're happy to have gotten in early enough," Moore says. The company provides "white glove" delivery services (often including assembly) for large merchandise such as appliances, consumer electronics, furniture or fitness equipment. "You have to have a proper delivery network to do that," Moore notes. "We've been working on that for many years and continue to develop it. We do such a good job that Fortune 100 companies sing our praises. We're very proud of what we've accomplished in that space and our team."
Diverse Markets
The company maintains its business in a variety of vertical markets so it can prosper regardless of which industry is on the upswing. "It allows us to focus on the clients and give them what they need," Moore says. AIT Worldwide Logistics uses state-of-the-art software to connect its offices, shippers and customers around the world.
"That has helped us compete with the big players," Moore asserts. For residential delivery services, the company offers automated calls to alert customers when deliveries or pick-ups will be made. "That allows us to differentiate ourselves, and it has been received well overall," Moore reports.
AIT Worldwide Logistics can offer customers just the data they need to keep track of their shipments. "Our company is very big on building technology and being very flexible about what the needs are for the client," Moore stresses. "In essence, we've created a 'glass pipeline' that provides visibility from point A to Z, including all the key details about what's going on with any particular shipment. But sometimes clients can be completely overwhelmed by what's presented. We've had clients say, 'I don't necessarily need to see everything, but here are the important things to me.' That adds to our flexibility when we're not forcing them into a canned approach."
Lower diesel fuel prices and an overcapacity of ships are reducing transportation costs. "It's a good time for the client because pricing has dropped for both air and ocean," Moore points out.