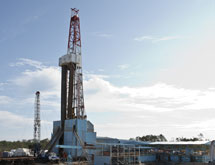 Saxon Energy Services hasn't accomplished what it has by standing still. Even though the company is only seven years old, it has grown into a global provider of oilfield services with nearly 100 rigs and more than 2,700 employees deployed around the world. That kind of explosive growth in such a small timeframe wouldn't be possible unless the company was constantly striving to be better, and Saxon has codified that striving into its mission statement.
The company says its core values can be expressed in the acronym "STRIVE," which it says stands for "safety, teamwork, respect, integrity, value and empowerment." With these values in place, Saxon believes it has the strength to fulfill its mission. "Our long-term vision is to be the global standard for land-based drilling and work-over service companies in the worldwide shallow- to medium-depth oil and gas reservoirs," the company says.
"We are focused on providing contract drilling and workover rigs to international and national oil and gas companies for technologically advanced, high-performance drilling operations," the company adds.
From its humble beginnings with nine rigs in a single market, Saxon has developed into a dynamic and rapidly growing presence. The company has bolstered its technology with each passing year, and thanks to its adherence to its core values, its flexibility and commitment to safety, Saxon says it has the tools in place to accomplish even more in the near future.
Core Experience
At the core of Saxon's success is its expertise and capabilities in drilling. The company says it has the experience and the necessary tools to operate in virtually any drilling situation around the world.
"Saxon focuses its expertise and equipment on fit-for-project drilling solutions for multi-well, multi-rig oilfield developments," the company explains. "Through our global presence we have consid­erable experience in delivering quality operations on all reservoir depths."
That experience and expertise are backed by a range of equipment that allows Saxon to provide virtually any type of oilfield service its customers require. There practically is no place on Earth where Saxon cannot function and succeed, it says. "Our diverse fleet ranges encapsulate all types of land drilling rigs, from rack-and-pinion singles to deep-drilling desert triples to heli-portable types," the company says. "We have the know-how to operate in all weather environments, from the deserts to jungles to cold and other environmentally sensitive areas."
Saxon's fleet includes advanced technology such as its Advanced Technology Single (ATS) and Advanced Technology Double (ATD) rigs. The company says the ATD rigs are comparable to a triple rig but at a lower cost, with a compact layout that makes for a small footprint suited for unconventional gas and oil shales. ATS rigs can handle drilling up to 3,000 feet with automatic pipe handling, AC drive technology and automation, according to Saxon. The company's fleet is divided between the United States, Canada, Australia, Colombia, Ecuador, Mexico, Oman, Pakistan, Peru and Venezuela.
Achieving Safety
The first letter in "STRIVE" stands for "safety," and that's a strong indication of how seriously Saxon treats its commitment to operating safely. "We will never allow operational results to take precedence over safety," the company says. "If there is ever a conflict between the two, we all have a responsibility to choose safety first."
One of the cornerstones of Saxon's safety policy is that all of its employees and subcontractors are empowered to halt any activity they judge to be unsafe. Before that happens, however, the company says it performs a risk assessment of each task before executing it, and ensures that everyone involved is properly equipped and qualified.
"We hold safety and efficiency as our primary goals within the company, and take pride in building a strong relationship with all of our customers," the company says. "Whichever of our rig types is right for [the] project, they are all uniquely designed to enhance productivity and provide a safer environment for the rig crew."
With qualities such as these firmly in place, Saxon says it has the ability to provide the best oilfield services possible, and is dedicated to delivering an exemplary experience to its customers.
"Saxon is focused on delivering superior value to our customers via our ability to apply technology, deploy rapidly and operate efficiently; superior return to our customers via our diversified drilling and well-servicing businesses that continue to expand globally; and superior experience to our employees via our commitment to a safe and long-term employment relationship," the company says.
"Saxon's vision is reflected through our core value statements; they guide our internal organizational conduct, as well as our relationships with the external world as we STRIVE to achieve our objectives," the company adds.­­­