American Axle & Manufacturing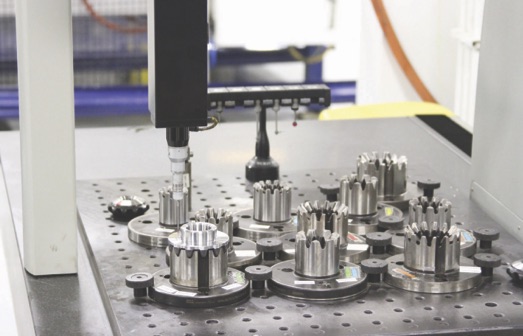 American Axle & Manufacturing secures its place by working with suppliers in advanced and collaborative capacities. By Eric Slack
Founded in 1994 and built on decades of experience, American Axle & Manufacturing (AAM) has become a leading global Tier-1 automotive supplier. Thanks to highly engineered, advanced technology products, processes and systems, AAM now provides driveline and drivetrain systems and related components for light trucks, SUVs, passenger cars, crossover vehicles and commercial vehicles.
"When AAM began, we worked mainly with one automaker," Chief Procurement Officer Jake Stiteler says. "Over time, we invested in improving plants and business development, and we've gone from being primarily a GM driveline supplier to working with nearly every OEM all around the world."
Headquartered in Detroit, AAM has locations in the United States in Michigan, Ohio and Indiana. Additionally, the company has offices or facilities in Brazil, China, Germany, India, Japan, Luxembourg, Mexico, Poland, Scotland, South Korea, Sweden and Thailand. Over time, AAM has put together a regionally cost-competitive and operationally flexible global manufacturing, engineering and sourcing footprint.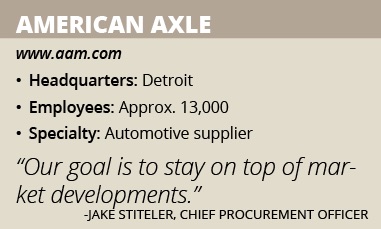 AAM strives to provide a competitive advantage and value to customers as a leader in the manufacture, engineering, design and validation of driveline and drivetrain systems and related components and modules, chassis systems, electric drive systems and metal-formed products. This is why the company places a great deal of focus on quality, warranty, reliability, delivery and launch support.
Additionally, AAM has aligned its global manufacturing, engineering and sourcing footprint to increase exposure to global growth markets. It also supports global product development initiatives. Along with that, AAM's development of innovative products, processes and systems technology helps the company come up with industry-first, cutting-edge driveline technology for passenger car, crossover vehicle and light truck applications on a global level.
"What we are known for is driving technology and innovation into driveline components, as well as bringing new processes, systems, fuel efficiencies and light-weighting to drivelines to help our OEM customers achieve their goals," Stiteler says.
AAM's procurement organization plays a critical role in enabling the company to serve the market. From a procurement standpoint, about 60 percent of every dollar of AAM's goods lies in purchased components. This means that much of the cost of its designs is driven by component cost. Historically, the auto industry has relied on the multiple-bid/low-bid approach to competition. But AAM is working to be on the cutting-edge of a more collaborative and innovative approach.
"Our goal is to source several years in advance by working on new technologies and bringing suppliers in before we talk about price," Stiteler says. "We look at them to find the best technology and delivery, and we look at advanced cost modeling to agree on what prices should be. We've flipped the spectrum by having technology and capabilities drive the process, and by working with prequalified suppliers on finding ways to take cost out upfront instead of negotiating pricing at the end."
Stiteler says many suppliers have gotten on board with this approach because it provides them with security and clarity in their planning. Being involved with projects many years in advance and being involved in the design and development of groundbreaking products has advantages for AAM and its suppliers.
"Instead of our engineers having to hand an idea to our supply base, now they can work together on idea development," Stiteler says. "Some of biggest issues in automotive industry purchasing are being too late to the program, not having enough time for innovation, and testing and validation that is too late. That creates non-competitive, non-engineered, low-priced products. Now we can come up with pricing that is more agreeable to all parties, and suppliers can impact design."
This is an approach to procurement and product development that AAM is piloting here in North America. The region represents about 70 percent of the company's revenue, but its global numbers are growing. The company is looking for ways to roll out this different method of working with suppliers in Asia, Europe and beyond.
"We think we've succeeded in North America, and we think we can be just as innovative in Brazil, India, China and Europe," Stiteler says. "It might be a little slower in those regions. For example, India and China have historically been driven just on price, but that is changing as quality and technology are becoming bigger differentiators for suppliers."
Although AAM is pleased with its progress, the company is also aware of how change can impact the automotive industry. Question marks surround the ongoing development and proliferation of hybrid, electric and autonomously-drive vehicles. Exactly how elements such as volume and fuel efficiency will be affected in the future remains in doubt. At the same time, AAM is moving forward on the development of products and parts that will support those technologies.
"In procurement, we are also putting a lot of effort on moving toward more data," Stiteler says. "We look at how we can manage it and use analytics to help our sourcing decisions. Investing in systems and processes to help connect analytics with sourcing decisions is moving us away from operational, day-to-day procurement and more toward strategic, long term, advanced procurement."
As the future unfolds, AAM is looking forward to collaborating with its supply base on the development of innovation. The company and its procurement team is committed to becoming more strategic. A significant part of that push is a new tech center that AAM will open this year.
AAM's Advanced Technology Development Center will include operations such as technology benchmarking, prototype development, advanced technology development and training facilities. It is set to be first of its kind in Detroit.
The facility will help the company further its work with suppliers on developing designs that can change the industry many years in advance.
"Our goal is to stay on top of market developments," Stiteler says. "We are focused on process and product technology, developing new components and parts and making sure customers are buying better, lighter, stronger, faster and more reliable components."