Banner Health is realizing benefits through an organization-wide commitment to excellence in its supply chain. By Eric Slack
Based in Phoenix, Banner Health has a long legacy of excellence in healthcare. Banner Health has moved from an acute care focus to a clinical quality focus, and is now a population health management company. It has 29 hospitals and 293 clinics with more than 48,000 employees serving patients in seven states.
In addition to quality care, Banner Health is concerned about quality operations. That is why it has created a supply chain services team to reflect the broader scope of managing all non-labor spend and to accomplish a culture change wherein expense management is everyone's business. Banner Health's supply chain is currently ranked fourth among health systems and 11th overall in Gartner's Healthcare Supply Chain Top 25 ranking.

"Banner Health's supply chain success is due to a cultural transformation that is engaging everyone across the organization to execute the supply chain strategy," Vice President of Supply Chain Doug Bowen says. "Our supply chain is known for being data-driven, disciplined in cost controls, and results oriented."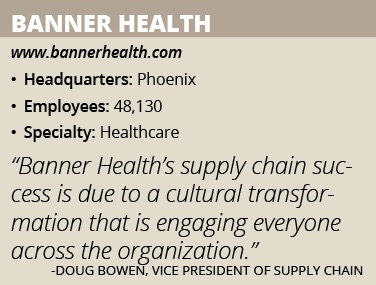 Focused Effort
One of Banner Health's supply chain strengths is the ability to align and transform to company strategy. The organization's supply chain team learns about specific needs and builds capabilities to ensure that they measure and communicate how supply chain supports those goals.
For example, Banner Health opened a consolidated service center (CSC) in 2004 to buy direct from the manufacturers and provide internal distribution services. It provides a vast array of centralized services. "The CSC provides procurement benefits and allows us to execute on strategic sourcing initiatives," Bowen says.
Banner Health employs a number of strategic sourcing philosophies and strategies. One is direct sourcing, which allows it to increase efficiency by removing links from the supply chain and have containers delivered directly to its Arizona distribution center. Another is bulk buying, which helps aggregate purchase volume and synchronize with suppliers to capitalize on discounts and timing.
Other tactics include capped pricing, which provides consistency and reliability in accounting related to case cost. Banner Health also creates custom local contracts to exactly meet the customer's specifications. Banner Health uses local contracts for half of the contract portfolio, and the Premier GPO contracts cover the other half of the portfolio. Additionally, it sources raw materials and self-manufactures procedure packs, seeks to bulk buy and self-distribute for selected pharmaceuticals, and utilizes a centralized source for pharmacy compounding services.
"Hospital systems are under cost pressure," Bowen says. "Success in strategic sourcing reduces cost and increases value to the consumer."
Additionally, Banner Health implemented a capitated contracting strategy for physician preference items, allowing suppliers to choose whether to participate. It utilizes a payment schedule model that contracts at a fair and reasonable price for like supplies.
"The traditional focus has been on contract price savings," Bowen says. "This resulted in demonstrated, increased contract savings year-over-year. This effort required the active participation from all leaders, physicians and clinicians across the system."
Pulling Together
Banner Health's supply chain, leaders, physicians and clinicians all work together. The supply chain team designed and implemented an electronic online tool called the Idea Center, a system that helps to rapidly identify, prioritize and communicate supply savings opportunities across the system.
"It is a site where team members from the facility enter their supply savings ideas," Bowen says. "If the idea passes the first phase and becomes a project, it is assigned a project number used to post the identified opportunity analysis by all teams and facilities impacted onto the scorecard. Once implemented, facilities submit savings through the site referencing the project number. This allows supply chain to report the status of identified versus implemented on each project across the system."
Another innovative idea Banner Health has developed to improve its supply chain is a partnership with American Contract Systems (ACS) to self-manufacture all custom procedure trays (CPTs) in-house at the Banner Health Consolidated Service Center in Chandler, Ariz. This project has enabled complete end-to-end supply chain visibility and control over sourcing, manufacturing, and distribution. Even more importantly, this project simultaneously reduces cost and improves quality.
"This sustainable program eliminated the price increases and component substitutions that defined our outsourced CPT programs of the past," Bowen says. "We now have full transparency of all costs. The program has provided savings of more than $1.2 million annually and our cost per pack has decreased over time, which could not have been achieved in our outsourced program."
In the years ahead, Banner Health knows that ongoing idea generation around supply expense is necessary. Supporting an environment that encourages everyone – not just supply chain – to look for supply savings opportunities every day is also key. "Those closest to the work have the most information and their participation is critical in identifying and implementing supply savings ideas," Bowen says.
Functional facility teams are critical for success, too. Strong communication is required between supply chain and clinical departments. In addition, supply chain and clinical departments need to work together to meet expected implementation deadlines.
"Creating a culture where supply expense is everyone's business is critical," Bowen says.
Banner Health believes that supply chain must continue to evolve beyond being a department within the healthcare organization. It must be a strategy that engages everyone within healthcare to address supplies' impact on cost, quality and outcomes.
"Our supply chain success is due to a cultural transformation that made supply expense everyone's business," Bowen says. "We are engaging everyone across the organization to execute the strategy on a daily basis and directly contribute to the success of the supply chain and create value for the entire organization."