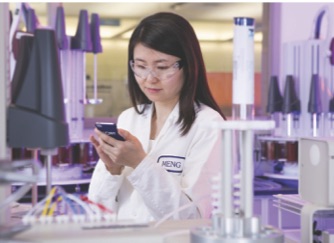 Bristol-Myers Squibb turns procurement into a strategic function driving business performance and patient centricity. By Eric Slack
When Farryn Melton, a veteran procurement leader at pharma, aerospace and entertainment companies, became Bristol-Myers Squibb's chief procurement officer in 2012, she saw a strong procurement organization with enormous potential to contribute even more value. She was eager to transform the leading BioPharma company's procurement group to one that partnered strategically with the business functions and drove value – beyond savings – across the organization.
Today, after a significant transformation aligned key roles with the right talent, and with new technologies and services, capability enhancements and mindset, the company's procurement experts are teaming up more strategically with business leaders across the organization. Those leaders, who say they see noticeable improvements in their interactions, are integrating procurement specialists into their leadership teams to help them achieve their goals.
Going Strategic
"Procurement is changing," Melton said. "A strong sourcing organization should be a strategic asset and competitive advantage. We evolved and now offer novel business strategies and innovation to drive speed to patients. We segmented work between business partnering and strategy and sourcing execution so we could be more flexible and agile in addressing business needs. This strategic approach can help bring our transformational medicines to market faster. It can help achieve total value – which is the best possible outcome for addressing a sourcing need, considering not only cost but also other factors to get the best solution."
"We have a powerful motivation," she added. "We make medicines that help patients fight cancer, cardiovascular disease, hepatitis C, rheumatoid arthritis, and other specialty diseases. We're passionate about doing the best we can for our patients and embrace our responsibility to serve them."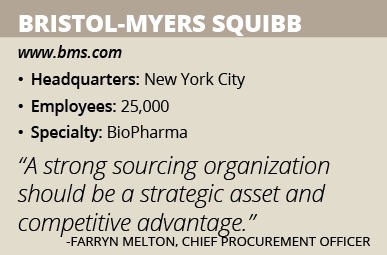 Welcoming Help
Since Melton's team transformed, company leaders in every business unit and function have increasingly embraced Global Procurement as a partner, recognizing the value procurement strategists bring.
For example, research and development scientists used a new technology procurement identified to study themselves – along with the medicinal compounds they were developing – to reconfigure lab space to meet today's needs, saving millions of dollars.
In another example, brand leaders welcomed procurement's holistic approach to meeting many varied needs supporting new product launches in multiple countries. This holistic approach supported commercialization efforts like marketing materials, advertising services, field support operations, market research, analytics and patient assistance programs.
Integrated Model
Key to these and many more strategic efforts was building trust with business leaders and then demonstrating procurement's value. The trust between manufacturing and the procurement teams exemplifies the value of partnership.
"Global manufacturing and supply has an integrated model with internal and external manufacturing sources," said Sanjeev Majoo, head of GMS Procurement. "Making external suppliers our partners helps ensure patients have uninterrupted access to the medicines they need."
"Our partnership with global procurement is critical," confirmed business partner Ricardo Zayas, head of the GMS Pharmaceutical Operations Unit. "Our products are made in steps across multiple internal and external sites. Each site supplies the next in the chain until the finished product ships. They all need to work together as one network, seamlessly and with complete reliability, to keep products flowing. With procurement representatives working alongside us, we maintain strong, integrated relationships between internal and external groups."
Procurement strengthened its partnership with key suppliers as well. Patient centricity was the theme of its recent global supplier conference that brought together 64 companies and procurement's internal partners to exchange best practices and innovation.
"The right suppliers are vital to achieving manufacturing robustness, business continuity and quality," added Majoo. "We brought internal and external partners to the conference and featured patient perspectives, educational sessions, white papers, a panel discussion and supplier awards."
Aiding Consolidation
Marisa Co, head of R&D Procurement, lives the concept of total value derived from partnerships between business functions and procurement. One example that made a significant difference is a scientist self-study, conducted with a data-tracking platform Co saw in the financial services industry and brought to Bristol-Myers Squibb.
"We used handheld devices to collect data to test hypotheses around lab and equipment use, scientists' time allocation to assays versus administrative tasks, etc.," Co said. The data showed lab configurations could be optimized to significantly decrease costs without altering performance. In addition, the analysis avoided capital expenditures that were allocated for building lab upgrades.
Holistic Approach
In the company's commercial area, launching a product is always a big job, and it's especially daunting in the new field of immuno-oncology.
"The demand for immuno-oncology medicines is growing very rapidly," said Tony Flemmich, procurement lead for Commercial. "We always ask ourselves, 'What is it only we can do? How can our unique capability benefit Bristol-Myers Squibb and the patients we serve?' The traditional approach of developing holistic category strategies had been successful; yet we needed to change our mindset."
"By leveraging these established and robust category strategies, we could package capabilities for brand leads," he said. "Imagine being a brand lead in France getting ready for launch and your procurement partner brings a portfolio of supply solutions across all key areas. It makes for a powerful dialogue."
Adding Diversity
The transformation also enhanced the external perspective. The need for innovation and strategic alignment heightened the focus on diverse suppliers, so global procurement adopted many progressive supplier diversity initiatives, such as scholarships to help diverse suppliers expand their businesses and strategically align with the company's business for future growth. Each year, the company increases spending with diverse suppliers.
Additionally, the company was recognized twice in May with national awards for its diversity efforts. The National Business Inclusion Consortium and the National Gay & Lesbian Chamber of Commerce honored Bristol-Myers Squibb as a Top 30 Best-of-the-Best company, and the National Minority Supplier Development Council named Melton as its Chief Procurement Officer of the Year for the department's supplier diversity efforts.
"The focus on building relationships with diverse suppliers supports our company's mission and the patients we serve," said David Gonzales, head of Global Diversity and Inclusion. "Supplier diversity provides economic development for communities and wealth creation for members of those populations. It also helps us better connect with our patients in the segments they represent."
Melton couldn't agree more. "Diverse suppliers are innovative, helping us embrace new ideas and new ideals. They have helped us create value. But most importantly, they help us further understand our patients, because they are a cross-section of our patients."