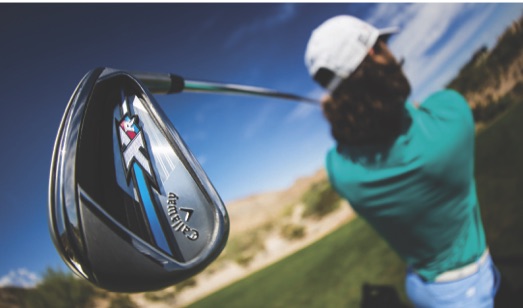 Callaway Golf's supply chain operations ensure end-users get the right clubs and the best accessories for their game. By Jim Harris
Golf enthusiasts know there's much more to the game of golf than just picking up a set of clubs and heading off to the golf course. The head, grip, shaft and other configurable elements of the clubs in a player's bag all have a role in the golfer's overall game. Since one size truly does not fit all when it comes to golf equipment, experienced and even neophyte players often look to customize their clubs to fit their swing.
From the perspective of a player, the experience of customizing a set of golf clubs to suit their unique requirements is relatively straightforward. Players hit balls with various types of clubs – different shafts, head designs, etc. – with a club pro or a technician, who takes measurements for the adjustable aspects of the club, such as shaft length and flex, clubhead lie and loft and grip diameter. Those specifications are then sent to a manufacturer, and a short time later the player is ready to hit the links with the best club configurations possible for their game.
Most golfers likely don't think twice about what happens after their club specs are collected and sent off. But for one of the world's leading golf brands, keeping this process seamless for players and retailers is a high priority. Callaway Golf's supply chain organization plays a critical role in ensuring golfers get the best assortment of clubs, golf balls and other accessories they need for their game. "As an OEM, we would like for everyone to have that custom experience," Senior Director of Global Transportation and Logistics Ron Brothers says, noting custom orders are a growing part of the company's business.
The Carlsbad, Calif.-based company in recent years has begun moving toward a make-to-order model for providing not only pre-fitted but also standard configuration clubs as opposed to a purely conventional manufacturing and distribution model. This more adaptive model involves warehousing component shafts, grips and heads in several standard sizes ahead of orders being received and postponing the assembly until real demands materialize.
For most conventional orders, however, pre-assembled clubs can be matched to orders received at the warehouse. "In our forecasting and planning processes, we try to go off of the standard size curve and plan and manufacture to that where it's appropriate. With long component manufacturing lead times, we have no choice, although we'd like to include postponement for everything," Brothers adds.
Golf club components are manufactured in factories in Asia before being sent to one of two club assembly plants. An assembly plant in Monterrey, Mexico, serves the Western Hemisphere and Europe – which combined represent the bulk of the company's total global market – while a plant in Japan supplies the important and growing Asian markets.
Assembled clubs are next sent to distribution centers around the world, with most of the United States and Canadian markets being serviced directly from a center in Roanoke, Texas. A small warehouse in Ontario, Canada, also supplies pre-configured club sets and golf balls to the Canadian market.
Callaway provides pre-packaged club sets, balls and bags to very large multi-line retailers such as Costco, representing one segment of its overall customer base. The company also serves big-box sporting goods retailers like Dick's Sporting Goods with a broader line of products. In addition, the company serves what is referred to as the "green grass channel," which includes on-course retail outlets such as pro shops.
Small retail shops such as specialty golf stores and driving ranges comprise the rest of the traditional golf equipment market. Many of the big-box sporting goods and specialty retailers that carry Callaway products also offer custom club fitting services. Club professionals in the important green grass segment, many of whom are acquainted with better amateur and some pro tour players alike, also offer fittings and custom club advice in addition to lessons, Brothers says.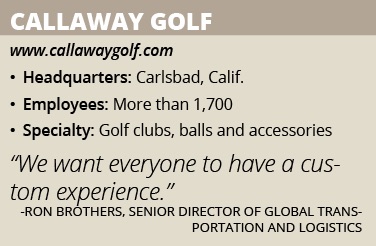 Category Mastery
Golf clubs are Callaway's major product category, strongly supported by golf ball and accessories sales. Each product category is manufactured in different locations, but final distribution to customers occurs in a manner similar to golf clubs, Brothers notes.
For its golf balls – for which the company now claims a solid and growing No. 2 marketshare position in terms of sales – Callaway uses overseas factories to support domestic manufacturing. A factory in Chicopee, Mass., manufactures highly proprietary ball varieties such as multi-layer balls, while factories in China and Taiwan supply balls with simpler constructions. Overseas factories also provide cores for many of the company's balls, which are then sent to Chicopee for final assembly. "Our golf balls come in several different designs and compositions, and the majority feature unique, proprietary elements that we strive to protect," Brothers says.
The company's third and final main product category is soft goods and accessories such as hats, bags and towels. These items are made in overseas factories and imported into the United States and other countries for final distribution.
A robust sales and operations planning process plays a critical role in ensuring all of Callaway's products reach retailers, and ultimately their customers, in a reasonable time. The company ensures that its factories, retailers, transportation partners and suppliers all regularly receive updated demand and production forecast data. Callaway uses the SAP enterprise resource planning (ERP) software as a platform to communicate this information, Brothers says.
Brothers says the company's planning and information management processes, as well as its overall operational productivity, have greatly improved within the past four years. Brothers was one of several members of the company's leadership team to have joined Callaway in 2012. Other executives brought on board at the time include CEO Chip Brewer and Senior Vice President of Operations Mark Leposky, among others. Brothers credits the entire organization with having had a hand in the company's turnaround, and notes that Callaway's people have always been a source of strength.
"We're proud of our products and proud of our brand. At the end of the day, all companies are comprised of people, and we are fortunate to have really good ones. If you can't provide good leadership for your people, though, you lose, and I believe our management team is made up of great leaders who have really given great direction," he says. "That's how you win. It's working for us."