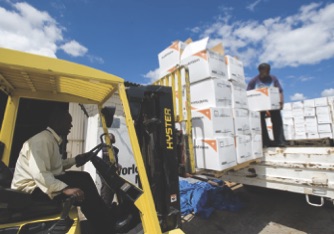 Utilizing lean principles, World Vision is streamlining its supply chain to reduce the time from donation to destination. By Tim O'Connor
As one of the largest humanitarian organizations, World Vision works in impoverished and disaster-stricken areas with limited and challenging transportation infrastructure. The lack of usable roads and scarcity of logistics solutions can hamper the organization's ability to get supplies to the communities where they are needed most. In those cases, World Vision relies on its in-country staff to provide knowledge of local transportation networks and establish relationships with carriers in the region for the final mile delivery.
"When you introduce a disaster, that interrupts that infrastructure and makes it a challenge," Global Supply Chain Director Mike Williams says. In many instances, World Vision is forced to get creative in delivering products to the end destination. That might require flying supplies in by airplane, helicopter or on boats and rafts.
Once, World Vision partnered with Boeing to have packages placed on an airplane delivery headed to Manila. The organization has even completed final mile delivery by navigating croc-invested rivers on rafts in places such as the Democratic Republic of Congo and Somalia.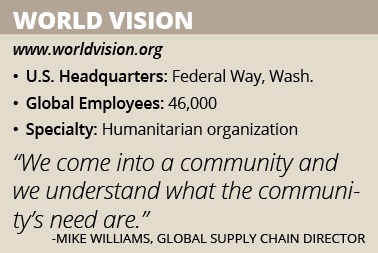 Reaching Communities
World Vision began in 1950 as a group to provide food and shelter for children in orphanages. Children have remained at the heart of the organization's focus even as it has evolved its mission to focus on solving poverty and injustice around the world. Today, World Vision has about 46,000 staff in nearly 100 countries, including approximately 1,000 in the United States. Each year, the organization responds to about 80 humanitarian crises and develops programs to bring children out of poverty and provide relief for disasters, war and famine.
"World Vision has a holistic development program where we don't focus on any one sector," Williams says. "We come into a community and we understand what the community's needs are." Sectors, or focus areas, that World Vision works in include health, clean water, education, food security, child protection, economic empowerment and emergency relief.
The organization's programs are developed specific to each community and are designed to have sustainable results. Those efforts have taken many forms, from forming nutrition clubs for moms in Burundi to combat malnourishment to providing women in Bangladesh with sewing machines and teaching them how to start a business. "Our goal is not to be in a community long term," Williams explains. "We want to bring that community out of poverty."
The supply chain is a key part of realizing that goal. Williams employs many of the lean principles he learned during a decade of working on the Toyota supply chain team. His goal is to maximize every dollar spent moving goods throughout World Vision's network, ensuring that needy communities are receiving the most aid possible.
The shipments World Vision brings into communities are made up of new product donations from U.S. corporations. They include pharmaceuticals, medical equipment, hygiene products, clothing, shoes, education supplies and building materials. The World Vision supply chain operates as a reverse logistics solution for these companies' produce-to-give, excess and repurposed inventory initiatives. "We really function as a business solution for corporations," Williams explains.
World Vision has relationships in place with more than 400 corporations. Those donations can be picked up from a donor corporation's warehouse, stores or domestic and foreign manufacturing facilities. For items that don't ship directly from the donating corporation to the end-user, World Vision maintains inventory in a network of eight distribution centers across the United States. Those distribution centers allow World Vision to consolidate various products into one mixed container load that fits a community's individualized program, and then ship the package out to its destination.
World Vision typically ships containers to 35 different countries at any one time. The organization works with third-party logistics companies to move products domestically and contracts freight forwarders to bring containers to the destination country.
"Providing logistic solutions to World Vision as they build a better world for children through the distribution of life- sustaining goods to those suffering globally is a rewarding opportunity for C.H. Robinson," says Erin Altenbaugh, account manager for C.H. Robinson.
After clearing customs, World Vision's in-country staff works with trusted local carriers to receive the product from the point of entry and deliver it to a warehouse within the region or deliver it to the target community.
Improving Efficiency
The infrastructure challenges inherent in working in an impoverished community mean that World Vision must focus on other parts of the supply chain to become more efficient. "We definitely standardize and implement lean supply chain solutions through all of our supply chain," Williams says.
The organization recently implemented a new ERP system, Microsoft Dynamics AX, and has a number of people on staff with Lean Six Sigma training. The implementation of Microsoft Dynamics AX provided end-to-end visibility within their US distribution center network. Williams says the company is working on several initiatives to optimize the end-to-end to supply chain to focus on reducing the cost and the lead time from donation to delivery, such as better systems integration between World Vision's headquarters in Federal Way, Wash., and its regional offices worldwide. Integration would allow for total end-to-end visibility, helping World Vision to see each in-country warehouse's inventory and better forecast future shipments.
The organization is undertaking a supply chain optimization study to optimize its U.S. network. Although it is still early in that process, Williams is already receiving data on areas where World Vision can improve. "By fall of this year, we'll have our business case complete and will be seeking business leadership approval for what the supply chain improvements look like," he says.