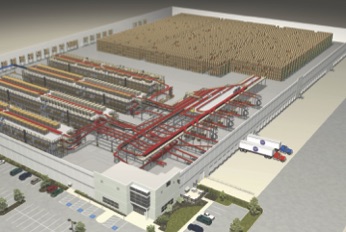 Wilton Brands invested in its distribution operations, allowing it to scale up with acquisitions and seasonal demand. By Tim O'Connor
Wilton Brands is a metrics-driven company, especially when it comes to its distribution operations and supply chain. The craft goods distributor has extensive data on every product and container that comes through its four Chicago-area distribution centers and tracks the daily performance of everyone working on its conveyor lines. Wilton knows each employee's picking rate and uses that information to best position them to keep boxes flowing and ensure shipments reach retailers on time.
All that data enables Wilton to reward its employees with a pay-for-performance system, where the higher performers are paid a higher percentage. "Because we're able to capture all these metrics for people on an individual basis we're able to administer these types of programs," says Tom Gibadlo, senior vice president of distribution operations.

Wilton began in 1929 and today is considered one of the largest and most diversified companies in the craft industry. The company has two primary divisions: Wilton Enterprises and Simplicity Creative Group. Wilton Enterprises includes bakeware, cake decorating tools, decorating and food crafting products such as icing, candy, sprinkles, sugars and confections. Wilton Enterprises also includes Copco, a leading brand in thermal beverage, tea kettle and kitchen organization products.
Simplicity Creative is primarily known for sewing patterns, trims, needle crafts, embroidery and other textile crafts. The Simplicity Creative division includes K&Company, a brand focused on paper crafting, stickers, scrap booking and other paper products.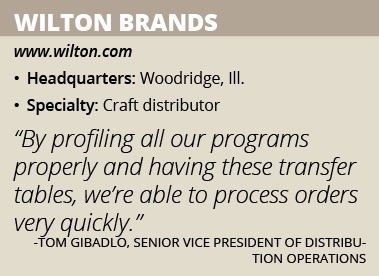 Accurate and Efficient
Since its beginnings, Wilton's operations have been located in the Chicago metropolitan area. The company's headquarters is in Woodridge, where it has a small distribution center, but it also operates two distribution centers in nearby Romeoville and one in Shorewood. The distribution centers are primarily pick-and-pack facilities and combined they offer 2.1 million square feet of distribution space. Internationally, Wilton has a 100,000 square foot facility in Toronto, and smaller facilities in Manchester, England and Revensby, Australia.
Between its Chicago-area distribution facilities, Wilton distribution employs 280 full-time equivalent employees. Gibadlo describes it as a senior workforce with low turnover. The distribution management staff consists primarily of people who have grown up in the company – many distribution center managers began their careers as order pickers.
The company's four primary distribution centers have 113,000 bulk pallet positions, receive 4,000 containers annually and process between 160,000 and 200,000 lines each day. The company boasts a pick accuracy of 99.7 percent, 99.6 percent on-time processing and is 99.8 percent accurate in cycle counts. The last six external audits of the distribution operation found zero errors, Gibadlo says.
To manage its massive distribution needs, Wilton relies on a warehouse management system from Manhattan Associates. The system helps Wilton adjust its needs throughout the year. The business is somewhat seasonal, spiking during the third and fourth quarters. Managing that surge in business requires Wilton to utilize third-party logistics (3PL) companies during the third and fourth quarters to stage processed product.
During the slower periods of the year, Wilton utilizes its extra distribution space to act as a 3PL for other companies. The company can store products in selective rack and rent yard space for trailer storage. Gibadlo says most of the 3PL business occurs at the two Romeoville facilities where there are larger yards and more capacity in the buildings.
Wilton was a family owned private company until 2007 when it became private equity owned. Soon after, it merged with EK Success Brands. At that time, Wilton integrated EK Success Brands and K& Company supply chain operations into its existing facilities. In 2013, Wilton grew again when it acquired Simplicity Creative. To absorb those operations, Wilton conducted a study of Simplicity Creatives' 25,000 SKUs, determining it could optimize many of those SKUs and relocate them to the Shorewood distribution center. A fourth pick module was added to the Shorewood facility in February 2014 to handle that greater workload.
Completed in 2013, the Shorewood facility is Wilton's newest distribution center. The building is a two-shift, RF-enabled conveyrized operation with four pick modules and 493,000 square feet of space. Wilton acted as its own general contractor on the project, which was overseen by Kristen Brennan, the company's senior manager of engineering. Being its own general contractor allowed Wilton to move more quickly.
The building contains 3 miles of conveyors that bring shipping containers to each pick zone where they can be filled with product before being shipped off to retailers. The system is set up to complete orders quickly and reduce travel time around the distribution center. The conveyors to the ship docks are all overhead with downward spiral shipping chutes, allowing Wilton to utilize the space underneath the system for order staging and other needs.
Implementing advanced technology and design like the overhead conveyors fits into Wilton's goal of having an efficient and smooth-running supply chain. The Shorewood facility also has a dual-sided sorter that enables shipping cartons coming out of one module to sort to the shipping dock when finished, or back into a different module if the order requires it. "By doing so we were able to save a considerable amount of travel time in conveyor," Gibadlo says.
Each pick line is set up with transfer tables that sort shipping cartons only into the zones where they need to be picked into. Each transfer table is capable of diverting a carton to either side of a pick module. The control software and the warehouse management system were programmed to utilize opportunity picking, meaning that if a carton needs to divert to both sides of a transfer table, the system is able to choose to divert to the open side instead of being forced to divert in a certain sequence. The setup keeps cartons moving and prevents stacking up and delays. "By profiling all our programs properly and having these transfer tables we're able to process orders very quickly," Gibadlo says,
Positioning Employees
Having all the distribution centers within driving distance of each other allows Wilton to share processes and employees with the facility where they are most needed. "It's important because some businesses are much busier when others are not," Gibadlo says. "We have not had a layoff in a generation, primarily because of how we structure our workforce."
When Gibadlo joined the company 22 years ago, one of his first ideas was to implement a mixture of full- and part-time workers that could scale according to workload. The company's present workforce is about 70 percent full-time employees and 30 percent part-time. "We're able to flex up and down with the business and keep our people fully employed and busy," he says.
Wilton strives to position those employees to maximize productivity. Facilities are designed to minimize the distance between the most popular products and the packing locations. Wilton's efficiency initiatives also take into account how much of one item needs to be shipped. For example, if three upcoming cartons each require two of the same product, employees are notified via RF wrist units to pick six from the shelf instead of having to go back each time a new carton arrives at their group picking.
"One of the things we're trying to do in our operation is become more predictive," Gibadlo says. A company can lose a lot of time just getting people to the right area and set up. To streamline that process, Wilton produces a report every few hours detailing the location of each carton within the system and where the associates are. Cameras on each level help managers move those people around.
Gibadlo says the next step is to make that reporting process happen in real time by placing monitors on each line to show carton counts and then message workers on where they need to go. He hopes to have that system in operation by early next year. "We have the functional design in place," he says. "We need to get the programmers together to make it happen."
Wilton is undertaking several other efforts to improve its supply chain. The company is in the process of setting up all its distribution centers as foreign trade zones, which Gibadlo says will result in more than $1 million in savings annually between deferred payments on duty and reduced transactions.
Overseas, the company is consolidating its vendors to better leverage costs and reduce lead times. Already, Wilton has decreased its number of suppliers from 298 to 210, with the goal of reach 180 by 2017.
Wilton's continued investment in new technology and innovative thinking aim to ensure continued efficiency, accuracy and high levels of customer satisfaction. "We've never had any service interruptions during facility moves of facility openings because we really take a look at how we're moving product and when we're moving product," Gibadlo says.