Standex International Corp.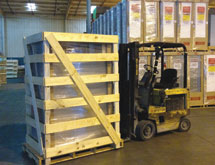 For a company that has as many different operating locations as Standex International Corp., one would think that moving raw materials and components to the company's worldwide manufacturing locations and then transporting finished products to customers would require complex solutions. But in more than 90 percent of the cases, the most common transportation solution is trucking.
"Many say that transportation is a simple industry, but there are a lot of complexities within this industry," points out Glenn Miller, director of transportation logistics at Standex. "The various time zones you have within the U.S. and around the world add to the difficulty of meeting the demand to supply the production lines for Standex's various businesses. Although the majority of Standex's vendors are located within North America, Standex does have international suppliers.
"Those international suppliers add to the complexity of the transportation process because of longer lead times, handling the U.S. customs process and scheduling airline and ocean freight shipments."
Standex's business units manufacture products for the commercial foodservice equipment, energy, aerospace, aviation, oil and gas, automotive, electronics, medical and hydraulics industries. Its international locations are in Australia, Brazil, Canada, China, Europe, Mexico, India, Turkey, South Africa and Singapore. Although such a variety of international locations adds layers of complexity to the transportation effort, Miller does not consider domestic freight and logistics necessarily easy, either.
"Transportation is very important, and it is one of the largest expenses for all of our divisions," Miller emphasizes. He estimates the company spends almost $30 million annually on transportation. "We put a lot of emphasis on this area because on-time delivery of products at a competitive cost is very important. It is a major factor for every U.S. manufacturer."
Contract Man
Standex has no dedicated transportation fleet of its own to move its freight. Instead, it contracts with different companies for shipments that are less than a truckload (LTL), truckload and small packages. As director of transportation logistics, Miller is responsible for managing Standex's contracts with the various transportation providers.
"The role is more of a strategic one, but having a 30-year tactical background starting on the freight-forwarding side of the industry, I actually do get involved in the day-to-day operations more than I should," Miller says. "My role is focused on administration, implementing cost-out initiatives and driving process improvements." He says freight forwarding gave him a diverse understanding of all transportation modes including trucking, domestic, air, ocean, import and export.
"The bulk of our transportation expense is trucking, which equates to approximately 90 percent of the transportation spend," Miller says. "We have about 60 percent LTL trucking and 40 percent truckload." He estimates that one-fourth of the truckload shipping is intermodal shipments.
Of the 10 percent of the company's logistics that is not trucking, international ocean shipping is a little more than 5 percent and the rest is small package shipping, Miller estimates. Most of Standex's many international locations supply their local domestic markets rather than importing or exporting their products. Some materials and components are shipped from China and other international locations to the United States for manufacturing,
Standex's foodservice equipment companies account for more than 60 percent of the company's logistical efforts, with manufacturing locations in New Albany, Miss.; Hudson, Wis.; Cheyenne, Wyo.; Simpsonville, S.C.; and Nogales, Mexico; to list a few.
Rate Competition
Among the latest logistics improvements at Standex is software for producing an end-of-day file. "The flow of information over the last two years has improved greatly," Miller emphasizes. "We are able to manage our transportation by selecting the proper service and being able to optimize our shipping performance by allowing us to pick more rate-competitive services, whether basic LTL, one-day, two-day or overnight, whatever is needed."
All of Standex's transportation contracts include a fuel surcharge that is based on a discount of the weekly posting of fuel prices by the U.S. Energy Information Admin­istration. A recent logistics challenge was the eight-day strike at the ports of Los Angeles and Long Beach that ended in December. Some of Standex's cargo was on ships that were redirected to alternate ports. When materials were being shipped during the strike, an alternate port could be specified if the ship had not sailed yet.
The prospect of a potential longshoremen's strike on the East Coast is daunting, Miller says. Events like these have repercussions around the world, he points out. "Years ago, stand-alone economies could prosper very well, but right now, one economy really affects all economies throughout the world," Miller notes. "Our economy is a worldwide economy."­­