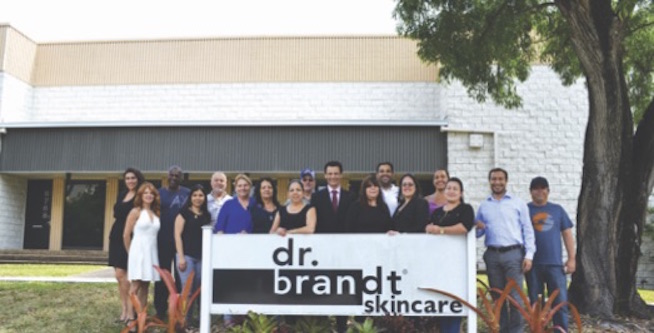 dr. brandt skincare provides customers with innovative products while improving efficiencies and logistics. By Stephanie Crets
As a renowned dermatologist to celebrities, Dr. Frederic Brandt put his long-time skills to use and launched his own skincare product line in the late 1990s called dr. brandt skincare. Based on his extensive skincare research and innovations, the products were created to help everyday people repair and prevent skin damage, while promoting health and beauty. Brandt passed away on April 5, 2015, but his skincare line lives on in one of the fastest-growing companies in the cosmetics industry.
"We are very niche and our products are high-end," says Osmar Rodriguez, vice president of manufacturing operations and supply chain. "What makes us unique – even though he's not with us anymore – is that our research is the feedback he gave us from his own practice. He was coming up with challenging products that implied a lot of innovation. Some of the products we produce resemble his procedures. You don't have to pay a great deal of money to get a microdermabrasion anymore; now you can get it in the form of a cream. It's been very successful."
Rodriguez says that dr. brandt skincare's customers are typically older women who want to look younger, but also both men and younger women who are taking steps for preventive care, especially where sun damage is concerned. "If we follow Dr. Brandt's philosophy, he would say there are reparative products and also preventive," he explains. "Dr. Brandt is all about sun protection everyday, especially in areas like Miami, where you're exposed to sun all year long."
To create its products, dr. brandt skincare sources active ingredients, botanical ingredients and delivery system innovations from all over the world, mainly from Europe and Asia. "Companies in Europe always bring us the latest of the latest in terms of ingredient innovation," Rodriguez notes. "We are a state-of-the-art company that provides cutting-edge products to the customers because innovation is what we're all about."
Consistency Throughout
Rodriguez joined dr. brandt skincare in 2006 to bring more efficiencies to its quality control and supply chain operations. He came from the food industry and says he was easily able to apply standards from there to dr. brandt skincare's operations. He handles production planning, procurement, manufacturing operations, quality control, warehousing, distribution and customer service. "This was a world I wasn't that much aware of, but the cosmetics and pharmaceutical industry is similar to food in terms of processing and operations," he recalls. "So that was easy for me to apply."
The company works with nine third-party manufacturers and, considering the sensitive ingredients used in the skincare products, its manufacturers needed to raise the bar in terms of quality when Rodriquez came on board. In the cosmetics industry, products must adhere to FDA guidelines to ensure consistency and quality throughout.
"To our company, I brought how to improve and maintain consistency of our products when dealing with third-party manufacturers," Rodriguez says. "So the way we control that is through standard operating procedures with them. Dr. Brandt was a perfectionist and obsessed with quality, so we make sure his products are not only known for the properties and what they can do, but the quality and consistency, which is difficult to achieve when you deal with products that use natural ingredients."
Rodriguez aligned all the manufacturers under the same standard operating procedures, so everything is developed and manufactured according to dr. brandt skincare's standards and requirements. Rodriguez prefers to work with over-the-counter (OTC) manufacturers rather than solely cosmetics manufacturers because "the standards are already imposed from an FDA standpoint since they are forced to follow GMP requirements," he says. "We always choose OTC manufacturers because they are stricter when it comes to their quality-management system."
Packaging is just as important as the product because it creates brand awareness for the company. Therefore, Rodriguez and his team source packaging that incorporates innovation to keep products top of the line while maintaining low costs. Once sourced, the company-supplied components – primary packaging, folding cartons, inserts, master cases and more – are sent to the manufacturers. This implies additional challenges because once the components are delivered, they then become inventory in a third-party location. And inventory management is crucial to dr. brandt skincare's operations.
"We make sure they make proper use of our components with lean manufacturing practices and keeping waste to a minimum," Rodriguez explains. "We boost them to raise the bar in terms of quality and manufacturing performance, with the goal of having zero scraps as the ultimate goal. It may never be achieved but we have a lot of initiatives to keep waste to a minimum. And then we make sure the components are kept within our standards. We have developed a sustainable end-to-end supply chain strategy to keep up with our company's continuous growth."
One of dr. brandt skincare's third-party manufacturers is Cofran Intl., an OTC establishment based near dr. brandt skincare's headquarters in Miami. "Cofran is in close proximity to us, which is important because being near to our manufacturers helps us keep track of so many things we need to know," Rodriguez says.
Dealing with local manufacturers represents an advantage in reducing travel time for spot checks and the ability to do those more quickly. "We don't only deal with those close by," he adds. "We measure all our manufacturers with the same ruler. We chose them because they meet these requirements under our philosophies."
In addition, dr. brandt skincare is always finding ways to manage its global supply chain more efficiently. It is constantly shipping merchandise from overseas, whether ingredients or component parts, and remains cognizant of meeting delivery deadlines to keep customers happy. It operates with a just-in-time mentality and can deliver on these promises thanks to renowned third-party logistics suppliers.
"We ensure we have the bulk ready and approved prior because we have components coming from overseas and planning a just-in-time production," Rodriguez explains.
"It's all about the moment when the last piece of component is delivered and continuing communication with the designated carrier," he continues. "We handle everything from end to end. It's all about how you make things faster, less expensive and more efficient, and always knowing we need to reduce the overall lead time from the moment we place an order with a manufacturer until we get finished goods. Companies that are vertically integrated and expanded like FedEx are key business partners towards achieving these goals."
Growing Industry
Rodriguez says he's fascinated by the ever-growing world of cosmetics as it evolves from reparative products to preventive skincare products. "It's interesting being in an industry that's growing fast and furious with people that are being more conscious from a younger age – even teenagers care about how to take care of their skin," he says. "The products are captivating in how you can make magic and work on your self-confidence."
dr. brandt skincare is under new management, and Rodriguez says President, CEO and new owner Stephane Colleu has brought the company to the next level, targeting the international markets even more. Now the challenge is balancing between responding to its massive market while remaining niched and delivering high-end products.
"Our CEO is making sure Dr. Brandt's legacy continues, and he's giving us the vision that is necessary to continue that legacy," Rodriguez says.