J. Knipper and Company opens a new distribution center in Indiana to better serve its customers nationwide. By Janice Hoppe
J. Knipper and Company, celebrating its 30th anniversary in business, has become the leader in samples management services as its fully integrated and customized approach continues to exceed its clients' goals and expectations. "We take great pride in the success we help our customers achieve," President and COO Michael Laferrera says. "We take pride in each successful product launch, new brand campaign or corporate initiative we are a part of. These successes enable our customers to grow and market new products that ultimately improve people's lives."
Joe and Jim Knipper founded the Lakewood, N.J.-based company in 1986. Since then it has grown into the nation's most complete samples management services provider. Today, Knipper provides brands with everything from early stage pre-launch consultation to assistance with market retention strategies as the brand eventually reaches the late stages of its lifecycle. The company offers the industry a single source for direct marketing, order processing, fulfillment, compliance, data management and reporting.
Knipper is dedicated to serving the pharmaceutical, biotechnology and medical device industries and its customers include more than 100 life science companies. "Knipper is proud to be the sole end-to-end provider of pharmaceutical sample management services in the industry, which we like to refer to as Vertical Authority," Laferrera says. "Through acquisition and organic portfolio growth, we have been able to accomplish our key strategy of mitigating risk and providing the efficiencies that come from having fully integrated services and systems. Having such a high degree of integration while maintaining our impeccable standard around compliance has been the foundation upon which our leadership position is built."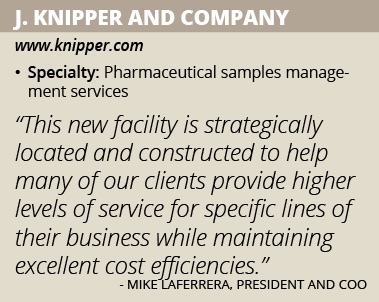 Customized Approach
Knipper offers its clients a fully integrated approach to supply chain management, from inventory management to distribution. CFO Frank McNicholas says the company's approach is customized to each one of its clients during the planning stage and is scalable to address those event-driven spikes that are expected in the industry.
"Knipper looks to partner with our clients and other supply chain stakeholders with value-added services such as kitting, and procurement of materials or transportation providers," McNicholas adds. "Knipper provides clients direct access to enterprise reporting systems, which ensure visibility and transparency into their product inventory levels, transactions and shipments."
Because the company works with a number of different clients and many different systems, integration is never a "standard" task. One of the business challenges Knipper has faced is how to better service its West Coast customers that need a larger shipping window. "In the past, we have taken creative approaches to this that resulted in changes to service levels or arranging for carrier pickups that bypassed the hub and went directly to the airport, and in some cases we have had to rethink distribution channels," McNicholas says.
Those factors contributed to Knipper's strategic plan to open its new 312,000-square-foot Midwest distribution center in Charlestown, Ind., a 30-minute drive from UPS Worldport in Louisville, Ky., and two hours from the FedEx national hub in Indianapolis. Alongside major distribution hubs such as Amazon and Caterpillar, Knipper will be the only samples management supplier in this prime logistical location.
"The new location in Charlestown opens the shipping window for our customers, providing zone optimization via ground transportation within three days to nearly anywhere within the U.S., and the close proximity to the hub allows for later pickups," McNicholas explains.
"This new facility is strategically located and constructed to help many of our clients provide higher levels of service for specific lines of business while maintaining excellent cost efficiencies," Laferrera adds.
Flexible and Scalable
Knipper's approach to supply chain is to stay flexible and scalable, using technology where possible. The company invested in a top-tier warehouse management system (WMS) from Atlanta-based Manhattan Associates that includes transportation and labor management. The WMS with radio frequency scanning and pick-to-light technology is used in its distribution centers.
"By leveraging the flexibility and scalability of the WMS we were able to add great accuracy and efficiency into all of our distribution operations and inventory management," McNicholas says. "We maintain order accuracy and inventory record accuracy well above 99 percent."
Integrated conveyors are used for moving the orders from the pick areas to quality assurance inspection and shipping areas. The company is seeing an increase in mobile apps for delivery scheduling, delivery signature verifications, returns processing and field inventory services.
Knipper uses this technology to stay nimble so it can easily adjust to changes in its customers' product demand cycle. For example, it sees large volumes during product launches that will then stabilize and trail off as the product matures in the marketplace. With the advent of more complex specialty drugs containing more stringent supply chain requirements, Knipper is also noticing a demand for shorter turnaround times, as customers want same-day and "select day" shipments.
"This will continue to evolve into more custom order and shipment processes in the form of select day shipping," McNicholas explains. "Customers want more delivery options to help ensure a higher rate of successful deliveries."