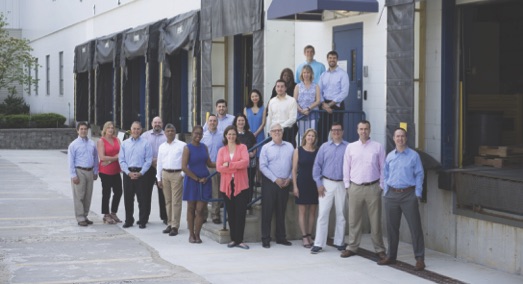 Iron Mountain expands with acquisitions while its supply chain enables growth through sourcing best practices. By Stephanie Crets
As the largest information and storage management company in the world, Iron Mountain serves more than 220,000 customers and organizations in 45 countries across six continents. The company continues to grow both organically and via acquisitions, and the development of a world-class procurement organization has helped to support that growth. Since bringing on Linda Behan as senior vice president of global procurement in 2012, she has established and led global outsourced procurement operation and global category planning, recruited and mentored a world-class procurement team and improved spend under management from 5 percent to 90 percent, among many other accomplishments.
"They asked me to bring their vision to life," Behan says. "I created a strategic sourcing function aligned by category to identify and deliver cross-functional and cross-geographic opportunities; created an outsourced procurement operation in our Bangalore, India, office; improved vendor management and controls to mitigate risk; and reinvested a portion of our savings into new technology and functional capabilities such as hardware and software asset management and contingent worker and global travel management."
Iron Mountain is also broadening its scope in a number of areas through acquisitions. Recently, the company acquired its largest competitor, Recall, which will gradually increase its revenue and broaden its global reach to more countries. "Recall complements our business in a number of ways," Behan explains. "Their reach outside of North America presents opportunities for procurement to add value where we haven't made an impact yet."
Iron Mountain prefers to acquire companies that expand and/or build on one or more of its core capabilities and also in different markets to broaden the types of clients it can serve. Some recent acquisitions include New York-based Box Butler, a valet storage business; Archyvu Sistemos, a Lithuanian document storage and archiving firm; and Crozier Fine Arts, a storage, logistics and transportation firm for high-value paintings, photographs and other types of art belonging to individual collectors, galleries and art museums.
"We are now in the process of executing our integration activities and workforce rationalization with Recall, including supply chain opportunities globally," Behan notes.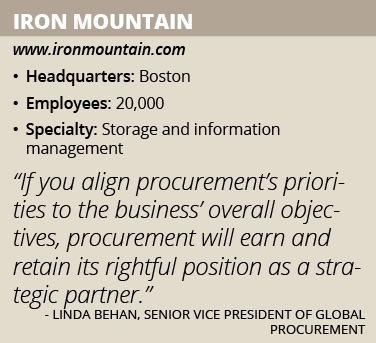 World-Class Team
The storage management market is always evolving because every company is looking to differentiate itself, Behan relates. "That includes not only Iron Mountain," she continues, "but also our current and future vendor partners who support us. So, it's important to stay on the pulse with what's happening with the supply chain, have a fresh look, capitalize on what's available from suppliers and translate that into value for our ever-changing business."
Behan credits much of the supply chain and procurement department's success to the "world-class team" she built. Her team develops multi-year category plans that synthesize historic internal information – where the company has been in past years, what it's already accomplished and its business challenges – together with changes and opportunities in the supply market to present to internal clients with a holistic look at how managing their supply base more effectively can yield bottom-line results.
"If you support your business and what they need, you'll naturally deliver savings – but more importantly, you're also building internal stakeholder relationships that will ensure procurement has a seat at the table for increasingly strategic discussions," Behan explains. "Aligning procurement and business goals, rather than focusing on savings alone, makes sense for everyone involved."
The global procurement function enables the evolution of this team, in part through its talent management framework, which Behan describes as a way of stepping back and figuring out what employees need to be successful within the global procurement team at Iron Mountain from the day they join and as they progress their career. The framework has three primary components broken down into three areas.
The first is general business acumen, which helps employees understand the overall business processes, including accounting, managerial concerns, technological skills and other areas that are generally available through standard business training.
The second area is functional information tailored to company functions, which includes procurement, sourcing, analytical skills regarding supply chain and total cost baseline, strategic sourcing processes, category management and stakeholder engagement.
"We take what we think is important for people to understand and learn about as you progress your career through Iron Mountain," Behan says. "For each of those position levels, we ask, 'What are the things that are important to know?' We offer white papers, webinars, offsite and onsite training, and speaking with procurement and executive leaders. Our people can learn on their own, learn as a group or work to gain a new skill. I've also brought in a trainer to bring on cross-team training for negotiation and category management training."
The third aspect of the talent management framework is Iron Mountain-specific information: how an employee needs to perform a particular task at Iron Mountain. This includes information about the structure of the company, what's happening in the storage information market and how Iron Mountain influences and enables it. "This is regarding how we structure our accounting, transactions and more, with things that are very unique to us," Behan says. "Over time, our talent management framework will evolve and we will continue to refresh it."
Iron Mountain uses its framework to foster its employees' career path, encouraging them to grow within the company and rise to different management levels as they develop more skills. "My team is getting contacted all the time by other companies because good-caliber supply chain resources are hard to get," Behan notes. But she combats this by establishing a strong strategy and communicating it effectively and transparently to both Iron Mountain and her team, while also providing everyone with a flexible work/life balance.
"I maintain a strong performance process whereby goals are clear and I respect everyone's ability to execute on our strategy," Behan says. "Everything is very transparent on where they stand on their goals and objectives. They have the autonomy to do their work independently. People don't work to work; they work to support their lives. Everyone is an individual with a family and life – something that is well beyond our business – and we need to enable and understand people's lives.
"It's my job to help everyone be successful in what they do on a daily basis," she continues. "I have a positive, transparent culture where people can have a life while still getting things done, and people end up staying and growing within my organization."