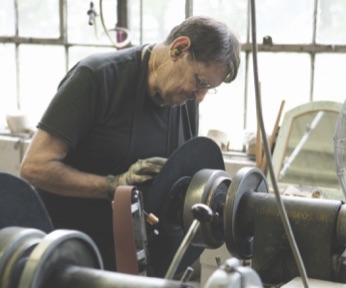 HATCO strives to proactively makes hats that people want to buy with its quality, efficient operation. By Alan Dorich
The broad appeal of HATCO's products transcends age, Vice President of Operations Dan Brown says. Its hat products are worn by an end-use base that ranges from "a grade school student [to] a 90-plus-year-old man or woman," he says. "Hat wearers are typically confident people that enjoy making a fashion statement."
Garland, Texas-based HATCO has helped them make those statements since 1927, CFO Duane Prentice says. He explains that the company initially began making Resistol dress hats before transitioning Resistol into western cowboy hats. In the mid-1950s, he adds, HATCO built a facility in Longview, Texas, so it could make hat bodies from raw fur.
"It was developed so we could be vertically integrated [and] not have to buy hat bodies from other suppliers, enabling us to control our quality and the integrity of the fur mixture (referred to as the quality X level)," he says, noting that the Longview facility is still in operation today. "They take bales of fur, felting them into rough hat bodies and ship them to Garland. In Garland, they are blocked, sanded and finished."
In 1987, HATCO became a manufacturer and distributor for the legendary Stetson brand, which moved its operation to the company's facility in Garland in 2004. Since then, HATCO has offered "the two leading Western brands in the industry: Resistol and Stetson," Prentice says.
HATCO also has Dobbs, its dress hat brand complimenting the industry leading Stetson brand; Charlie 1 Horse, a women's fashion forward western hat brand; and is also the licensee of Wrangler western hats.
Additionally, it offers a strong and growing apparel line in the Resistol brand for both men's and women's clothing.
HATCO's products are carried in more than 2,500 Western and dress retail stores and appeal to customers who want American-made products, Brown says. "In this day and age, between the battle between American-made products and cheap knock-off sources, there's strong demand among people within the Western lifestyle who want American-made products," he says. "We are the only vertically integrated fur felt American-made hat [manufacturer] in the United States."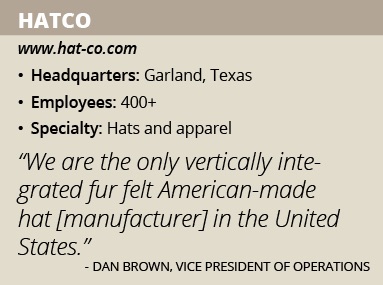 Proactive Steps
Brown credits HATCO's success to its brands and its sales organization that sells to retailers. "We're quick to react to customer demands and we continue to develop hats that people want to buy," he states.
One example is Resistol's Ridesafe product, which is protective head-wear for the Western industry. "We believe that in the not-too-distant future that any youth riding event will mandate protective headwear," he says. "That will be a hot item and we've got it."
Prentice agrees and adds that this product fulfills the customers' desire for a Western hat that is ASTM/SEI certified for its safety features as well. "It's a good example of us anticipating the customer's demand for product and taking that proactive step for them," he adds.
Optimized Processes
HATCO has completed several different projects in the past two years, including implementing a formalized quality system, Prentice says. "We've been working hard [with] the Toyota lean manufacturing production system, which is all about optimizing your processes," he says.
Part of that process included regrouping and refocusing on its quantity and quality goals, Prentice says. "The tool we did that with was our operational white boards, on which we review our production goals to achievements on a daily basis, working hard to identify the obstacles so that we can overcome them," he describes.
HATCO had interactive discussions with its staff as it defined those goals. Today, "We know what our production goals are and we know what we want to hit," he says. "We also looked at any issues we had with machinery, materials, manning and quality, striving to identify root causes and assign corresponding corrective actions within the HATCO team."
The company still utilizes the white boards, he adds. "Every single day, we have a 10-minute standup meeting in which we look at our success from the previous day," Prentice says. "We try to brainstorm, discuss and work through issues with employees who are closest to the respective processes."
HATCO also sought assistance from the Texas Manufacturing Assistance Center (TMAC). "[That is] an organization that helps manufacturers foster and bring about lean to ensure we have sustainability in our business so there's stability of employment for our Texas workforce," he says.
The company also utilizes a lean ergonomics practice where it films its manufacturing processes, studying them within a cross-functional team. "This creates the awareness and observation of where we've got areas of opportunity," he says.
"Then we go out on the production floor and have further discussion with the production employees," Prentice says. "From that, we generate ideas that we use to make our operations more efficient, as well as more ergonomically friendly to our employees."
Taking Supply Seriously
HATCO also invested in its supply chain with the purchase of a material requirements planning (MRP) system that is tailored to its needs. "We run that MRP every night, forecasting safety stock levels of what we need to schedule on the floor, which then drives material demand," Production and Control Manager Keith Faulhaber says.
This helps the company avoid materials shortages. "When you kick off your manufacturing processes, you can come to a screeching halt be-cause you realize you have a materials shortage," Prentice says, noting that this causes delays in products being delivered on time.
HATCO also started evaluating its suppliers. Recently, "We put out a formal letter to our key and second-tier suppliers, explaining what we're doing and the fact that we had things we were going to judge them on: quality, on time delivery, their cost competitiveness, and the ability to aid us in any design that we need," Faulhaber continues. "We encouraged their product development team to work hand-in-hand with us."
HATCO's suppliers have shown interest in improving, he says. "We're seeing some improvements," he says. "The vast majority of suppliers take it seriously."
A Success Secret
HATCO has worked very closely with its employees throughout these processes. Many, Prentice notes, have continued showing their loyalty to the company.
"That's something we're extremely proud of: when people come to work here, people stay here for long periods of time," he says. "It demonstrates the fact that they take pride and enjoyment in the family atmosphere that we've created."
Brown agrees. "We have one person on the floor who has been here 42 years," he adds. "Over 30 percent of our workforce has been here 20 years or more. That's the secret to our success: our workforce."
The Hat Capital
Next year, Prentice notes, will be Resistol's 90th anniversary. Last year, HATCO celebrated Stetson's 150th anniversary with activities. "We invited the owner, the licensor, local Garland officials and others who have contributed to the company's success," he recalls.
"We created a commemorative line of hats and had a company-wide picnic," he explains, noting that HATCO was honored by its home city. "Garland is officially known as the hat capital of Texas."
Prentice sees many more years for HATCO, which is enjoying a boost of business in the dress hat side. "More people are coming back to it," he says. "If you look at pictures from the '40s or '50s, you saw more people wearing hats.
"We're very encouraged because we're seeing that trend [continue] among young people," he says. "We also believe we're offering a product the Western industry values."