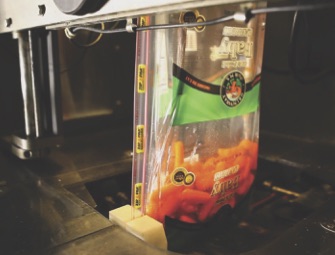 Grimmway Farms is supporting retailers with partially reorganized, more agile supply chain operations. By Tim O'Connor
Grimmway Farms places great importance on creating opportunities that allows it to listen to customers. These highly valued points of communication are critical in developing the organization's path forward. In listening to customers growing challenges in the highly competitive grocery store space, Grimmway recognized the need to do more with its supply chain. "It all starts with the retailers," says Jason Higbee, director of materials management at Grimmway Farms. "We have been consistently challenged with bringing further innovation to market, broadening our product offerings, and continuing to enhance the value proposition. If we were going to continue to meet the challenges we needed to innovate our supply chain."
Most supply chains today are focused on efficiencies, cost cutting and the bottom line. That's where companies have found the value. But Grimmway believes the value in the supply chain of the future is in agility, creativity and speed-to-market. "When you change the perspective of your supply chain, the structure has to change as well. You then have to find the people that fit that new structure. The people develop and execute the processes that support the objectives," Higbee explains.
Grimmway Farms has begun to adjust to that shift. A year-and-a-half ago, Grimmway reorganized the materials management department – particularly the packaging side – to focus on agility, speed-to-market and product development to better leverage Grimmway Farms' ability to respond to it's customer's demand for new and innovative products. "We have opportunities to grow and be of value to our retailers," he says. "We want to take full advantage of that because if we don't somebody else will."
Grimmway Farms has evolved to meet the needs of its market throughout its nearly 50-year history. The company started in 1968 as a produce stand in Anaheim, Calif., operated by the Grimm brothers, Rod and Bob. It began growing its signature product, carrots, in 1971, and 10 years later moved its operation to Bakersfield, Calif.
Carrots remain the company's major product but Grimmway Farms also has a large presence in the organic vegetable space with it's brand Cal-Organic. In addition, the company grows potatoes and has a new and growing fresh organic beverage business, True Organic.
Grimmway Farms' edge in the market is that it grows and ships its own vegetables. "We feel like it's a point of differentiation and an advantage for us because we're vertically integrated," Higbee explains. "With Cal-Organic, we own the raw material supply." Vertical integration means that Grimmway can enforce its standards and quality measures consistently throughout the supply chain. Every new product or process that is introduced must meet those company-wide guidelines. "We feel comfortable we're able to mitigate a lot of the risk a company with a variety of organic growers may encounter on a regular basis."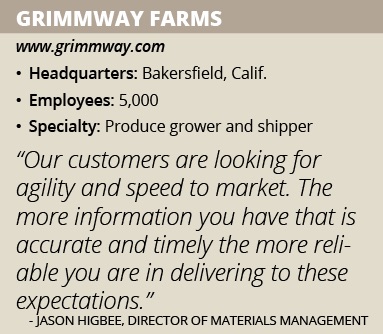 Adjusting Timelines
As Grimmway Farms changes the way it approaches the supply chain, the company is broadening its view to encompass not only its internal timelines, but also its customers' business schedules. It is there that agility and speed to market play important roles. Higbee views the concept of agility as taking a concept or an idea and efficiently moving through all aspects of new project development, even though many factors are unknown at the start.
Grimmway Farms is investing in new facilities to cut transportation times and deliver the freshness customers and retailers want. Within the past five years, the company started operations in Pasco, Wash., and Donalsonville, Ga. People and assets were relocated from the company's California facilities to the new locations to train new employees and establish the Grimmway Farms processes and culture.
Grimmway's efforts ensured that the new operations would live up to the company's quality standards and instill confidence in customers that produce purchased from Washington or Georgia would be every bit as good as those from California, with the added benefit of being locally sourced."
Streamlining Supply Chain
Most agriculture companies struggle with forecasting demand. The agriculture supply chain is more oriented toward reaction, and few companies are proactive in working with retailers to get ahead of issues, Higbee explains. Grimmway Farms is changing that by improving its planning and forecasting abilities. "Our customers are looking for agility and speed to market. The more information you have that is accurate and timely the more reliable you are in delivering to these expectations."
Grimmway is investing in technologies, systems, and processes from suppliers to consumers that will allow the company's supply chain to be more efficient. One example is an effort to make an effective transition to managing projects and new product development utilizing an automated workflow process. Grimmway Farms is partnering with companies that can support the initiative. RR Donnelley, a leading provider of digital and print communication solutions, is working with Grimmway on implementation of a system to create and digitally file packaging art and manage the workflow for all packaging projects.
The software helps organize collected information for a project on the front end and then serves as a tool for the teams within Grimmway Farms, coordinating each part of the product development process from inception to delivery. With the help of RR Donnelley, Higbee says Grimmway Farms will be able to manage dozens of projects simultaneously. "Keeping track of the growing data set and trying to stay lean at the same time is a challenge," he adds.
Grimmway Farms is also working with Specright, a specification management company, to streamline its packaging and supplier information. Using a cloud-based system, Grimmway Farms pushes its packaging design specifications out to all of its suppliers, improving the coordination between companies and ensuring that each packaging supplier understands Grimmway Farms' standards.
In the event there is a problem, Grimmway Farms can send packaging lot samples to Specright. Specright then reverse-engineers the package to determine the root cause of the issue. That process used to take weeks to months but with the help of Specright can now be completed in as little as a few days, Higbee says.
The core practice of listening to customers is at the foundation of the company's success to date and it is what is driving present change within Grimmway's supply chain. A significant part of the company's future success will be a result of the continuation of this practice.