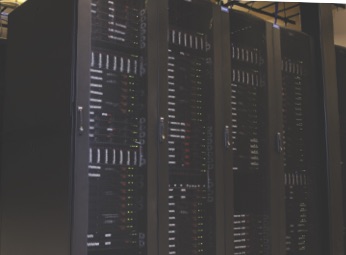 FTZC leverages 25 years' experience to grow its specialized foreign-trade zone software, consulting and other offerings. By Russ Gager
Foreign-Trade Zones (FTZs) can reduce or eliminate tariffs on goods manufactured in the United States and keep more U.S. workers employed. For example, furniture companies have received the authority to produce cut-and-sewn kits used in the manufacture of upholstered furniture under FTZ procedures. This authority enables the companies to reduce their customs-related costs to the "free" duty rate that applies to imported cut-and-sewn kits, and use U.S. workers to produce them, rather than outsourcing those operations to the Far East.
This benefit – commonly known as relief from "inverted" tariff rate relationships – is provided by U.S. FTZs in a number of manufacturing environments. These include pharmaceutical production, shipbuilding, aircraft and aeronautical production, industrial machinery production and heavy equipment production.
"In a number of cases, U.S.-based manufacturers can use the FTZ program to reduce or eliminate duties on all of their imported components, even though their finished product is destined for the domestic market," says Craig Pool, president and co-founder of FTZ Corp. , which provides FTZ expertise. "This enables U.S.-based producers to compete with foreign competitors whose finished products can often be imported into the U.S. on a duty-free basis.
"We are the only company that can offer you a full turnkey solution," Pool adds, "We've got a higher level of expertise because of our focus on FTZs. We're the only company that limits its practice to FTZs and can offer you all the different services and products necessary to establish a FTZ. We have consultants that have been doing this for over 25 years. I believe our growth in both our software and operational offerings is a result of our cutting-edge technological advancements in combination with our years of experience as FTZ practitioners."
Some of the benefits that FTZC's consulting delivers to its clients are relief from inverted tariffs; duty exemption on re-exports; duty elimination on waste, scrap and yield loss; savings on damaged or nonconforming items; weekly entry savings; cash flow (duty deferral) savings; zone-to-zone transfers; government and military sales; and ad valorem tax relief.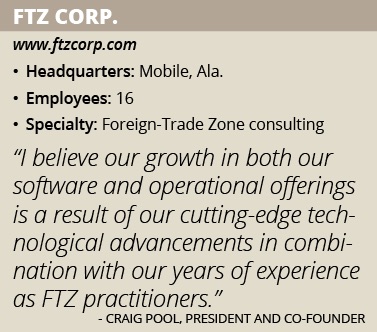 FTZ Consulting
FTZC has three main areas of concentration: FTZ consulting, its SmartZone FTZ and import compliance software suite that it develops and licenses to other companies, and the management of FTZ operations it provides as part of its managed services division. FTZC brings a wealth of real-world experience to these three areas.
"When a company decides to implement a Foreign-Trade Zone, it will look for a consultant or consulting firm that has good experience understanding the regulations; however, it's really very important that the consultant not only understand the regulations, but also how companies operate from the inside," Pool emphasizes. "Our consultants actually have both. They have experience from the regulatory standpoint, and also from the operational standpoint. We don't send a consultant to a client site unless they've actually run a Foreign-Trade Zone operation on a day-to-day basis."
FTZC's consultants understand that the delayed receipts of components as the result of government red tape might result in the temporary shutdown of an assembly line, so they emphasize effective interaction with a company's logistics program on every FTZ project's implementation.
"One of our main focuses on every project is that we do not change how the company does business on a day-to-day basis unless we can add value and enhance the logistics supply chain," Pool stresses. "As far as day-to-day manufacturing and distribution processes, we don't change those."
The goal for FTZC is that at the end of a consulting project, the client's business is operating better overall. "When we walk away, you're actually running your zone on a more efficient basis," Pool says. "I think that really set us apart. That's why companies that previously might have automatically gone to large consulting firms have come to our company because they want our level of expertise, and they want that operational efficiency."
Foreign-Trade Zones were created by federal legislation in 1934, but FTZC has been involved in the evolution of the concept since the company was founded in 1989. "Our company has played a significant role in the growth of the FTZ program on the whole," Pool maintains. "As we've grown and helped our client base, we've participated in all aspects of the FTZ program – from operations at the local level, to working to improve the program at the legislative level. We've been involved in major changes in FTZ legislation and industrial sector growth. A number of the processes that are commonplace today were actually first put in place by our company."
One of these is the expansion of the FTZ weekly entry process. "With any type of Foreign-Trade Zone operation, you can use the weekly entry process if you choose," Pool notes. "So instead of paying the merchandise processing fee and other transaction fees for every inbound shipment that is imported, you can pay that fee one time per week. My FTZC co-founder, Greg Jones, worked with former Senate Majority Leader Trent Lott for almost a year in developing the legislation that expanded that benefit to all zone users."
FTZC Software
FTZC develops and licenses software for FTZ and customs compliance. "Our SmartZone software has been in service longer than any software product out there that offers compliance management for FTZs," Pool asserts. The latest version of FTZ software from FTZC is called SmartZone Premier. The company says it is quite different from any previous version or any FTZ inventory control and compliance software available today. It combines FTZC's Intelligent Web Client technology with compliance rules planned and implemented by true FTZ practitioners. This unique combination is designed to provide better compliance and technology, and greater ease of use.
FTZC created the software out of its consulting business. "As the company grew, we started doing more and more of what we call reengineering and compliance reviews, where we would go in and help companies obtain a lot of the efficiency they were missing, and zone benefits that were being missed," Pool recalls. "We also included proof compliance. As a result of the compliance reviews, we met in the office one day and said, 'We can build a better mousetrap than they're using out there. We can build a better software application.' That's how we got into the software side of the business."
The software has been created from the company's hands-on experience with day-to-day zone operations. "We've learned from actually doing," Pool emphasizes. "We've learned from the inside and from a regulatory and operational standpoint rather than from the outside looking in. We can offer a whole different level of consulting and a whole different viewpoint with our software and FTZ startups."
An advantage of FTZC over its competitors is that it relies heavily on technology. "Since we are also a software company, we take full advantage of that and utilize it in our consulting service and managed services," Pool adds. "So during implementations, we have a lot of tools we use to make sure those operations and their implementation run smoothly."
FTZC has invested heavily to keep its software secure and easy to use. "When you're offering software as a service or a web-based software, that software's performance depends on how well the software is written, and also on the infrastructure behind it," Pool explains. "We've had a 40 gigabyte network for some time. All our data and all our processes are stored in memory. We use no mechanical hard drives, which is unique in the industry." The company also replicates all its data in real time between two data centers located 300 miles apart in Las Vegas and Phoenix, Ariz., in case one location or the other becomes disabled.

Managing FTZs
FTZCs third area of concentration is managing FTZs. "We manage and run zones on a contract basis for individual companies," Pool says. "It's becoming more and more common where companies are starting to outsource the management of their zones because it just makes sense," Pool declares.
Part of the reason for this is manpower shortages. "The bottom line is that the FTZ program has grown so much that a company who runs its FTZ operation in-house can have an employee who has also become an FTZ expert," Pool relates. "Once that individual has FTZ operational expertise, they have more value. They can go 20 miles down the road and work for another company for a significant pay increase."
Some companies choose to have FTZC manage their FTZs from day one. "So they are up and running very quickly, and they don't have to worry about the staffing and keeping that expertise on hand," Pool reports. "One big difference is that FTZC is the only company in existence that eats, lives and breathes FTZs, and by doing this, we can offer our clients a higher level of expertise and more efficient operations."
FTZC does not compete with its client base of logistics service-providers. "One other difference with our company is that even though we have to naturally stay up-to-date on all areas of compliance and all the changes in the logistics world and logistics compliance, we very intentionally stay away from offering service in those areas," Pool concludes. "As a result, we partner with a lot of logistics companies and brokerage firms who can come to us for FTZ expertise without any fear of losing their client to us, because we've intentionally stayed away from providing those kinds of services."