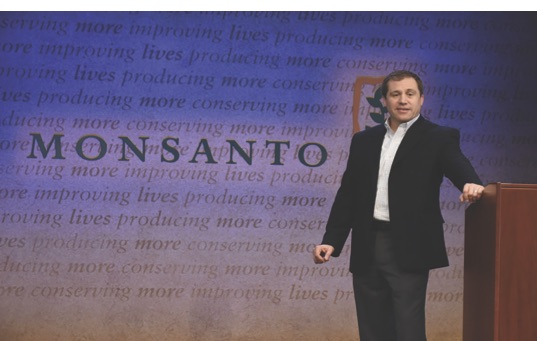 Monsanto Co. maintains its leadership position by remaining open to change and reinvention in its operations. By Alan Dorich
Fresh products are important in the agricultural industry, and Monsanto Co. focuses on keeping its business fresh as well. "Over the history of our existence, we have continued to reinvent ourselves," Chief Procurement Officer Peter Stoynoff says. "The company has a unique way of looking around the corner to meet the demands of our customers."
Based in St. Louis, Monsanto Co. offers farmers a wide range of agricultural products, including agricultural and vegetable seeds, weed control products and microbial products. The company started operations in 1901 as a manufacturer of sweeteners.
Over time, Monsanto Co. took part in a variety of businesses, including the pharmaceutical, nutrition and chemical sectors, before transforming into the company it is today. "We are focused on sustainable agriculture," Stoynoff says, noting that the firm operates in 66 countries, and sells to more than 160 countries. "We are a leader in the agricultural industry." In 2008, Monsanto made a commitment to sustainable agriculture – pledging to produce more, conserve more and improve farmers' lives by 2030.
Monsanto Co.'s drive to stay current has earned it that status, Corporate Communications and Media Relations Senior Manager Carly Scaduto says. For example, the company's 2013 acquisition of The Climate Corp. allowed it to add an advanced technology platform to its offerings.
Climate Corp.'s platform – which combines local weather modeling, agronomic data modeling and weather simulations – can make recommendations to farmers. "That acquisition was a great way to … get into the big picture view of data meets agriculture," she says.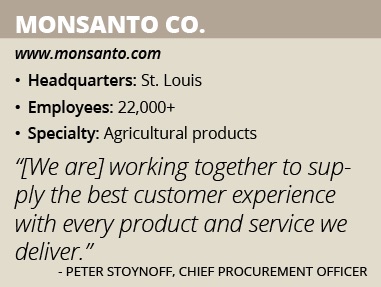 In Alignment
Like any global company, Monsanto faces challenges on multiple fronts, Stoynoff says. "Through focus and financial discipline, our attention remains on driving our core business and building out our integrated solutions vision to best serve farmers around the world."
Monsanto Co. is adjusting by setting priorities. "From a commercial standpoint, we have created four strategic commercial hubs to enable greater customer value while driving excellence and cost efficiency," he says, noting that these are Asia/Africa, North and South America, Europe and the Middle East.
"We're aligning to meet the needs and demands from our customers [in those regions]," he says. "By aligning, we're better suited to meet the needs in those operating hubs."
Monsanto Co.'s initiatives also include changing its Supply Chain practices. "By bringing our Plan, Source, Make, and Deliver organizations together under one Supply Chain umbrella, this has allowed a unified approach."
The Supply Chain Planning organization is focused on driving better decision making in the areas of demand and supply planning. By helping the business implement Integrated Business Planning, it enables data driving decisions that results in efficient, cost effective ways to service its customers. As it matures the planning business process, the customer experience becomes a competitive advantage.
The company also is implementing advanced customer service practices within its Customer Care (Deliver) organization. "It's really about customer experience and standardizing processes through automating and integrating platforms, as well as investing in our people," he states.
Manufacturing (Make) is another focus area. "Our manufacturing transformation is focused on integrating state-of-the-art equipment investments, enhanced IT systems and data to connect the end to end supply chain from field, plant to customer. We are currently developing the 'Monsanto Production System' across our seed and crop protection businesses to deliver shop floor operator empowerment, daily performance management and continuous improvement toolkits while accelerating production efficiencies. This is all about creating sustainable competitive advantage through customer experience, cost efficiency and employee engagement," Stoynoff says. "Right now, our Supply Chain organization is in the midst of a transformation."
The changes have gone over well with employees, he notes, since Monsanto Co. maintains transparency with them throughout the entire process.
"It's really focused on meeting and exceeding the expectations of our customers," he explains.
Doing Its Part
Monsanto Co. recently announced its carbon neutral crop production program, which commits the company to make its operations carbon neutral by 2021. "It also involves collaborating with our farmer-customers to help them reduce their carbon footprint," Scaduto adds.
According to Chairman and CEO Hugh Grant, climate change is one of the biggest issues the agriculture industry faces. "That's why we have pledged to do our part within our own business and to help support farmers and others," he said in a statement.
"While progress has been made to reduce agriculture's carbon footprint, we must work collectively to do even more if we are going to sustainability feed 9.6 billion people by 2050," Grant continues. "Agriculture is uniquely positioned to deliver climate change solutions, and we hope that policymakers recognize the role agriculture, farmers and crops can play in mitigating carbon emissions."
The company will focus on several areas in this initiative, including seed production. It aims to drive carbon neutral production in its seed operations by leveraging products and agronomic approaches, such as breeding, plant biotechnology and data science.
Monsanto Co. also wants to make its crop protection business carbon neutral. While the company is focused on reducing greenhouse gas emissions, it also will provide incentives to farmers who adopt carbon neutral production methods.
To promote best practices, the company plans to share data generated by external experts. "We're really a proud leader in [the carbon neutral] space," Scaduto says. "We very much care about our output and our farmers' output."
Strong Values
Stoynoff joined Monsanto Co.'s Procurement organization in 2011. He says he is proud of the company, and specifically the Procurement organization which has focused on five principles that guide its operations.
The first, Stoynoff notes, involves putting a strong emphasis on the talent Monsanto Co. employs. "We really believe in investing in our most important asset," he says. "By doing so, our people yield the greatest results."
The second, he notes, stresses that Monsanto's Procurement organization is strongly focused on being a "business partner contributing meaningful business solutions and results." Monsanto's procurement team supports their internal business needs: quality, cost, delivery, sustainability and corporate responsibility values. This "One-Team" approach is ingrained within the supply chain procurement organization.
The third focuses on category management, which delivers value back to the business by developing partnerships with strategic suppliers while holding them accountable for exceeding key performance indicators and introducing innovative suppliers to continuously advance business operations. Additionally, Monsanto is being recognized as a leader in growing its Supplier Diversity. Its mentoring program identifies long-term supplier partners and reinforces Monsanto's commitment to economic development within local communities, while allowing access to Monsanto's senior leaders as mentors.
The fourth is continual evaluation of its performance. "We believe that measuring and reporting business contributions validates our value back to the business," Stoynoff says.
The final principle is compliance with global policies. "Those ensure our freedom to operate," he says, noting that the values are shared throughout the company. "The entire enterprise is speaking one language, [which is] very helpful during a transformation."
Stoynoff sees a strong future for Monsanto Co. as it continues to invest in itself and its people. "We also will continue to benchmark against best-in-class companies to make sure we are designed optimally to meet the challenges and demands of our external and internal customers," he says.
"Our category management will make sure we are aligned with our business partners and that we're working on what's important to the business," he says. "[We'll also] make sure we're training and developing our people in the [latest] procurement practices."