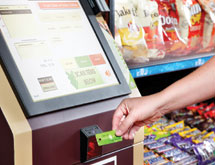 A family owned company that has been in business for more than 20 years, Treat America has become one of America's fastest-growing foodservice management businesses. The company is known for devising customized foodservice solutions for its clients.
Founded with a handful of employees, the company has grown primarily through acquisition. Since opening in 1987, Treat America has acquired 15 companies and now has 1,200 employees.
Diverse Offerings
Treat America offers full-service vending and office coffee programs in Kansas City, St. Louis, Indianapolis, Omaha and Des Moines, Iowa. In addition, the company operates coast to coast and manages more than 100 on-site dining facilities for businesses, government agencies, schools, colleges and healthcare facilities.
"We operate 12,000 vending machines for 1,000 clients in our core markets," President John Mitchell says. "We also have what we call meals on wheels, a route delivery-based feeding program that is also in our core markets."
A recent addition to Treat America's portfolio is Company Kitchen. It is a hybrid between vending and foodservice that can replace vending machines with mini-markets and self-checkout kiosks. The store is monitored by video cameras to deter theft and offers a breakroom with healthy and nutritious food options, variety and 24/7 convenience.
Fresh options include salads or sandwiches, fruit and vegetable snacks and juices. Mitchell says clients see a 50 percent increase in sales when replacing vending machines with a Company Kitchen.
"Company Kitchen provides a robust and superior experience to vending," Mitchell says. "Companies can bring in the self-checkout kiosk in some cafeteria locations while still having a live chef. We are also licensing that technology to 50 other vending companies around the country."
In conjunction with Company Kitchen is Treat America's development of the daily nutritional analysis (DNA) system. Helping to ensure a healthy diet, DNA keeps track of what people eat by recording snack and meal purchases. It allows employees of Company Kitchen's clients to research the nutritional value of available options and track nutritional intake through their purchase history. The number of hits on the DNA website is around 10,000 per day.
"In any of our cafeterias or Company Kitchen units, consumers can track their nutrition intake on a meal-to-meal, day-to-day, week-to-week or month-to-month basis," Mitchell says. "We can track various intake metrics, and the system is designed from the ingredient level up. If a recipe changes, we automatically change the nutrition component. No one else in the industry does it this way."
Controlling Costs
Mitchell says the greatest supply chain challenge facing Treat America relates to rising costs. Fuel has tripled in cost as a percentage of revenue over the past decade, and labor costs have gone up, too.
On the vending side, the company operates its own distribution network. Company Kitchen locations also operate off Treat America's vending routes. To help ensure a ready supply of product for Company Kitchen units, the company produces fresh food at its own commissaries in its core markets.
Treat America can collect live data from its vending machines via the Internet. "That allows us to be more efficient about knowing when to service the machines," Mitchell explains. "We can do just-in-time delivery and have better data on what products are selling. That means we can merchandise the right product mix into the machines."
In addition, Treat America is using pick to light systems in its warehouse, which Mitchell says is not only new for the company but also for the vending industry in general. In the past, the company used pick to light systems for some products, but not for beverage. That is because the number of beverage SKUs used to be small, and the number of beverage size options was limited.
"Now there is a greater proliferations in the number of brands that are offered, bottle sizes, flavor extensions," Mitchell says.
"We've seen expansion to sports drinks, water, flavored water, coffee drinks and energy drinks," he adds. "Now we have around 80 to 100 SKUs of beverage product and it no longer makes sense to stock machines with full cases. Breaking down cases, using pick to light systems and having machines connected to the Web helps us succeed in a multibrand environment."
In the years ahead, Treat America will continue to look for ways to enhance route and merchandising efficiency while also finding more ways to mitigate fuel costs. For example, the company is exploring alternate fuel vehicles to see whether there are any cost savings there.
"We are in a convenience business, and consumers are only willing to pay so much," Mitchell says. "Anything we can do to be more efficient is important to controlling costs, because these fuel cost increases aren't sustainable."
Added Value
No matter what service clients receive from Treat America, the company understands that its clients expect that service will be flawless. Most of the company's clients are businesses that serve their associates, and Treat America's service benefits clients' workers.
"We don't want to do any harm, and we want to provide an added value of excellent food," Mitchell says. "That is true whether we're operating high-quality dining rooms or providing vending machines. People won't use the service if it isn't high quality."
Treat America is well positioned for growth. Last year, it acquired a company focused on healthy, organic foodservice for schools, which the company is pushing out to K-12 school systems and higher education institutions. Although the continuing high unemployment rate and expansion of telecommuting are concerns, Treat America believes its breadth of services can be scaled to appeal to any size of company.
"Companies can use foodservice as a benefit for employees," Mitchell says. "We can help create foodservice programs that can have value to our clients and their staff."­­­