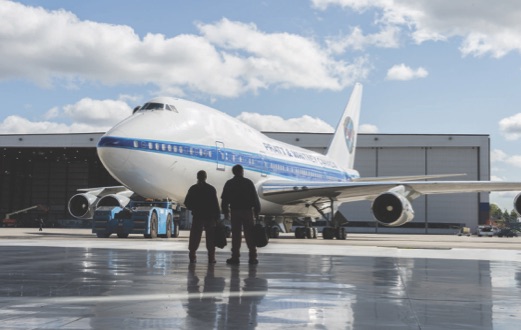 Pratt & Whitney is focused on building a better supply chain by getting closer to its suppliers. By Chris Petersen
In the face of unprecedented growth at Pratt & Whitney, talent from across all UTC aerospace divisions came together to share best practices over a period of 18 months. Key leaders leveraged their experience preparing for growth in other divisions like Pratt & Whitney Canada, which grew by double digits year over year from 2004 to 2008 inclusive. This has led to the creation of a single global supply chain organization for all of Pratt & Whitney and major transformations in the way Pratt & Whitney works with their worldwide supply chain.
One of the most valuable commodities in any supply chain operation is proximity. Having a presence close to your vendors, suppliers and customers is the essence of what makes any company's supply chain successful. As one of the undisputed leaders in manufacturing engines for aerospace and industrial applications, Pratt & Whitney knows and understands the value of proximity, and that continues to be a major focal point for the company.
Also a major focal point: how to ramp up production in a way that protects its base of supply, engineers in quality and delivers the final product in a timely and economical way. To meet that challenge, Pratt & Whitney has developed and implemented a new supply chain strategy. According to Senior Director of Global Supply Management Darren Bicknell, this transformation was deemed necessary thanks to the success the company has enjoyed over the last several years.
Pratt & Whitney Canada (P&WC) has produced more than 93,000 engines, of which there are currently more than 56,000 engines in service by more than 12,000 operators in some 200 countries and territories. From supporting the daring bush pilots who pioneered the Canadian north to launching the world's first commercial spaceship, Pratt & Whitney Canada's history traces over 87 years of dependability. Around the globe, operators have made it the engine manufacturer of choice in their markets. Pratt & Whitney Canada is a world leader in the design, manufacture and service of aircraft engines for corporate, regional, helicopter and utility markets.
Recently, Pratt & Whitney has captured significant portions of the single-aisle regional jet market in the United States through new contracts with major manufacturers including Airbus, Irkut and MRJ. At the same time, Pratt & Whitney Canada has made major gains in the large corporate jet sector with substantial contract awards from Gulfstream Aerospace.
However, Bicknell says all of that growth will come with a significant uptick in the company's responsibilities, as production volumes and supply base spending are expected to double by 2020. That means upwards of 170,000 parts will need to move through Pratt & Whitney's supply chain each and every day. "With those volumes, we need flawless performance from our supply base," he says.
As the company transforms its global supply chain organization, Bicknell says the emphasis from a supply chain perspective has been on creating an organization that is capable of handling all the activity it anticipates in the most efficient and effective manner possible. Through careful planning internally and with the company's numerous supplier partners, Pratt & Whitney is well on its way to realizing its goals, and Bicknell says the result will be a much stronger organization globally.
Digital Supply Chain
As production ramps up, early identification of issues and rapid response to resolve those issues is critical. Since 2012, P&W has launched command centers in its' Canadian, Polish and U.S. divisions. Each command center leverages Microsoft XRM to identify supply chain risks, mobilize key resources to mitigate and resolve risks, and ensures flow to internal manufacturing, assembly, and aftermarket stakeholders.
Bicknell says this has the effect of breaking down barriers to communication between departments and making it easier to identify problems on the production floor as they occur and direct them back to the central command center so they can be addressed as soon as possible. "We've broken down walls between engineering and operations," Bicknell says.
Bicknell says the command center model is necessary for Pratt & Whitney because the company is facing an unprecedented ramp-up in terms of the time customers expect their engines. In the past, a slower production cycle meant demand was more stable and volume was more manageable, but today the company needs to identify the risks of gaps in delivery and address them proactively.
Bicknell says the utilization of event management system platforms have standardized information about risk factors and automatically escalates critical information about those risk factors through every level of the company to enable problem-solving. "It allows us to mobilize the organization much more effectively with a common language of risk," he says, adding that the system has been in place at Pratt & Whitney Canada since 2012 and is being rolled out to all departments with the consolidation.
Collaborating for Excellence
Close collaboration with suppliers is a major component of Pratt & Whitney's success, and because of that the company is continuing its focus on supplier performance as it undergoes its latest transformation. For example, Pratt & Whitney follows the lead of parent company UTC Aerospace Systems with the use of its Supplier Gold program, which facilitates operations improvements for suppliers based on key metrics aligned with the company's Achieving Competitive Excellence Operating System. To meet the Supplier Gold criteria, suppliers are expected to have 100 percent on-time delivery for the last 12 months as well as zero quality rejections for the last 12 months.
Under the new system, Pratt & Whitney also has five regional offices in the Northeast, the Southeast, the West Coast, Europe and Asia. According to Bicknell, these regional offices are key and the company's 45 supplier development leads will be located within a 100-mile radius of their assigned suppliers to help guide and grow the company's supplier development efforts.
Over the last two years, Pratt & Whitney has been working closely with its parent company to rebuild and revise the playbooks it has utilized across its various divisions to recognize and develop stronger supplier performance. With the help of these playbooks, Pratt & Whitney is working with suppliers to develop Supplier Customer Improvement Plans (SCIPs), which will be a significant document for the company and its key supplier partners moving forward, Bicknell says.
Certification is another key component of how Pratt & Whitney works closely with suppliers to enhance their performance. Bicknell says process certification is one area where Pratt & Whitney is placing a lot of emphasis, working with industry experts to certify components on-site with suppliers. "I see this being an area that we're going to continue to develop and expand in," Bicknell says.
Continuing to Connect
In the future, Bicknell says the goal is for the newly organized Pratt & Whitney to get even closer to its suppliers and drive even greater collaboration. The company plans to open two new regional offices focused on the Midwest and Japan to strengthen its global supply base connectivity to a greater degree, and Bicknell says the company will focus on building more cross-functional teams internally to create more efficiency.
With these initiatives, Bicknell says Pratt & Whitney will continue to work more closely with its suppliers in the future. "We are already working much more proactively with our suppliers than ever before and that will continue to expand into the future," he says.