Starwood Hotels and Resorts
Starwood is putting in place the tools, personnel and processes needed to unify its geographically diverse hotel properties. By Jim Harris
When Tad Wampfler joined Starwood Hotels and Resorts as its global chief supply chain officer in 2011, the company's supply chain strategy was anything but global. "Outside of North America, nearly all of the hotels worked on their own, insulated from one another," he says.
The company's properties in the United States shared a unified approach for sourcing enabled by an e-procurement tool Starwood had developed in-house. In the United States, very few hotels even have procurement managers as many contracts are sourced from its Stamford headquarters, leveraging the nationwide volume of all hotels to secure the best value. However, most hotels in the more than 100 other countries Starwood operates in employ procurement managers at each property who worked independently to secure the hotels needed goods and services. "Even in large cities like Shanghai and Dubai where Starwood has 10 or more properties, each hotel, often under different ownership, mostly worked on their own, insulated from one another with no common supply chain leadership or tools," he says.
"There are tens of thousands of things that need to be ordered for a hotel: food, sheets, mattresses, soaps, TVs, etc., and that was being done one-off around the world," Wampfler adds. "When I joined Starwood, the first thing I went to work on was educating our headquarters and divisional leadership on the phenomenal business case for developing a global supply chain platform."
With nearly 1,300 properties in 100 countries, Starwood is one of the world's leading hotel and leisure companies. The company owns, operates and franchises hotels, resorts and residences under 11 brands including Aloft, Sheraton, Westin, W and Element.
During his tenure at the company, Wampfler has looked at ways to maximize savings and operating efficiencies across all Starwood properties while maintaining the luxury and upper upscale atmosphere its hotels are noted for. "Our goal isn't to buy something cheap," he says. "We partner with our brand and operating teams to define the level of product quality and supplier service they require to deliver an amazing guest experience. Only then does our supply chain team go to work to source that specification at the lowest total cost."
The company has in recent years taken large strides toward achieving its global supply chain goals by creating continent and large metro-area leadership teams, tracking key metrics and identifying the tools needed for hotels to be on the same page with regard to sourcing. Although Wampfler says implementing the strategy remains a "work in progress," Starwood has already found success convincing its stakeholders of the value in the unified approach, by delivering financial benefit of greater than $100 million in 2015.
"We were able to create, deploy, and prove the value of our new strategy," he adds. "Our leadership, owners, operators, and brand teams now understand that supply chain is a value-added partner who helps them achieve their goals. However, outside of North America, many of our procurement processes are still manual, so getting spend visibility requires time and a huge manual effort, but not for long."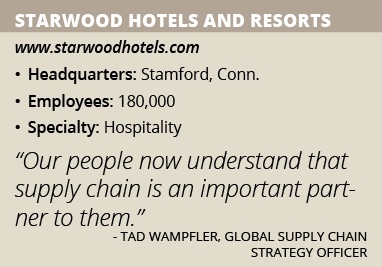 The Right Tools
Technology will play a large role in Starwood's global supply chain. The company is replacing multiple legacy systems with a single global-ready integrated procure-to-pay (P2P) system. P2P enables Starwood to leverage the strength of all hotels by linking finance, procurement, food & beverage, operations and business analytics.
Industry-leading technologies are now integrated into a cloud-based, procure-to-pay solution for hotels. This enables easy management of hotel spend, approvals, payables, checkbook, inventory, and analytics with significantly less effort and fewer errors.
Seizing the opportunity enabled by new technologies, Starwood has partnered with industry powerhouses SAP, BirchStreet, and Readsoft to develop a comprehensive P2P solution. This Starwood proprietary P2P platform automates and integrates processes that historically have been manual and disparate. As a result, information is immediately available with Starwood's proprietary business intelligence tools, enabling stakeholders to run robust reports to allow for improved and faster decision making.
Procurement, approvals, invoice validation, accounts payable, inventory, food & beverage management and spend analytics are typically disjointed activities requiring costly manual effort, leading to input errors, which then require time to investigate and rectify.
Starwood's new P2P solution is a game changer, electronically connecting these once disparate activities. P2P dramatically reduces the cost and errors associated with manual efforts to prepare, place, receive and pay for orders. It also provides spend visibility across hotels enabling Starwood to leverage the buying power of the entire system.
More than Savings
Starwood believes strongly in ethical and sustainable practices across all of its supply chain operations. One area where the company has identified a need for close contact is in its dealings with the textile industry overseas, which provides Starwood with pillows, uniforms and sheets, among other items. "Textiles is an industry where the manufacturing facilities are often based in low labor cost countries with a history of human rights violations," Wampfler says. "As a buyer with hundreds of millions of dollars to spend on textiles, we decided to use our knowledge and influence to make a positive impact on the lives of the workers who make products for our hotels."
Starwood regularly conducts third-party audits into new and existing vendor locations. These audits examine pay, hours, building and other working conditions. "We're proud of the contributions we've made in ensuring suppliers correct the hundreds of human rights violations we have identified, that is a very important and rewarding aspect of our responsibility.
The company's sustainability practices include developing a comprehensive seafood sourcing program. "Using posters and hotel communications, we educate our chefs to help them avoid sourcing endangered species," he says, noting that Starwood banned the sourcing and serving of popular international foods like whale, sea turtles, and shark fin worldwide.
Starwood's other global citizenship efforts include donating $5.4 million to charity in 2015; raising $775,500 for an employee relief fund; and reducing its energy, water and carbon emissions. "Global citizenship provides our guests, customers, communities, owners and associates a better way to experience the world," the company says. "We enlist our global network of hotels, our world-renowned brands and our dedicated associates in implementing our global citizenship initiatives to ensure our environmental and social standards are consistently upheld.
"We recognize the most effective initiatives are those that are economically viable, exceed our guests' expectations and make our associates feel proud to work for Starwood."
Spreading Best Practices
Portions of Starwood's global supply chain strategy will likely make their way into the operations of another worldwide hospitality provider. In April, Starwood agreed to a $14 billion merger with Marriott International, creating the world's largest hotel company.
"Being pursued in the marketplace means Starwood is a unique and highly valued business. The nearly 200,000 Starwood associates should take this as a great reflection on their work. Marriott must see a lot of value in the innovation we've brought to building our brands and outstanding hotel operations," Wampfler says. "I expect they will look at our strategy and programs to find the best practices of both companies which can be employed to benefit all hotels in the combined company."