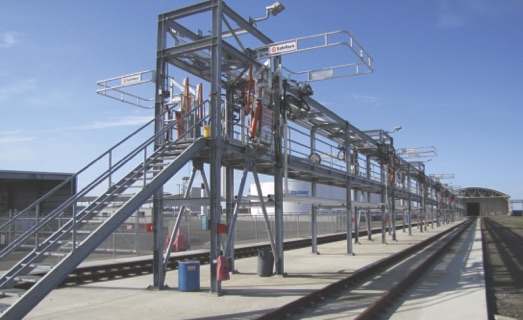 Westway helps its customers become more efficient with its bulk liquid storage and related services. By Alan Dorich
Westway Terminal Co. LLC stands as a leader in customer service and satisfaction by being flexible, CEO Jerry Cardillo says. "We are constantly adjusting our portfolio and strategy based on customer feedback," he declares.
New Orleans-based Westway provides bulk liquid storage and related services to clients in North America, including storage tanks, carbon scrubbing, heated storage and filtration. Cardillo notes that the company started operations in 1940 as an industrial molasses company.
Since then, Westway has expanded its range to handle products that include specialty chemicals, acids, methanol and wax. "We will be expanding the portfolio to include more hydrocarbons as time goes on," he adds.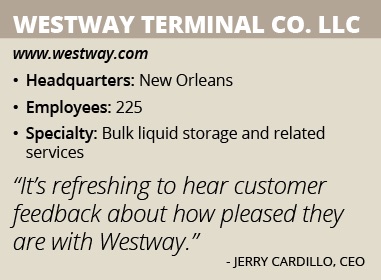 A Broad Base
Westway serves a diverse customer base from its 15 terminals in 11 states. "All of the major food product companies and petrochemical companies are involved," Cardillo says, noting that the products vary by region.
For example, "In Baltimore, our No. 1 commodity is specialty food grade products," he says. "We have methanol in Grays Harbor, Wash. In Stockton, Calif., we have biodiesel. It's a wide variety."
Westway's customers, he adds, are currently looking to become more efficient. "Whether the mode is rail, truck, barge or vessel, they want to reduce their expenses," he says. "That's what we're focusing on now: assisting our customers in optimization."
For example, in Sioux City, Iowa, Westway is working with customers that have rail storage issues, Cardillo says. "We're trying to implement a solution and create Westway rail storage that lowers our customers' costs and saves time," he says.
That extra storage, he notes, is currently in its second phase of construction. "It looks like that's going to be complete sometime in [July]," he says.
The company also offers blending services to clients, which allows them to avoid the cost of having it done overseas, Cardillo says. "[We] help them be more efficient and save money in transportation," he says.
Expanding its Footprint
Westway's recent projects include growing its facilities around the country. Recently, Cardillo explains, the company expanded its facility in Philadelphia to better serve the fertilizer market.
"We improved our storage capability," he says. "We put in a total of nine 24,000-barrel tanks and two 12,000-barrel tanks."
The company also plans to expand its tank capacity in Baltimore. "It could be somewhere around 150,000 barrels of storage," he says. "We're still working with our customers to determine what the optimal storage quantity will be.
"We're also focusing on a greenfield extension project in the Gulf of Mexico area," Cardillo adds. "We hope we'll be able to announce something [concrete] shortly."
Quick Solutions
Westway invests regularly in its supply chain, Cardillo says. "We're trying to ensure we have a fully integrated approach with supply chain management," he says. "As markets and demands change, we're constantly challenged.
"We're constantly trying to have a working relationship that can provide quick solutions," he continues, noting that the company's recent investments include an electronic data interchange system that allows Westway and its clients to exchange information.
"They can see their inventory levels and order their materials," he says, noting that this allows Westway's clients to skip the step of placing orders via fax or email.
"We're constantly updating our databases and our software packages to make sure our online system is hands-on," Cardillo continues. "If the customer needs help, though, we can walk them through it."
Westway also is dedicated to keeping its supply chain employees' skills sharp. "We're constantly having to train our employees on how to operate," he explains. "They've got to have a hands-on approach to product handling and customer service."
Partner of Choice
Cardillo joined Westway earlier this year after working for Chevron, Koch Industries, Enterprise Marine Services and Enterprise Trucking. "My background is varied, but it's been principally focused on petrochemical processing storage and logistics," he says.
He notes that he views the current economic climate as an opportunity. "It's an opportunity to assist your customer base become more efficient," he says. "You get a warmer reception from your customer base when you bring in solutions, efficiencies and cost reduction."
Cardillo adds that he is proud of Westway's operational excellence and its employees' drive for customer satisfaction after visiting several of its terminals. Additionally, "It's refreshing to hear your customers talk about how they are pleased with Westway," he says.
These include many longtime clients, including some that have been with Westway since 1940. "When you look at the customer base, you can tell who the top customers are and the lengths they've been here," he says.
Cardillo sees strong growth opportunities in Westway's future. "We're going to become a partner of choice on the food products and agriculture side," he predicts.
"We're going to step in and pivot that same approach into the petrochemical and hydrocarbons markets," Cardillo says. "That challenge and opportunity is what I see for Westway going forward."