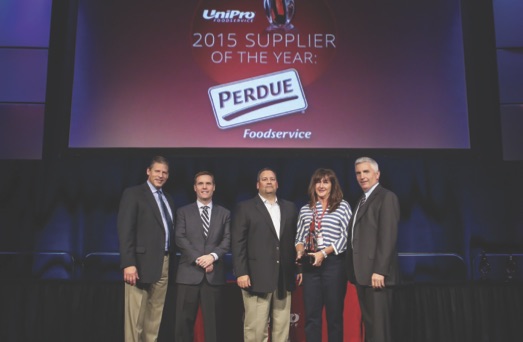 UniPro Foodservice's experienced staff allows it to provide market-leading services to its distributor members. By Jim Harris
UniPro Foodservice Inc.'s services touch the lives of millions of Americans every day, whether they know it or not. With 450 members operating more than 900 distribution locations, the Atlanta-based organization is the largest foodservice distribution cooperative in the United States.
Through its distributors, UniPro provides foodservice products to more than 800,000 customers across the country including independent restaurants, multi-unit restaurant chains, healthcare facilities, schools, convenience stores and consumers. The cooperative purchases goods worldwide from more than 500 manufacturers, including many leading national brands. "We have relationships with companies that bring products in by rail, truck or through different ports in the United States," Executive Vice President of Procurement David Huch says.
Although UniPro itself does not operate a transportation fleet or its own warehouses, it works closely with third-party logistics providers and others to help its members.
The organization maintains relationships with companies who help its members warehouse, ship and redistribute goods. "Our core offerings in the supply chain area involve qualifying carriers and helping our members identify 3PL opportunities, consolidate loads and reduce their inbound freight costs," CEO Bob Stewart says.
UniPro continues to seek ways to improve the logistics operations of its members. Although many of the organization's members use technology in their own operations, UniPro as a whole has not yet implemented network-wide systems. "As we go forward, we see opportunities internally to improve our technology and infrastructure and potentially provide broader solutions to our members, whether that be an ERP system, mobile apps or ordering systems," Huch says.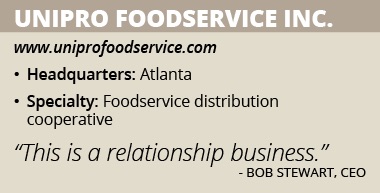 Category Masters
UniPro's procurement team and other staff are central to the organization's success. "We have a very good team of dedicated associates who have been in the industry for many, many years, including several years spent here at UniPro," Stewart says.
UniPro's procurement team works closely with suppliers to ensure that its members offer quality products at competitive prices. The organization works with its vendors to understand costs of existing products and assesses the costs involved in bringing new products to the market.
"The clarity and reach of our core purchasing programs is unmatched," he adds. "We make sure our members have access to, and clearly understand, what those programs entail."
UniPro in recent years has moved toward a category-based procurement approach in which it dedicates teams to one of several product categories. Product categories include center of the plate items such as beef, pork and other proteins; disposable items; chemicals; equipment; bakery items; beverages; fruits and vegetables and imported goods.
"Our category experts are specialized in their specific areas of responsibility, which leads to sourcing products both domestically and globally," Huch says of the company's strategy.
UniPro's logistics team specializes in helping the distributor members operate more profitably and efficiently. "Supply chain costs were roughly 3 percent of a product's cost on average just 10 years ago; today, that number is between 8 and 9 percent," he explains, noting the overall increase in handling, storage and shipping costs. "We have to be more efficient and operationally effective with the actual transportation of goods to maintain a competitive edge."
UniPro's quality assurance team ensures the safety of all of the products available in its portfolio. The department handles food safety-related matters including food safety planning for distribution, recall notices from approved suppliers, shelf life and handling issues, ingredient safety, nutritional information and kosher certification.
"We play a leading role in the GS1 [foodservice industry] initiative dedicated to implementing industry standards to optimize and deliver value throughout the entire supply chain," the organization notes. "Adherence to these standards benefit all through greater supply chain visibility, efficiency, safety and collaboration."
The GS1 program involves the use of identification numbers to distinguish products, logistic units, locations, assets and relationships across the supply chain. The most commonly used identification numbers in foodservice are a global location number, global trade item number and serial shipping container code number. The program also uses global data synchronization network (GDSN) data, electronic data interchange information and Electronic Product Code Information Services data.
"The (GDSN) enables trading partners to globally share trusted product data," the company explains. "After contracting with a certified data pool, suppliers can exchange product information with UniPro member distributors and all of their other GDSN engaged customers in an automatic and efficient way that ensures product data integrity. Publishing product data through the GDSN can help increase manufacturer profitability through more efficient supply chain management."
The GS1 initiative is one of several industry organizations with which UniPro is involved. The company is a member of the International Foodservice Distributors Association, International Foodservice Manufacturers Association and National Restaurant Association. "We assume a leadership position by uniting with the industry's most progressive organizations in foodservice," the company says. "We work together to move the industry forward."
The Personal Touch
The organization prides itself on maintaining close relationships with its members. "This is a relationship business; operators want a personal touch and expect service beyond just having items showing up at their door at the right time, price and condition," Stewart says.
UniPro membership also enables distributors to be more competitive in an ever-changing industry where consolidation is commonplace.
"Our membership over the years has become more unified and supportive of the idea of being a buying cooperative because they see the trends in the industry and recognize the fact that they are much stronger as one," Huch says.