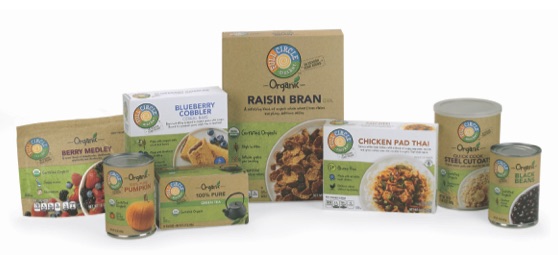 Topco Associates' supply chain plays a large role in its ability to help its member/owners consolidate their buying power. By Jim Harris
Topco Associates LLC is a $15 billion, privately held company that provides aggregation, innovation and knowledge management solutions for its leading food industry member-owners and customers. Topco leverages the strength of its supply chain to place powerful brands on shelf across its broad membership, enabling members to compete effectively in their local markets.
"We believe in staying true to our brand tagline, 'member-owned, member-driven.' We work in partnership with members to advance as one," says Jane Trankina, senior director of supply chain for the Elk Grove Village, Ill.-based company.
"Everything we do is about winning at shelf for our members and helping them be successful in the marketplace."
Topco has helped its members stay competitive since its founding in 1944 as a small dairy product and paper goods cooperative. Today, Topco leverages the collective volume, knowledge and commitment of its member companies to create a competitive advantage in the marketplace by reducing costs and offering winning business-building capabilities. The company provides procurement, quality assurance, packaging and other services for its members, which include 33 U.S. retailers, 12 U.S. food wholesalers, two international retailers and two foodservice companies.
The company has more than 50 members that collectively represent more than $120 billion in sales across thousands of stores. Topco aggregates its members' collective product and service needs, common resources and capabilities, making them competitive with the nation's top retailers. Topco does this through pricing, efficiency, leadership and networking.
"By aggregating the order volume of all our members and sourcing their products economically, we ensure they have access to products at the volumes they need at a very competitive cost," Trankina says.
Topco also provides world-class quality assurance services that helps its members ensure safety, quality and regulatory compliance of their products and packaging. Through rigorous product monitoring, surveillance and testing, Topco helps ensure members have quality products that are in compliance with federal and local regulations.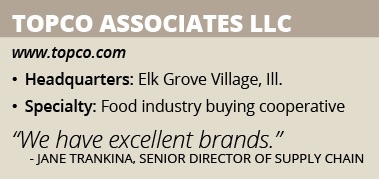 Brand Masters
The company manages 103 member brands with more than 48,700 SKUs. Topco also offers members access to 24 proprietary brands with more than 14,300 SKUs. Products among the proprietary brands span across five categories: grocery, frozen, dairy/bakery, health and beauty care and general merchandise. Products are offered across three tiers: value, national brand equivalent and premium.
Proprietary brands include Top Care, Full Circle Market Food Club, Simply Done, @Ease, Valu Time, Over the Top, Wide Awake Coffee Co. and Shur Fine. "We have excellent brands," Trankina says, noting the TopCare health and beauty product line is one of the top-selling retail brands of its kind. "TopCare offers an assortment of health and beauty care products our members can't find elsewhere in the market, and for many of our members, that brand is a core dimension of their relationship with the co-op."
The company utilizes a central warehouse to distribute products for the health and beauty products from TopCare, household items, and natural and organic products offered through the Full Circle Market brand. "These items are high volume for retailers in terms of sales, but not in terms of the amounts stocked," Trankina says. "Our members are looking for a wide assortment of case-pick quantities of these items, not full truckloads of a single item."
Products are brought into the warehouse in full truckload quantities and then stored. "Members come to the distribution center to get just the quantity they want, which we consolidate in truckload shipment that is transported cost efficiently to their distribution centers," she adds.
The warehouse and distribution center is owned and operated by a third-party logistics provider, while Topco's logistics team manages the outbound transportation to the members.
Best-in-class Tools
Topco regularly conducts distribution network studies to determine the most effective way to distribute products to the members. "Our business model changes when our members change," Trankina says. "We want to align our distribution network solutions with our members' operations."
The company uses best-in-class technology tools for planning, logistics and fulfillment to help guide its supply chain activities. Topco utilizes the JDA planning software in combination with sales and operation planning (S&OP) methods to ensure the distribution center has on-shelf availability to support member demand. "Implementing best-in-class tools such as the JDA software allows us to gain demand insight and plan to efficiently have the right product on shelf." she adds.
Topco continues to seek new ways to help its members succeed in their businesses. "This is a really exciting year for us on a number of levels," Trankina explains. "Topco's supply chain competencies and technology bring our powerful brands to the marketplace for our members – to the delight of their customers."