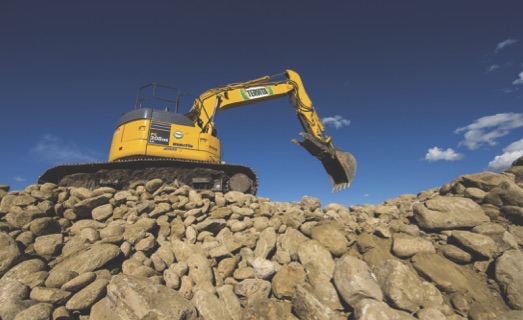 Tervita benefits from value-add offered by its suppliers while it prepares for an improving commodity cycle. By Russ Gager
As a waste processing and management company for the Canadian oil and gas industry, Tervita is dependent on the price of oil even if it does not directly distribute it. "Our company has been very diligent the last few years to prepare ourselves for the ups and downs of the market," declares Juan Herroz Betancourt, vice president of supply chain management and real estate. "We mitigate and manage every dollar wisely, and that is work our staff is used to doing and is doing a fantastic job with."
Tervita provides a "comprehensive array of solutions for customers in the oil and gas industry," Herroz Betancourt explains. "We have strategically positioned waste management facilities across Canada that allow us to treat the waste that is created by the industry in a sustainable fashion.
"We own and operate strategically located facilities across Canada," Herroz Betancourt says. "Our founder made us a pioneer of the energy-related waste-processing business in Canada. We have talented people operating our facilities with deep subject matter expertise to take care of the environment. They are the pride of the company."
Herroz Betancourt is in charge of procurement and managing real estate and facilities. Tervita works with approximately 6,000 active suppliers and might spend from $350 million to more than $500 million annually. With such a sizable spend, Tervita can obtain significant reductions from suppliers.
"We reach out constantly to our supplier base to give them a sense of the demands in supplier service," Herroz Betancourt says. "Suppliers compete for that business. We like creating a positive and competitive environment for suppliers." Approximately 80 percent of Tervita's spend is with 20 percent of its suppliers.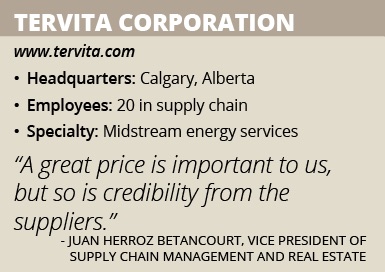 Multiple Suppliers
Aspiring vendors offering a product or service below its cost does not help Tervita or its customers in the long run. "The way we do business with suppliers and vendors is not to push for low price – we push for value," Herroz Betancourt stresses. "A great price is important to us, but so is supplier credibility. So when we sit down with suppliers and do their annual supplier reviews, they may not be the cheapest, but we know we are getting great value. We can't meet with everyone at the same time, but we make it a point to bring in strategic suppliers to sit down with us at a minimum of once a year."
Herroz Betancourt estimates that Tervita's supply chain efforts have saved millions of dollars over the last five years. "We get very good programs that offer discounts to our operations," Herroz Betancourt says. "We publish a lot of those pricing sheets and agreements in an internal preferred vendor list. My team maintains and updates this list as new contracts come in, are phased out because the supplier did not perform or we found a better service."
Prepared for Upswing
Although Tervita is finding lower prices from its suppliers, the company is also facing pressure from its customers to lower the prices of the services offered. Herroz Betancourt knows that current circumstances will change once the price of oil increases. "Part of our challenge will be to continue to leverage those long-term relationships with our suppliers to avoid large fluctuations in pricing due to better market conditions," Herroz Betancourt says.
Herroz Betancourt says Tervita's employees are one of the key factors in its success. "We have phenomenal people in operations that have deep supply chain and procurement expertise," Herroz Betancourt says. "We have educated our staff in terms of contract templates and parameters. Those staff simply don't report to the supply chain – they are part of our buying community members. So our field staff reports to operations, and we consider them an extension of our buyer community."
Over the last few years, Tervita sold the majority of its U.S. operations and is concentrating on its core geographies and activities in Canada. "We are a very optimistic company," Herroz Betancourt stresses. "Here in Canada, there is a strong focus on respecting the environment. Our reputation in the producer space makes us the preferred choice for clients managing waste and making sure it doesn't touch the environment or harm animals or humans. We are passionate about what we do, and we see a lot of potential to keep growing our business in the Canadian market."