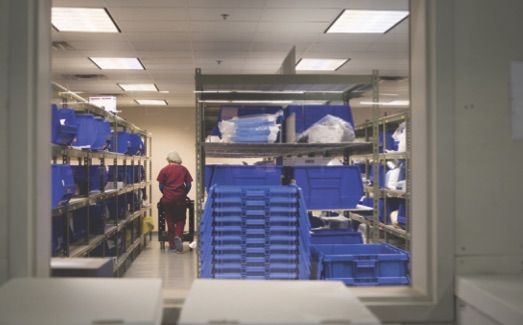 Owens & Minor connects healthcare manufacturers and providers with complete solutions unmatched in the industry. By Chris Petersen
Experience matters, especially in the healthcare industry where lives are literally on the line each and every day. For hospitals and other healthcare facilities, knowing that the vital products they need to care for their patients are in the hands of experienced and focused professionals is crucial. With more than 134 years of experience focusing solely on the healthcare sector, Owens & Minor is in the business of giving healthcare suppliers and end-users the peace of mind that critical healthcare products will be where they need to be when they need to be there.
The company's history dates back to 1882, when a pair of salesmen from competing drug wholesalers – Otho O. Owens and G. Gilmer Minor – joined forces to launch their own drug wholesaler. Following Owens' death in 1906, the Minor family continued to guide the company's growth into one of the largest wholesalers in the South and the addition of medical/surgical supply to its capabilities in the 1960s. Since then, Owens & Minor has continued on a steady growth path, making numerous strategic acquisitions along the way to become a global leader in healthcare supply chain solutions.
Senior Vice President of Manufacturer Services Geoff Marlatt says the company has become an essential partner for multitudes of healthcare providers over the years. "We play a critical role in the continuum of care by ensuring that healthcare products, supplies and devices are made available to healthcare workers and patients at the point of care on a daily basis," he says. "Point of care logistics is a focus for Owens & Minor."
Given how important Owens & Minor's job is to millions of patients around the world, the company needs to be a world-class supply chain organization. Thanks to the company's singular focus on healthcare, its strong relationships with manufacturers and its dedication to providing complete service to its customers, Owens & Minor has proven itself to be a global leader time and time again.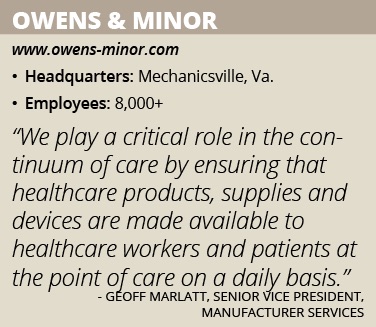 Singular Focus
At the heart of Owens & Minor's success is its singular focus on the healthcare industry. As Marlatt explains, although the company faces strong competition, much of that competition has divided its attention across multiple sectors. "At Owens & Minor, we are 100 percent focused compared to the other well-known logistics providers, which offer services to a range of industries," Marlatt says. "Even more significantly, we have developed intimate relationships with the majority of the healthcare provider market in the United States."
Being focused entirely on the healthcare industry means Owens & Minor concentrates all of its efforts and resources on being close to its customers. Marlatt says the company's facilities are strategically located to place it within four hours of 90 percent of the healthcare providers in the United States, giving it the strongest domestic healthcare distribution network in the industry. "With our strong relationships and presence in the U.S. and our presence in 11 European countries, we are very close to our customers," he says.
The company's network of facilities makes it possible for Owens & Minor to provide manufacturers with "forward deployment" solutions that allow manufacturers to stage their products regionally. "This relieves manufacturers of supply chain expenses, since they can leverage our pre-existing network that already serves 40 percent of the healthcare market in the U.S.," Marlatt says.
The company continues to build on its strengths through acquisitions, as well. Marlatt says two recent acquisitions in Europe – a manufacturer-focused logistics company and a procedural solutions kitting company – have strengthened Owens & Minor's global positioning. "Compared to most other companies operating in our space, we offer a more complete solution in connecting the world of medical products to the point of care," Marlatt says.
Strong Connections
The strong connections Owens & Minor has with manufacturers and healthcare providers is based on more than just proximity, however. Marlatt says the company's ability to provide complete solutions from the manufacturer's location all the way through to the point of care is another significant key to its success.
The value that Owens & Minor offers its manufacturer partners is rooted in the company's extensive capabilities in creating efficiencies for them. "We focus on providing visibility into 'owned inventory' for manufacturers," Marlatt explains. "That way, a manufacturer can create efficiencies in utilization and allocation of products around the country because, by working with us, they can determine exactly where their products are."
The company also serves manufacturers through its extensive knowledge base in the healthcare industry. "We can provide insights to our manufacturer partners into the behaviors and wants and needs of the end-users, the healthcare providers," Marlatt says. "By providing visibility into the supply chain, we can connect the product to the end-user, and that's what makes us unique."
On the opposite end of the supply chain, Owens & Minor goes above and beyond when it comes to providing solutions for healthcare providers and their facilities. "Our services don't just end at the hospital dock," Marlatt says. "We provide services and solutions inside of the hospital, all the way to the operating suites, clinical procedure labs and emergency rooms.
"With one hospital system, we were able to provide an inventory storage arrangement that enabled the provider to take advantage of a significant bulk discount purchase of a critical product," he continues.
Culture of Service
All of the advantages Owens & Minor brings to the healthcare industry are a reflection of the company's strong internal culture, according to Marlatt. "We are focused on the well-being of our teammates, our customers and the communities we serve," he explains. "Our teammates believe in our mission and they work tirelessly to satisfy the customer and our partners.
"We always go the extra mile for our customers," Marlatt continues. "It is often the Owens & Minor truck that drives through the snowstorm or braves the aftermath of a hurricane to make deliveries. Many of our customers recognize the Owens & Minor teammates for exceptional effort and performance, especially during difficult situations."
Marlatt says Owens & Minor expects greater success in the future as the company continues to innovate new solutions for healthcare providers looking for ways to reduce their costs. Even more important than that, however, is the end result of all of the company's work, and it's something that Owens & Minor bears in mind every day. "We know that our products are used in healthcare situations and are often used in life-saving situations," Marlatt says. "We all know that the work we do helps 'make healing happen™.'"