Raytheon Integrated Defense Systems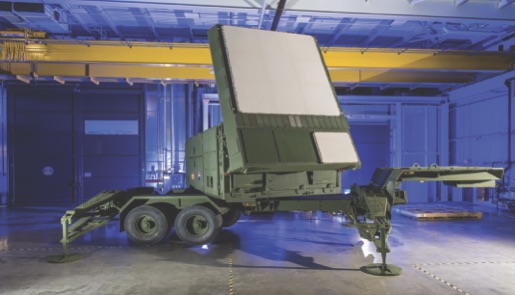 Raytheon Integrated Defense Systems cuts supply chain cost and prioritizes its supply base to stay competitive. By Janice Hoppe
Raytheon Integrated Defense Systems (IDS) began transforming its supply chain five years ago to better compete in an ever-changing market. "We were in an environment working sole-sourced contracts for the government, and business was 90 percent domestic and 10 percent international," Vice President of Integrated Supply Chain Mike Shaughnessy explains. "Fast-forward to today, business is 60 percent international and 40 percent domestic, and everything is competed. The sole-source contract no longer makes up the majority."
Raytheon is based in Waltham, Mass., and is the worldwide leader in the defense and aerospace industries with its portfolio of innovative technologies that its customers expect to work the first time every time. One of four Raytheon businesses, IDS specializes in air and missile defense, large land- and sea-based radars and systems for managing command, control, communications, computers, cyber, intelligence, surveillance and reconnaissance.
IDS also produces sonars, torpedoes and electronic systems for ships. "Our job is protecting the [U.S.] war fighter and those of our allies," Shaughnessy says. "It has to be right and work the first time every time. Critical relationships with key suppliers is essential as we move forward."
Since Raytheon's inception 92 years ago, it has been at the forefront of new defense technologies and their conversion for use in commercial markets. In the decades that followed, Raytheon employees helped build the company's reputation for being a leader in technology and innovation. Today, the company stands as a global technology leader specializing in defense, homeland security and other government markets.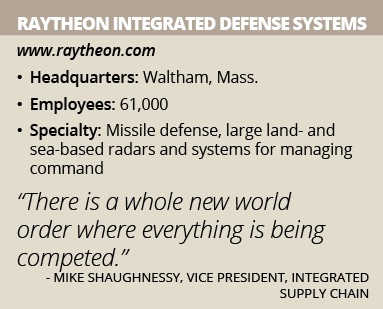 Strategic Sourcing
IDS not only competes against other companies, but also countries. "We are negotiating a contract in Poland where we competed against 10 competitors, including the French and Israelis," Shaughnessy notes. "There is a whole new world order where everything is being competed. The supply chain is upwards of 65 to 80 percent of the total cost of the job, therefore if you can't win in the supply base you won't be able to compete in the future."
Shaughnessy implemented strategic sourcing five years ago as part of the IDS supply chain transformation. This involves building closer relationships with suppliers. IDS has about 10,000 suppliers, but a small number of suppliers make up 70 percent of the total cost and less than 100 suppliers make up the majority spend. "Even though we have 10,000 suppliers, how can we build stronger, more intimate relationships with them?" Shaughnessy asks.
As a member of the Michigan State University Supply Chain Executive Advisory Board, Shaughnessy helped develop the concept of becoming suppliers' customer of choice and now practices it at IDS. "The concept of customer of choice is about creating transparent relationships in the supply base," Shaughnessy explains. "This means you don't have to call to get priority because suppliers give it to you. They know you are good to work with and have an open, trusting relationship."
Strategic partnerships with suppliers help IDS focus on continuous improvement and driving cost out of its products so it can provide war fighters with the best equipment at an affordable price. Raytheon developed the Enterprise Sourcing and Performance Excellence (ESPX©) process to manage subcontracts and reduce its original bills and materials by 30 to 45 percent.
"It's about getting the right people in a room to solve an issue," Shaughnessy explains. "For example, a customer has a budget of $100 million but what they are asking for is $150 million, so how do we get the $50 million out? We get the right folks in the room who are really smart, know the requirements that need to be achieved and run it through our copyrighted process, and then use the Raytheon Six Sigma process to ensure viable execution."
IDS's Supplier Innovation Center at headquarters is used to showcase new and emerging technology to the supply base, as well as share with its suppliers where the company is headed in terms of technology. Most importantly, that is where the supplier provides early input on critical design and ensures alignment before designs are finished.
Supplier Recognition
IDS developed a tiered supplier recognition program to identify and manage suppliers. The top tiers include hundreds of suppliers within the top 10 percent, 60 to 80 suppliers being the most critical, Shaughnessy says.
"The importance of that is that in the past, we would give a supplier a gold star rating for supplying a simple component on time, but not recognize someone who did beam forming that no one else in the world can do because they were a little late," he explains. "We wouldn't recognize them if they were late in delivery or had a minor quality issue when, in reality, we couldn't live without them. We got down to the key suppliers in our supply base and developed those relationships."
Restructuring the way it recognized suppliers took the better part of a year, but Shaughnessy says it will always be an ongoing process. "The process never ends," he adds. "We are also looking at another category of suppliers; those who are developing emerging technologies. We want to develop relationships with them now, as they mature their technologies, which may be useful to us in the future."
Advisory Council
The IDS Supplier Advisory Council developed in 2014 was another recommendation from the Michigan State Advisory Council that Shaughnessy implemented. "Michigan State is the No. 1 survey organization for supply chain in the country," Shaughnessy explains. "We have shown significant progress from 2013 to 2015 in how our suppliers perceive what we are doing and where we are going."
The IDS Supplier Advisory Council is made up of a select group of suppliers from each tier to serve as the voice of its supply base. Through transparent discussions, the council works through difficult topics on how to improve partnerships and mutual business performance, and drive improved collaboration and communications. "The advisory council has been a valued contributor. They worked with us in developing our strategic plan and we communicated that out to our entire supply base," Shaughnessy says. "These suppliers don't get preferential treatment. They compete against each other."
The IDS Supplier Advisory Council meets three to four times per year and will begin rotating council members every two years.
The IDS Supplier Advisory Council is focused on two major initiatives this year: early engagement in the supply base with IDS engineers to share the technology roadmap and better engagement early on, and the terms and conditions of subcontracts.
Moving forward, Shaughnessy looks to have every source of Raytheon's technology or product competed before it receives a proposal. "It will save us a tremendous amount of money just by having that accomplished," he explains. "That's the vision down the road and I think we keep moving the needle in that direction."