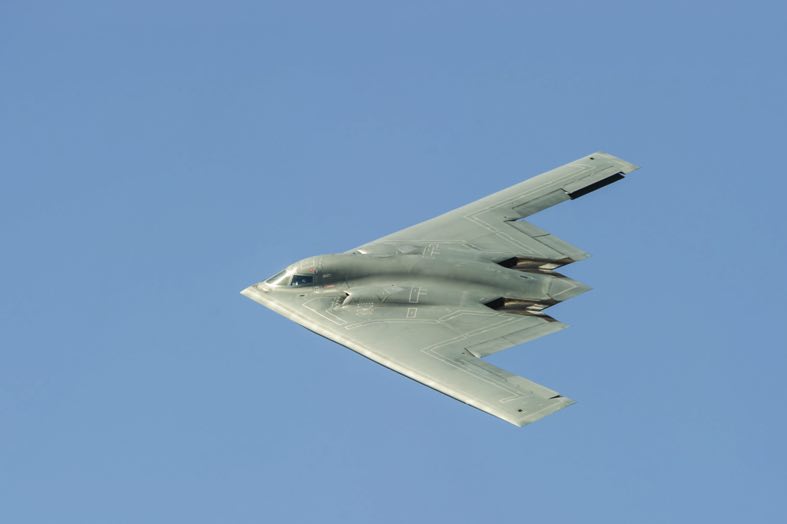 Northrop Grumman is on a journey of supply chain mastery as it builds exceptional relationships around the world. By Eric Slack
Standing on the shoulders of an impressive and unrivaled heritage, Northrop Grumman is today one of the world's leading security companies. The legacy of Northrop Grumman is one that includes participation in some of the most pivotal moments in American history, such as Lindbergh crossing the Atlantic, the mission to send astronauts to the moon and the development of the B-2 stealth bomber.
Headquartered in Falls Church, Va., Northrop Grumman has developed its footprint around the globe by evolving over time and adding various pieces to its arsenal. Today, Northrop Grumman provides systems, products and solutions in autonomous systems, cyber, C4ISR, strike, and logistics and modernization to government and commercial customers. Northrop Grumman strives to be a leader in terms of technology and innovation, offering superior capability and cost efficiency to its customers.
Extensive Presence
Given the scope of Northrop Grumman's operations, it is no surprise that optimizing its supply chain has become a key priority for the company. Today, there are thousands of people working in supply chain capacities across the company.
"We have three large and different supply chains at the company, focused on aerospace systems, mission systems and technology services," Vice President of Global Supply Chain Jaime Bohnke says. "We have discreet and integrated supply chains, and we oversee everything in the space of plan, make, source and deliver. We have leaders and focused teams over each supply chain, and our corporate role is to oversee the required fundamentals and behaviors to connect the dots across the supply chains and leverage the company's scale."
From a leadership perspective, Northrop Grumman's supply chain is operated based on guiding principles that drive accountability and mobilize change through executive leadership and the company's governance model. Bohnke's teams are focused on translating company strategy into supply chain strategy, putting those strategies into operational terms, and creating sourcing maps and balanced scorecards that align with the organizational strategy.
"As we look at our sectors, business units, cross-functional areas and shared services, we are linking budgets and sector strategies," Bohnke says. "We are aligning them with our information and analytical systems. Our vision is to have a highly trusted, world-class supply chain organization that delivers value to the company and our customers."
A major focus is on making sure that the company has optimized its leveraged spend. Bohnke explains that Northrop Grumman works to ensure that it has integrated supply chain practitioners throughout the company's supply chain organizations.
"Our goal is to make sure our people are cross-trained and that we have the right people in the right job," Bohnke says. "They must understand demand, delivery and sourcing channels. We use visibility indicators to find areas of focus and opportunity. By putting thoughtful dashboards and process indicators in place that look back and forward, we can adjust our priorities."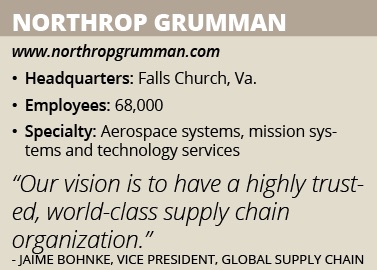 Coming Together
Additionally, the company is aligning its systems to have a one-company approach from ERP and application perspectives. In that respect, Northrop Grumman is leveraging its resources in ways that drive efficiency and effectiveness for its supply chain systems.
"We have changed how we do business in some ways," Bohnke says. "Changing processes are helping us to find ways to operate leaner and use real-time information for decision-making."
Beyond that, Northrop Grumman has created an integrated approach to understanding and staying in line with regulatory requirements. Those issues are addressed in the supply chain in cohesive and thorough ways, helping the company to provide customers with assurance that the company is meeting contractual obligations and regulatory requirements.
"We are doing that seamlessly, as each one of these areas is addressed through our centers of excellence at the enterprise level," Bohnke says. "Our focus is on being the best customer for our suppliers, and we are introducing our expectations to them in a one-company way, driving engagements with them in ways that are more thoughtful while also trying to capture performance, measurements and expectations in ways that monitor the products and services they provide."
Indeed, supplier excellence is something that Northrop Grumman believes is critically important. Right now, the company is focused on fine-tuning relationships based on a one-Northrop Grumman approach. That approach will be a catalyst for having a broader, overarching strategy in place.
"We've been creating centers of excellence and common goals with suppliers," Bohnke says. "How we measure and create expectations, as well as how we communicate with them and assess them, will help us have a multi-tiered approach to understanding and knowing what our supply base looks like and how it is performing. We perform very well in our industry from program to program, and our goal is to find ways we can leverage that program-by-program approach on supplier performance."
Pushing Ahead
As Northrop Grumman works on capturing new business in the future, the supply chain team will play a key role in that process. The team provides the company with a level of confidence regarding what supply costs will be in all proposals. Supply chain engagement allows the company to develop new business opportunities thanks to its sourcing and procurement expertise, as well as its subcontract management capabilities. "Our supply chain people are engaged in business pursuit activity," Bohnke says.
As Northrop Grumman looks forward, it remains committed to its vision to have the most trusted, world-class and innovative supply chain organization. The supply chain team will work to deliver value to the company and its customers, building strong supplier ties and making sure that everything from small business performance, education and the environment to health and human services and supporting veterans are part of the focus.
"We are working to drive best-in-class global solutions," Bohnke says. "We are creating centers of excellence, driving engagement and collaborative alignment across the enterprise. As we go forward, we want to be sure we aggregate and leverage optimized spend management process and tools that engage our suppliers, and we are deploying prioritized initiatives that will provide us with a competitive advantage, program by program.
"All of those elements are part of the journey toward operational excellence, organizational development, competitive advantage, risk management, compliance and enabling our people to succeed."