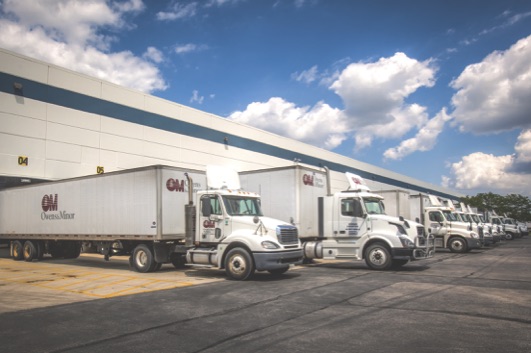 Owens & Minor's approach to inventory management is to find the connection between utilization and demand planning. By Eric Slack
Owens & Minor has more experience than most in the healthcare industry. Since originally launched in 1882 as a drug wholesaler, the company grew through organic growth and strategic acquisitions into a global healthcare services company. In serving its healthcare provider and manufacturer customers, Owens & Minor manages about $2 billion in owned and un-owned inventory across its network and relies on 134 years of experience to manage inventory effectively.
"The right product at the right place at the right time is critical in the healthcare industry," Vice President of Supply Chain Services Operations for Owens & Minor Angie Haggard says. "Inefficient inventory management in healthcare can have lifelong implications for patients and their families."
Owens & Minor takes a comprehensive approach to supply chain management and utilizes logistics, data and resources to deliver products to customers and optimize the overall supply chain via customized services from manufacturer to the point-of-care.
Significant Area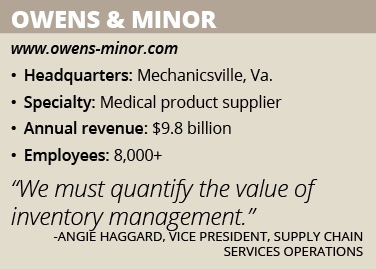 Across the healthcare landscape, inventory is sometimes managed very closely and sometimes it is not, depending on the philosophy of the healthcare provider. Too much inventory wastes shelf space, clutters supply storage areas, and can even expire before use. If there is too little inventory, it creates a negative chain reaction of excess ordering, excess freight charges and excess work.
To achieve an effective supply chain, inventory must be optimized, which means appropriately aligning the levels with demand or utilization. When inventory is managed effectively, visibility of demand becomes more apparent. When demand is understood, standardization and expense reduction are soon to follow, which will positively attract the attention of a hospital CFO.
Owens & Minor understands that inventory levels are dictated by demand or actual utilization. With a clear understanding of the actual utilization, Owens & Minor can help ensure that its customers (providers and manufacturers) have the right product at the right place and at the right time.
Capturing Data
Capturing demand or actual utilization is not always that easy in healthcare. Many companies have developed technology for the sole purpose of managing inventory and estimating demand. But, few companies have technology that can capture actual utilization. Some organizations even resort to manual capture of utilization, which is extremely resource intensive. Very rarely do organizations have a single technology that captures both actual utilization and manages inventory. And, if they do have a single technology solution, accessing data to analyze opportunities is nearly impossible.
Fortunately, Owens & Minor has created tools and techniques that align technology with clinical processes in order to capture demand and actual utilization data that can be used to determine optimal inventory levels. For example, Owens & Minor uses its own QSIGHT suite of web-based inventory management tools that enable comprehensive inventory control for the customer. Provider and manufacturer organizations can use this information to identify standardization opportunities, reduce expenses, and ultimately connect expense to quality and patient outcomes.
Finding the right technology can be tricky, and the best solution is not technology alone. It takes a combination of people, process and technology to achieve results. "The end users of the technology must be incentivized to use it, the processes must be easy to follow, and the technology must be easy to use. Most importantly, the technology must align with the processes of the end users." Haggard says.
If a new process is introduced into an organization, it is imperative that the teams are incentivized to use it. Secondly, if processes are too complex and not easy to follow, the likelihood of process change is minimal. It is imperative that organizations create a standard operating procedure (SOP) to document work steps, expectations and a vision for success. Then, organizations must use the SOP as a training manual for existing and new teammates. Third, organizations must also ensure that the technology aligns with processes. If processes are changed to solely fit the technology and the process isn't easily incorporated into the end user's daily responsibilities, compliance with the technology will not occur. Haggard advises hospital administrators to be realistic when evaluating a technology to capture actual utilization/demand and to manage inventory.
"All inventory should not be managed equally. Low value, low use items should be managed differently than high value, high use items. See if the technology will fit within current processes of clinicians or end users," she says. "If yes, great. If no, keep looking."
Gaining Insight
Improved inventory management has always been a goal for Owens & Minor. With 134 years of inventory management experience and 20 years of managing inventory inside the providers' supply chains, it knows how important effective inventory management is. One way it is supporting providers is by working with DataSolutionsCorp to provide physical inventory valuation services (people, process and technology) to healthcare institutions. When attempting to revamp a supply chain, a physical inventory will provide an accurate baseline as a starting point.
Owens & Minor is using lean methods to map out how components of the supply chain are connected and their quantifiable impact. The company believes its services must provide customers with visibility into inventory and actual utilization, and its teams are capturing, sharing and putting data to work on an ongoing basis.
"We can then optimize inventory levels," Haggard says. "Our lean approach will help establish a solid baseline and a sustainable process. While capturing actual utilization rates, we can provide visibility into inventory that is low or soon to expire. In that way, we can connect optimal inventory management to reduced costs, enhanced quality and improved outcomes."
Moving Forward
Haggard says supply chain experts must be able to quantify and connect inventory management to utilization data to identify opportunities and optimize the supply chain. "We must quantify the value of inventory management, which is more than inventory reductions and reduced touches. There are other benefits, such as increased clinician time with patients, increased standardization and reduced expenses, as well as enhanced quality and improved outcomes," she says.
In serving healthcare providers and manufacturers, Owens & Minor ensures that a wide array of healthcare products and services are accessible for caregivers and patients. The strength of the company's presence in healthcare coupled with its manufacturer ties and robust services have allowed it to build a comprehensive end-to-end supply chain connection.
"We are providing additional services for healthcare providers to track, measure and monitor their results so they can show their leaders how supply chain complexity is being reduced," Haggard says. "We've increased our focus to capture baselines, analyze data and to monitor and measure results. The expectation is that customers will see the true value of inventory management and the benefits that are derived with reduced costs, enhanced quality and improved outcomes."