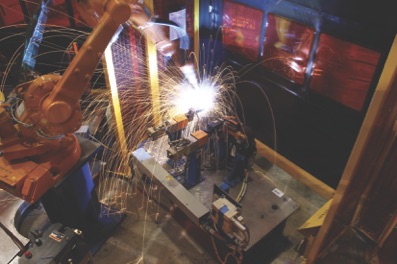 Paslin ensures the quality of its machines by staying close to its suppliers, which it uses as partners. By Alan Dorich
Paslin's commitment to its values has made it an industry leader, Vice President of Supply Chain Jason Hardy says. "We continuously strive to utilize innovative ideas and cost reduction strategies to serve our global customers. Our mission is to provide world-class quality machinery, from concept to delivery," he says. "We pride ourselves on our people and technology."
Warren, Mich.-based Paslin specializes in the concept, design, construction and deployment of manufacturing assembly and automation systems to the global automotive market. Founders Daniel Pasque and Donald McFarlin started the company in 1937 as a small stamping facility.
"[Paslin] evolved over the decades and grew its technology in welding application systems for the automotive industry," Hardy says. This year, Wanfeng Technology, a robotic manufacturer and system integrator based in Xinchang, China, acquired the company.
"We're in the stages right now of coming together as one company," he says, noting that both firms are looking for synergies. "It's important in the supply chain world that the leaders of the biggest and brightest companies talk to each other."
In order to grow to meet the demands of the market, Paslin needed to continue to invest in itself and its people. "[You have to] give yourself a platform to be able to support that growth," he continues. "You need manufacturing and floor space, top-of-the-line, state-of-the-art equipment, as well as the brightest and best workforce in the industry."
Paslin's recent investments include its new Cherry Creek facility in Shelby Township, Mich. "It's 166,000 square feet in total," Hardy says, noting that the facility gave the company much needed floor space capacity.
"The metro Detroit area is pretty scarce on manufacturing floor space," he admits, noting that it has become harder to find space after the economic recovery.
The facility will help Paslin cope with increased customer demands. "The time frames are getting shorter," Hardy says. "The automotive industry is under tight timing, so [we need] the ability to respond to the customer's need with an applicable solution in a short amount of time. The window to provide turnkey solutions is getting shorter and shorter."
Key Pieces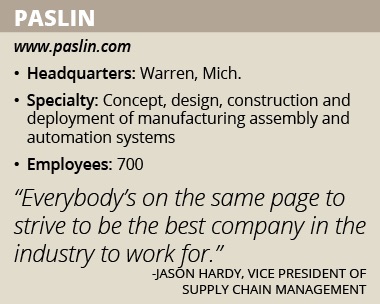 Paslin utilizes best practices within its supply chain, Hardy says. For example, "We pride ourselves in partnering with our suppliers," he says. "We believe they're a key piece of our business.
"They have the best innovative knowledge out there," he says. "We use them as our partners through the evolution of design/build deliveries. We stay close to them, have key performance indicators in place and make sure they're providing the best product for the best price by the date required."
As part of this goal, Paslin keeps abreast of the newest supply chain technologies, which helps ensure "our design team and our suppliers are constantly on the same page and working together," Hardy says. "We have a good relationship between our engineering team and our supply base that keeps knowledge of products updated, current and consistent, and builds them into our product line."
Well Balanced
Paslin strives to carry the right balance of inventory. On one hand, "You want to make sure you're not carrying a high amount," Hardy says.
But on the other, "You want to make sure you have the right amount … to support your manufacturing needs," he says. "It's a constant process of looking at your inventory turns and the needs of manufacturing specific to the plants' and what they are building."
Ensuring Understanding
Paslin provides extensive training to its supply chain employees. "One thing that we're pretty key on is cross training and making sure that the employees understand the product life cycle, as well as our business, from front to back," Hardy says.
"We believe in rotating our supply chain employees and giving them the experience from start to finish," he says. "It helps with their knowledge and of the material flow through the process."
The company also has key relationships with local high schools and colleges, Hardy adds. "We invest in intern programs; sponsoring students who strive to be the up-and-comers, and give them the opportunity to be hands-on within this industry," he says. "They bring with them quite a bit of enthusiasm."
Being the Best
Hardy is proud of Paslin's staff, which operates with a culture focused on teamwork. "[There's] one team, one goal," he says. "Everybody is on the same page to strive to be the best company in the industry to work for."
Paslin makes sure to provide them with the right resources. "Our job is to steer the company in the right direction and make sure we're constantly investing in the people," he says. "I was put in this position to lead a team of people and you have to constantly remember the team is what will get you there."
Hardy predicts a bright future for Paslin. "[I see] continued growth and success," he says.