Textron Specialized Vehicles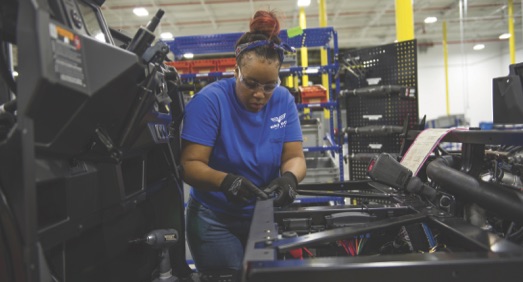 Textron Specialized Vehicles consolidates suppliers and cultivates its workforce to support its position as a leader. By Tim O'Connor
When launching new products, Textron Specialized Vehicles Inc. ensures its supply chains are flexible so it can react to fluctuations in demand. The downside to that nimbleness is it becomes more difficult to manage inventory. The company is rising to the challenge by leaning on the expertise of its strong supplier base.
The manufacturer, a Textron Inc. company, needs suppliers that can support quick product launches. Textron Specialized Vehicles' new Stampede 900 4×4 vehicle – part of its Bad Boy Off Road brand – went from a standstill in April to full manufacturing within only four weeks.

The Stampede is a 4X4 high-performance side-by-side that shares few components with the rest of Textron Specialized Vehicles' lineup. To enable that sudden ramp-up of production, the company asked its suppliers to send engineers to work through testing or design concerns ahead of manufacturing. "We don't have to hold all our expertise in-house," explains Jason Alford, vice president of integrated supply chain. "We rely on our suppliers' expertise."
That collaboration allowed the suppliers to finalize their components before the Stampede was ready for manufacturing. "We try to involve them early in the design process so they're not seeing it for the first time close to launch," Alford says.
Textron Specialized Vehicles traces its roots back to the E-Z-GO Golf Car Company, a golf-car manufacturer founded in 1954. The company adopted a new name in 2014 after acquiring TUG, a manufacturer of ground support equipment near Atlanta.
The company's stable of products – which by then included Bad Boy Off Road all-terrain vehicles and Cushman work vehicles – no longer fit the leisurely image of the E-Z-GO brand.
"We realized we were much bigger than just a golf car company," Alford says.
With its wide range of brands, the company now produces more than 600 vehicles daily for the aviation, utility vehicles, industrial and recreational markets. Alford says the company's "breadth of product offerings" sets it apart.
That range provides several advantages to the company. For instance, it allows the manufacturer to scale demand when it comes to buying basic components such as steel and electronics.

Consolidating Suppliers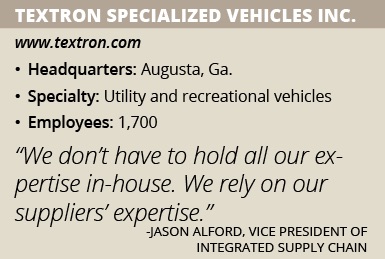 "When the vehicles are so varied, sometimes it's difficult to leverage your spend," Alford explains. "Maybe you carry more suppliers than you would if your product was more homogenous."
The company is working to reverse that situation. With fewer suppliers, Alford believes the relationships will move from transactional to partnership-based, ultimately allowing the company to further improve the new product-launch process.
The manufacturer is already making much headway toward that goal. About six years ago, the company bought from more than 400 suppliers. Now that number is down to 280. Alford says he eventually wants to get to between 180 and 200 vendors. "We have a much stronger, more integrated supply chain today than we have in the past," he claims.
The company manages its supply base by splitting it into three categories: growth suppliers, ones it does significant business with; maintain suppliers, which are ones the company will keep at the same level; or phase-out suppliers, vendors the company is winding down activity with. Suppliers are shifted into those classifications through a scorecard process that rates performance based on quality, delivery, cost, engineering expertise and financial health. Because it factors in more than price, the scorecard process has helped the company change its perspective of the supply chain to understand the true expense of working with each supplier. "We don't just chase the lowest cost because you may end up with the lowest quality," Alford says.
That complete understanding also led Textron Specialized Vehicles to reconsider its approach to outside manufacturing. The company now in-sources several areas of fabrication, including burn on lasers, bending the steel on brake presses, welding and painting. As a result, Alford says, quality rose, costs fell and the amount of inventory the company must hold declined. "We always had the capability; we just brought more of the work inside to do ourselves," he adds.
Now that many of the manufacturing processes are in-house and located right next to vehicle assembly, the manufacturer can react quicker to demand changes. The company also relies on forecasting to anticipate what it needs in inventory. Using an S&OP process and SAP system, the company turns those forecasts into orders with suppliers.
Still, despite that planning process, forecasts can be off. When demand shifts unexpectedly, the company must adjust just as fast. Suppliers play an important part here as well. Textron Specialized Vehicles has a few international suppliers that carry 30 days' worth of vendor-managed inventory at a local warehouse that the company can access when the need arises.
Boosting the Workforce
Textron Specialized Vehicles is one of the largest employers in Augusta, Ga. With that size comes responsibility to the community and the people who live there. Alford says the company encourages a family oriented culture, which leads to involvement in local events and financial support for Augusta organizations such as the local Boys & Girls Club.
Helping the community ultimately helps Textron Specialized Vehicles, too. Its newest program, Reaching Potential through Manufacturing (RPM), is designed to allow high school students in danger of not graduating to complete their degrees while teaching them skills they can carry into the workforce.
Starting in early August, about 75 at-risk students began working four hours a day at a special 50,000-square-foot facility set up by the manufacturer and owned by the Richmond Country School System, which serves Augusta. The students are building subassemblies that go into the company's vehicles while earning credits toward their degrees. "We're helping them get back on track and graduate and live a fuller life with a high school diploma," Alford says.
The school system supplies the teachers for the program while Textron Specialized Vehicles provides experienced supervisors. But Alford says the shop floor will be run mostly by students, allowing them to develop skills they can use in a well-paying manufacturing career. Alford himself plans to check in on the student-operated facility at least once a week.
The RPM program stems from an idea in the strategic business plan that Textron Specialized Vehicles develops for its parent company every year. Finding skilled laborers is difficult in the market, leading the manufacturer to find temporary workers who have a chance to be hired directly by the company if they prove themselves.
Still, the need for more employees had the company looking for other ways to develop talent. "It became a necessity for us to do [the RPM program] to cultivate our workforce internally," Alford explains.
The low graduation rates in the area further complicated the local employee pool. The manufacturer requires its team members to have earned at least a high school degree; however, only 83.6 percent of people in Augusta-Richmond County hold high school diplomas, according to the U.S. Census Bureau. Richmond County Schools reported a 77.59 percent graduation rate in 2015, but that was up from 61.8 percent the year before.
Alford sees the RPM program as a way to continue boosting those graduation rates and ensure an ample supply of eligible workers. His hope is that many of the 75 students now in the RPM program will soon become full-time employees of his company. "When I look at our hiring needs I would love to be able to graduate all of them and hire them out," he says.