Supply chain management systems allow Jacobs to react to market shifts and improve procurement for customers. By Tim O'Connor
As a global company, Jacobs often has dozens of projects running for multiple clients simultaneously – including multibillion-dollar mega projects. Jacobs has the internal program management skills and access to diverse disciplines to serve those projects, including architecture, engineering and construction, operations and maintenance, as well as scientific and specialty consulting services.
"We really are a very broad-based company where we have developed our skillsets to be aligned with what our clients' needs are, and we follow our clients wherever they go," Director of Supply Chain Management Doug Lockard explains.

But even though Jacobs offers complete end-to-end services, the sheer scope of its project load means it must form alliances with other businesses. "Our relationship-based approach has a strong influence on the way we approach a project," Lockard says.
Jacobs is a full-service organization providing support, engineering and procurement for clients across multiple markets including aerospace and defense, automotive and industrial, buildings, chemicals, food, beverage, forest and consumer products, and mining and minerals. The company is also involved with mission-critical and high-tech facilities, nuclear, oil and gas (upstream), pharmaceuticals and biotechnology, power and utilities, refining and petrochemicals (downstream), telecommunications, transportation and water and wastewater. When it comes to supply management, Jacobs specializes in procurement of goods and services.
The company can also help clients with inspections with material strategies, expediting, supplier quality surveillance, logistics, sub-contract formation and administration, claims mitigation, field material control and warehousing. Lockard stresses the importance of sourcing and pre-qualification of bidders in the process. "We believe that if you begin the tender with well-qualified bidders, and follow a transparent process, you should always end up with a excellent result," he says.
Joseph Jacobs founded his namesake company in 1947 in Pasadena, California as a one-man engineering consulting firm. Twenty years later, the company expanded outside Pasadena with its first satellite office in New Jersey. By 1989, it had hit $1 billion in annual revenue and today it operates 230 offices in more than 30 countries.
Those nearly seven decades of expansion result from a combination of organic growth and the acquisition of more than 70 other businesses. Jacobs is always looking for smart, successful businesses that can add abilities to its core assets.
The company's success is tied to its ability to deliver quality services for longtime clients. Jacobs does consider one-off transactional projects; however, it prefers to work with companies it can develop lasting relationships with and that lead to repeat projects. "Most of our growth has been through the developing of satisfied clients," Lockard says. "And as our clients grow, we grow."
A diverse portfolio allows Jacobs to perform strongly even when one market takes a downturn. "We have the ability to shift from one sector to another as activity grows or decreases," Lockard says. Activity in the petrochemical and mining industries is down now, for example, but the buildings and infrastructure markets are up."
Serving the Supply Chain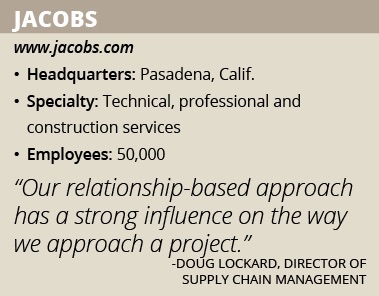 Material planning is a key part of Jacobs' approach to project management. "When we do the design on major projects, making the decision on how the materials for the project will be purchased is both a strategic and a tactile question," Lockard says.
Jacobs' range of services allows for flexibility in how a job gets done. One project might require Jacobs to find a contractor to purchase and install the materials, while on others Jacobs might simply purchase and issue the materials to the contractor, or Jacobs might act be the installing contractor itself. "We have the ability to do it all three ways," Lockard says.
The Jacobs Materials Management System (JMMS) allows the company to take a bill of materials from a 3-D design output and turn it into materials acquisition. The JMMS system is then used to track the acquired materials through purchase, expediting, logistics, site receiving, storage and issue at the job site. The tool has been around for more than 15 years, but Jacobs continues to refine the technology.
JMMS is designed as a modular system so that only the relevant parts are used for each individual project. Lockard says the purchasing and expediting parts of the system are used on most projects whereas the construction management tools may not be necessary depending on Jacobs' role. The modular design also means JMMS can be easily scaled to handle any size job.
With offices around the world and about 1,200 employees in the global supply management group, Jacobs excels at procurement. Those offices work together on sourcing, pre-qualifying and tracking the performance of Jacobs' global supplier base. All projects have access to Supplier Hub, another of the Jacobs web-enabled tools used to share information on suppliers, vet and find the most capable vendors wherever they may be located. Supplier Hub contains about 10,000 suppliers in its global listing and more are added every day.
If there is a problem with a supplier, Jacobs employees can make a note of it in Supplier Hub. That kind of coordination is important when working on a global scale where individual employees might not have experience with a supplier. "It's normal for us when we begin a major project that we will have bidders from all over the world included on the bidders list," Lockard says.
Supplier Hub is in its third year and Lockard says he can already see the benefits improving exponentially. "As our staff and clients get more and more comfortable and see the benefits of the Supplier Hub they'll be using it even more," he says.
The pre-qualification process ensures suppliers have the technical capacity, the safety culture and the financial ability to deliver the job to Jacobs standards. If Jacobs is procuring a million-dollar purchase the supplier needs to prove it has a stable financial profile to meet the challenges of that degree of difficulty, Lockard explains.
Jacobs also considers the locations of shop, manufacturing staff, equipment, certifications, performance and safety during pre-qualification. "We're concerned with safety on our own job sites but we're also concerned about safety at the manufacturing shop since we send people there to check the manufacturer's shop."
Becoming Leaner
"Ours is a very competitive market today," Lockard says. "So continuous improvement is a mantra to make our operations leaner, more agile so we can respond quickly and affordably while maintaining that high level of competency our clients have come to expect." Supplier Hub is an example of how Jacobs embraces technologies that help it become leaner. The system was an answer to the growing needs to be nimble and fast concerning the global reach of goods and services.
The company is also doing much work on its indirect spend, which is part of its overhead. New computer technologies help Jacobs improve its business intelligence and identify opportunities for decreased spend increased efficiency.
For years, Jacobs has collected information on benchmarking comparisons and tracked its own utilization for various commodities and services. All that data can be turned into valuable insights. "We're combining those and trying to make better use of computerized algorithms to better understand where the opportunities are for specific and lower-cost services, and adapt them to our own and our clients' needs," Lockard says.
The conversation around procurement has shifted from how Jacobs is selling to the users to how it buys from sources. "Our internal customers as well as our external clients look to us to be on the cutting-edge of procurement methods and techniques," Lockard says. The supply chain team is being smarter in how it identifies those opportunities. For example, if the optimum steel market shifts from say Mexico to Korea due to labor or material costs, Jacobs now has the technology in place to track that change and take advantage of lower prices.
"One of the things that we look for from suppliers is how they can help us be smarter?" Lockard says. "How they can bring value to us that we can convey to our clients?"
Adjusting to Consolidation
Consolidation is occurring in many industries as large companies look to fill holes in their capabilities and small businesses see an opportunity to tap into a wider pool of resources. But the result for service-oriented companies such as Jacobs is a loss of once-established suppliers/contractors and finding new ones. "Businesses are constantly merging so we need to stay on top of that," Lockard says.
Understanding the change that comes with consolidation enables Jacobs to reform its alliances. Ultimately, those relationships with suppliers and clients are tied directly to the company's ability to provide the services customers want. "Jacobs' relationship-based approach gets us constant feedback from our clients, and importantly it's constructive feedback that allows us to continually address the products and methods we are using," Lockard says.