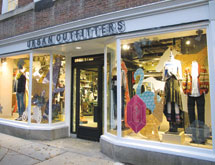 Founded in 1970, Urban Outfit­ters strives to provide a "lifestyle-specific shopping experience for the educated, urban-minded individual," using its 18- to 30-year-old customers' interest in art, music and fashion as a guide. Selling men's and women's apparel, accessories and items for apartments, the Urban Outfitters brand operates more than 200 stores in the United States, Canada and Europe, as well as an online store and catalog.
Urban Outfitters, however, is not the only brand under the company's umbrella. It also includes the Anthropologie, Free People, BHLDN and Terrain brands. Combined, the brands have more than 470 stores. Each brand has a specific identity and aims to provide customers with a unique experience, but for the company's brands to offer "compelling and distinctive" product assortments and environments, its distribution system must be smart and efficient.
The Urban Outfitters family of brands is growing strong and the online business is gaining ground every year, and while all of this is good news for the company, the ongoing challenge is to ensure products are at the right place at the right time. Executive Director of Logistics Ken McKinney explains the company works hard to keep all of that under control.
"I have been with this company for 23 years, and throughout  that time, we have never lost sight of who we are," he says. "We've grown, but we haven't lost our culture or our identity. We're able to adapt to changing customer expectations so that shopping with us is still fun, still an experience and more than just a place with four walls to shop."
Enhanced Fulfillment
The Philadelphia-based company has four distribution centers in the United States: two for retail in Gap, Pa., and Reno, Nev.; and two for its Internet business in Trenton, S.C., and Reno. Its Internet business is growing so fast that it added the second Reno facility just last year. The company also has two distribution centers in the United Kingdom.
"Our operations for retail are very fluid," McKinney says. "A purchase order comes in, the order goes out to the stores, and less than 20 percent of the units on those orders go into back stock. All orders go out to the stores within two to three days."
The Internet business requires a more labor-intensive process because orders are going directly to customers, and the average order size is only about 2.5 units. The new facility in Reno, however, is helping Urban Outfitters to streamline the order fulfillment in this sector. Before it even started construction, the company conducted a study to determine where was best for it to open a second location on the West Coast. Its goal is to serve as many customers as possible within two days of a distribution center, and with 18 percent of its Internet customers coming from California, Reno was the smart choice.
"The building is pretty spectacular – it's right in front of the Sierra Nevada mountain range and aesthetically it's not your typical big gray box,," McKinney says. "We have an in-house construction and development team, and the builder they selected,did an outstanding job of giving us a building that truly reflects who we are.
"We got our material-handling system from Vanderlande, which is a Dutch firm," he continues. "We had used them for our UK facility in 2011 and we were very happy with the results. The system they utilize consists of a cross belt unit sorter that inducts picked product into the pack area, and a shoe sorter that diverts packed orders down to the shipping doors. Inventory is housed in pick bins located in three multi-tiered rack-supported pick modules.  The design allows for a fourth module as volume and SKU count increase."
McKinney says the orders per man hour at the Reno site  exceed those in Trenton, the receiving process is more streamlined in Reno and the Reno site has alleviated the Trenton site's space constraints. This year, the company also introduced its pick-pack-ship program, which allows stores to ship directly to a customer if one of the distribution centers doesn't have a particular item in stock, an enhancement which has led to a spike in order fulfillment.
Urban Outfitters now has to determine how it will handle the ever-growing Internet side of its business. In fiscal 2012, 20 percent of its sales came from the Internet, McKinney says, but by the third quarter of this year, the Internet already represented 24 percent of its sales. He explains that the Internet allows Urban Outfitters to offer more styles or more SKUs per style in all of its brands, but the challenge is figuring how to translate each brand's characteristics and the in-store experience to the Internet.
"Regardless of what changes or enhancements we make in our distribution centers, their successful operation depends on our people, and we will continue to put our people first," he says. "No matter how sophisticated or how big you get, it's still all about your people, and we are committed to running our operations with that in mind."­­